In the annual Powderpuff football game, Boyertown Area Senior High School's seniors defeated their younger counterparts with a commanding score of 32-16, showcasing an incredible display of ability and teamwork. This much-awaited competition, held under the Friday night lights, displayed the youngsters' amazing athleticism and spirit of competition. A male cheerleading team that brought the house down was featured in the halftime show, adding to the excitement.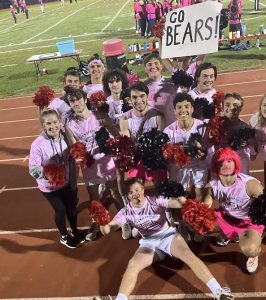 As soon as the whistle went, the seniors took to the field and demonstrated their supremacy. The game began with a touchdown by Marissa Hillegas. Their well-coordinated attacking plays combined with their strong defense made it difficult for the junior team to establish traction.
Conversely, the juniors made a great effort but found it difficult to stop the seniors' unrelenting attack. The junior quarterback tried her hardest to spur her squad on with precise passes and tenacity, but the seniors' defense proved to be a tough foe.
The male cheerleading team wowed the crowd with an exciting halftime show that turned the football field into a compelling stage. The audience was cheering in unison as the male cheerleaders performed their acrobatics, feats, and energetic cheers. Their halftime presentation at Boyertown Area Senior High School gave the Powderpuff game a special and enjoyable touch.
The seniors kept up their offensive display in the second half of the game, extending their lead. Refusing to lose without a fight, the juniors produced a number of strong plays to close the difference. But the experience and resiliency of the seniors turned out to be the decisive elements. By the final score of 32–16, they had finally sealed their victory.
The Powderpuff game served as a venue for encouraging student solidarity and sportsmanship in addition to serving as a display of athletic prowess. Regardless of grade level, the audience's support and friendships showed how strong the feeling of community is at Boyertown Area Senior High School.
The seniors excitedly shouted and celebrated their well-deserved victory, while the juniors were disappointed with the outcome but proud of their hard work. The Powderpuff game and the male cheerleaders' performance at halftime, which showcased the school's commitment to making its students feel comfortable and at home, will undoubtedly live on in the memory of everyone who saw them.