Senior Spotlight: Andrea Campbell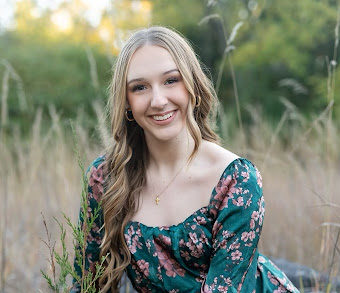 As the school year closes, many seniors in BASH are scrambling to pick a college, study for finals and exams, and keep up with their routine. Andrea Campbell, one of BASH's seniors, is in this situation.
"My biggest struggle is balancing my schedule and picking a college. I'm in Show Choir, go to dance and vocal lessons, and have a job. I'm so busy that it has become part of me."
Andrea says that, however daunting, the pressure to keep busy and succeed has led her to some of her most significant accomplishments. "I'm going to be majoring in musical theater in college. And I've also been accepted by some colleges with only a two percent acceptance rate for their music programs!"  The future is bright for Andrea, thanks to her hard work and dedication, but she is still anxious.
"I've been so nervous; I got accepted to multiple colleges and didn't know which one to pick. I'll probably be going to a new state, too. So I'll have to start from a blank slate. It feels like I have to close my eyes and point."
Andrea has many years of experience to back her decisions despite the nerves.
She began dancing at four and started doing it competitively at eleven years old. Andrea's singing career kick-started in seventh grade, and she is now in both of BASH's select singing groups, Voces Excelsis and Show Choir.
Andrea has had many fabulous successes, but not without some hurdles. This past summer provided Andrea with her most formidable challenge yet.
"I had surgery on my vocal cords this summer. It required a lot of physical recovery to recuperate. It hurt my confidence." The surgery made her feel weak and lost. Losing her singing voice was a big blow. Yet the arts gave her some source of comfort.
The arts have shaped Andrea into the person she is today. She became confident, resilient, and hard-working because of her passion and her friends' support in shared programs. 
"Now that my voice has returned, I'm starting to feel like myself again," Andrea Campbell proudly said. "I worked hard and kept at it, I never slacked off, and I'm so glad I did."
Andrea has a lot of options for her future, but one thing is for sure, BASH is right behind her!
Good luck, Andrea! If anybody can do it, it's you!
Leave a Comment