BASH Music takes a Once in a Lifetime Trip for Spring Break 2023
Guess who's back! Along with all BASH students, the BASH music department is back from spring break; however, they are returning from a long trip to another continent. Europe!
On a trip hosted by Michal Jordan, the Bash Music the students went on their long-awaited (3 years!) 5-day trip to London, United Kingdom, touring around the cities of London and Kensington. 
On Wednesday, March 29 the students embarked on their trip, but before they could get there, they first had to face the two-hour bus ride to Newark, NJ then an eight-hour overnight plane ride to Europe. Finally, after a long eight hours of two planes full of restless students and chaperones, all arrived at Heathrow London and went straight by coach to tour where they met their tour British tour guides!
First stop! Tour of Windsor Castle with some free time for shopping in the famous town where Windsor Castle is located. Then finished out the first night by having an early dinner of mushroom on toast, fish and chips, and ginger ice cream (Definitely not everyone's favorite), and finally after a long day the students went to the hotel for check-in and some much-needed sleep.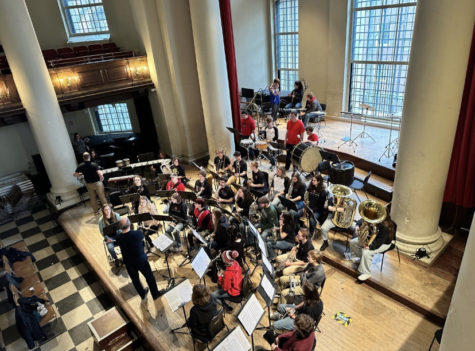 On Friday morning the band, orchestra, and choir all participated in a master class in St. Johns Square which was an amazing opportunity for all of the music department to get insight not just into the music but on their technique as a whole. Meanwhile, while other groups were practicing, students had free time to roam around the city to see Big Ben and other cool sights nearby or just sit and listen to the beautiful music that was produced by our fellow classmates. "I left my raincoat and umbrella on the tour bus because I thought we would be inside all day. So, I ended up taking a walk around Big Ben in the cold rain in just my jeans and T-shirt," said student Hannah Paul. After the class, the students took a coach to tour The Tower of London. The Tower of London historically served as a royal palace, political prison, a  place of execution and so much more. There were so many artifacts and historical sights to see hidden within the Tower of London, for example, the world-famous crown jewels! By the end of the tour, the students were ready for a chicken dinner at Nandos with a guest speaker that produced music for the Royal Ceremonies.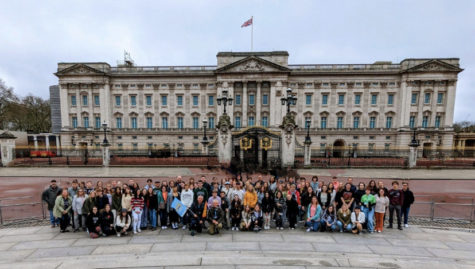 The following day, music students had a head start on their morning and, they didn't mean Mr. Brunners morning runs around the city of London; instead a beautiful bus tour. On this rainy day, we got to see Westminster Abbey, Buckingham Palace, Big Ben (Again), Shakespeare's Globe, and so many other tourist attractions throughout the city. The rain didn't stop the students from seeing all of these once-in-a-lifetime sites but rather instilled a sense of iconic London vibe. After the tour lunch was served at the hotel before our first performance; a Benefit concert in Christ Church, at Henley-on-Thames. The audience was ecstatic to see kids from another country perform, especially when the show choir put on their rendition of "Single Ladies" by Beyonce.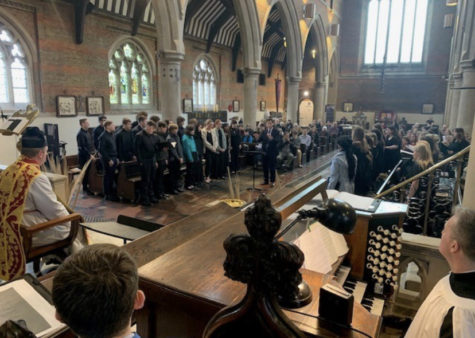 Palm Sunday! What a beautiful morning the students had at the Highgate, St. Mary Brookfield Church, getting to take part in worship and even getting to perform for the congregation on such a sacred day was an honor to all of the choir students. For this performance, the choir stuck with more religious songs for the event and it ended up turning out beautiful. That afternoon the coach took everyone to the shopping and entertainment hub of London's West End known as Covenant Gardens for a day of leisure and shopping. The central square was nothing like any place we have here in America, the amount of culture and way of life there was astonishing. To finish off the evening the group went to the London Symphony Orchestra Concert hearing the orchestra play Beethoven's Piano Concerto No. 5 and Shostakovich's Symphony No. 13.
Then comes the last full day. Before having to pack up for the next day's departure back to Boyertown they got a full day of leisure to do whatever they wanted. Some students spent the day shopping, others went to go visit other attractions such as The London Eye, aquariums, and museums, or even just spent the day trying out different foods we don't have back in America. Or all of the above! At the end of the long day, we finished our trip with a farewell dinner and attended a West End performance of Oklahoma!
Tuesday went just as expected and everyone got home with jet lag but fortunately, everyone made it home safe. Everyone who attended the trip was blessed to take part in this trip was a once in a lifetime experience that most of us students will never be able to ever even dream of going on again. On behalf of all the students, we would like to thank all of the music teachers, chaperones, and even fellow students for making this trip possible. 
View Comments (2)
About the Contributors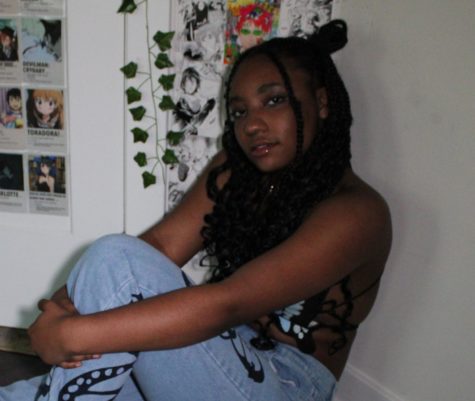 Arlene Fourrien, Correspondent
Arlene Fourrien is a Senior this year and it is her second year on the Cub, along with being her third year taking journalism as a class. She loves reading...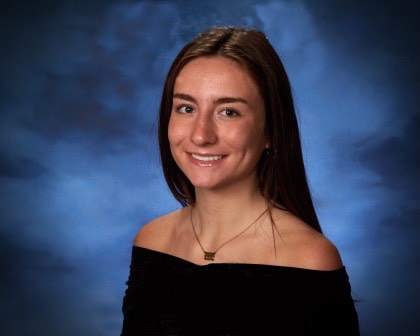 Morgan Dwornik, Editor in Chief
Morgan is a Senior at BASH, and is very sad this will be her last year writing for The Cub. She is very excited to take on the role of Co-Editor in Chief...