We're hopelessly devoted to BASH's production of Grease!
This past weekend, the BASH musical department premiered Grease to a sold out auditorium. The much anticipated show was a smashing success, with amazing singing, acting, and dancing; the hard work put in by the cast and crew was evident from the performance they gave.
For those of you who aren't familiar with the story, Grease follows goody two shoes Sandra "Sandy" Dombrowki and bad boy greaser Danny Zuko, who had a summer fling and are surprised to find they now go to the same high school- a situation which complicates their relationship. As the two try and navigate their relationship, they must also navigate their friendship with the "Pink Ladies" and "T-Birds." Between the intense dancing contest, heartfelt songs, and never ending drama between the friends, the show is sure to be entertaining for people of all ages.
Before the show, a dance contest was held up on stage for audience members who wanted to show off their moves! The Rydell cheerleaders pulled contestants up onstage, where Matt Rajendrackumaar as Vince Fontaine and Austin Parker as Johnny Casino introduced them and gave them the spotlight to dance away. A lot of talent was brought to the stage, but there could only be one winner per night- a winner who received a free t-shirt to commemorate their victory.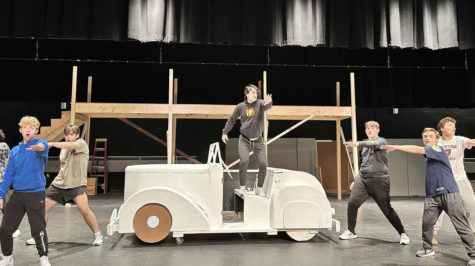 The show was then kicked off by Miss Lynch, played by Anna Hartman, giving the typical theater etiquette announcements (phones off, emergency exit locations, etc.). Anna's performance as the strict old teacher was hilarious throughout the show, but her opening was especially fun, and a great way to get the production started.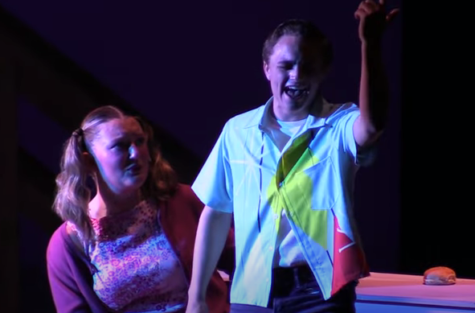 All the singing in the show was absolutely fantastic! It's amazing there is so much talent right here in Boyertown. Junior Abby Breidenbach's rendition of "Freddy, My Love" was showstopping- funny and passionate, the whole theater was in awe after her performance. Harrison Maxymillian and the cast sang "Those Magic Changes" with such charisma, you felt like you were right there in Rydell High. Anthony and Ava Puelo, playing Roger and Jan, were such an iconic duo; their comedic timing was perfect, and it really pulled their song "Mooning" together. And of course, who could forget "Greased Lightning!" All the greasers danced phenomenally, and Nolan Hetrick sang with so much energy as Kenickie, everyone in the audience was bopping in their seats.
Speaking of dancing, the big dance contest scene was a smashing success; Kamilah Jenkins as Cha-Cha and Jack Burrell as Danny stole the show with their hand jiving skills, leaving everyone wishing they had taken more dance classes when they were kids. The whole company looked like they were having so much fun- it really made the scene come alive.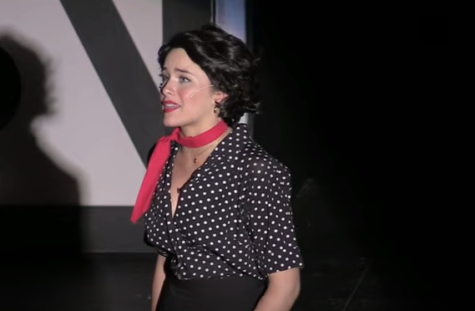 After everyone put away their dancing shoes, Grace Major hit the stage as Sandy, and sang the classic "Hopelessly Devoted" beautifully. Her acting and passion during the scene was evident, and it made her performance shine. Jack Burrell also played Danny absolutely phenomenally- during "Alone at a Drive-in Movie" and "You're the One That I Want," I could have sworn I was watching John Travolta himself up onstage. And Olivia Helmer as Rizzo- insane. Her emotion during "There Are Worse Things I Could Do" resonated with each and every audience member; her acting alone deserves an award, but her singing was really out of this world.
"
I thought it was a recording, his singing was so good.
— Emma Wood, Senior at BASH
One of my favorite performances, however, had to be "Beauty School Dropout." The iconic scene in the movie, where Frenchy is distraught over her failure in beauty school and consoled by her own angel, was brought to a new life through Nick Myers and Emily Gates' performance. While Emily played the part of Frenchy perfectly, conveying her hopelessness about her future in a lighthearted manner, Nick sang the iconic song flawlessly. Senior Emma Wood even remarked after the show, "I thought it was a recording, his singing was so good."
This production definitely deserved by be sold out; the whole cast was a triple threat, with singing, acting, and dancing skills beyond compare. If you want to see some highlights from the show, check out this montage made by members of BASH TV News. We can't wait to see what musical BASH brings to the stage next year!
Leave a Comment
About the Contributor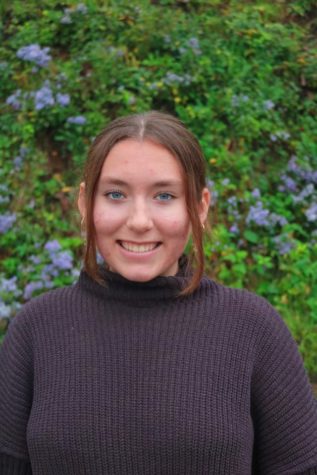 Emma Wenerowicz, Editor in Chief
Emma Wenerowicz is a senior here at BASH, and has been writing for the Cub since she was a freshman. Emma first joined the newspaper because of her love...