BASH student, Kara Friend, fundraises for Leukemia and Lymphoma Society
Kara Friend is an extraordinary Boyertown student who has accomplished so much, and she's still looking for more! She has taken on the challenge of raising $50k for the Leukemia and Lymphoma Society (LLS), which is working toward curing cancer. Each year, LLS holds an event to fundraise called Student Visionaries of the Year (SVOY). Kara is running Team Make a Difference Everyday (M.A.D.E), whose goal as a team is to collect donations for blood cancer until February 25. Although the fundraising only started on January 6, she began her efforts in early November. She created a list of businesses she could reach out to for donations and emailed many people asking for sponsorships.
Jeffrey Health ended up donating a lavish amount, Kara got Boyertown schools involved in doing a district-wide dress-down day, she set up a donation box at the school store, and during all of this, managed to lead her team to gain business support and collect donations. She's also setting up a dine-and-donate at Dairy Queen to help raise funds. With all of this going on, Team M.A.D.E. has also been working hard to collect an array of items, which will be used for their Grande Finale final auction. The proceeds for this auction will go towards their team. Kara says, "One major contributing factor is all of my family and friends who have donated. Overall it is such an honor and pleasure to be working with LLS."
Before Kara started fundraising for LLS, she accomplished many other feats! She mentions, "I am always looking for an opportunity to help our community and make a positive impact. Volunteering is by far my favorite activity to take part in." She has been with the Youth Advisory Board of Berks County (YAB) for two years, which over the summer volunteered and visited non-profit organizations. As a group, the YAB members selected an issue area to focus on, last year's being mental health and this year's being homelessness, specifically helping those suffering from addiction. The club takes the topic and writes a grant that non-profits can apply for, then selects businesses that could help the most. During this, they create a project to aid the issue area. Through this experience, she became knowledgeable of the community and issue areas.
Kara is also the treasurer of IMPACT Club at BASH, which focuses on making the school a better place while promoting diversity and inclusion. Their big goal is to plan the upcoming IMPACT Day, a day where students and staff discuss how to make the school a better environment for all. Along with both of these, she also joined the Link Crew, which assists incoming students to adjust to high school life.
That's not all! Last year Kara traveled to Germany with Ambassadors in Sneakers (AIS), a transatlantic program that selects 12 American and 12 German students ages 15-22. The program started in Saarbrucken, Germany to speak to advocates and leaders about issues and human rights. They stayed there for a week, then took a day trip to Luxembourg, where they got the opportunity to meet other students from other countries. After that, they went to Berlin for a week, where they not only got to speak to more advocates but also got to meet the US Ambassador and German Congressman!
The American students traveled back to the states, but after two weeks, the German students reunited with them in Reading, PA. There they had meetings to discuss human rights, then took a day trip to Philadelphia, where they took historic tours about human rights issues. They discussed topics such as slavery, LGBTQ+ rights, and the women's suffrage movement. After their week in Reading, the 24 students spent their final week together in Washington D.C. "The relationships built in this program were so special and truly unforgettable," Kara remarks. "When it was time to leave it was incredibly hard to say goodbye." Through the once-in-a-lifetime experience, she was able to learn more about our own culture, Germany, transatlantic relationships, human rights, and so much more.
Kara has already experienced so much throughout her lifetime while committing to volunteer work and making the community and world a better place. She has worked hard to fundraise for multiple programs and is involved in clubs that help the school and community. With all of this, she leads a team of students working towards raising $50k for LLS. Kara is truly someone who is helping the world, step by step, and should be seen as a role model for everyone, everywhere.
Leave a Comment
About the Contributor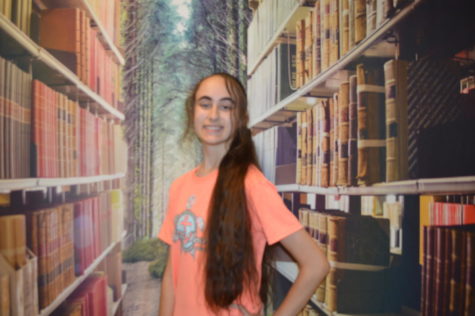 Lexi Giampietro, Correspondent
Lexi is a freshman at BASH, and this is her first year writing for the school newspaper. She joined the CUB because of her love for journalism and wanting...