40 chickens in 40 days, the Philadelphia Chicken Man
Alexander Tominsky, 31, or better known as the Philadelphia Chicken Man, has completed his quest in eating 40 chickens in 40 days on November 6th, beating his old record of 30 chickens.
The Philadelphia chicken man, Alexander Tominsky, first started his challenge on September 28th. He documented his whole journey on his social media for thousands of people to see. Many gave him inspirational words of encouragement while others judged his eating habits, but the hate did not stop him.
No chants of "We are the champions" to fill the streets of Philadelphia on Sunday morning after the city lost both the World Series and the Major League Soccer Cup the day prior. But one man made it his mission to cheer up the city of Philadelphia by inviting people to watch him eat his 40th rotisserie chicken on the 40th day of his challenge on November 6th.
Alexander Tominsky is a waiter at a high-end Philadelphia steakhouse, Barclay Prime. He said that his reasoning behind doing the challenge is simply because "It seemed like the right thing to do." He had since stayed true to his word and only consumed one store-bought rotisserie chicken a day for 40 consecutive days.
Along an abandoned pier on the Delaware river at 12 noon on Sunday, November 6th, Tominsky sat at a table staring at a crowd of people cheering him on to eat his 40th rotisserie chicken. Adults were even seen on top of other adults' shoulders just to get a glimpse of Tominsky eating his chicken. It took him one hour to finish the chicken and once he did, the crowd cheered and thousands of online fans celebrated and declared him the Philadelphia Chicken Man.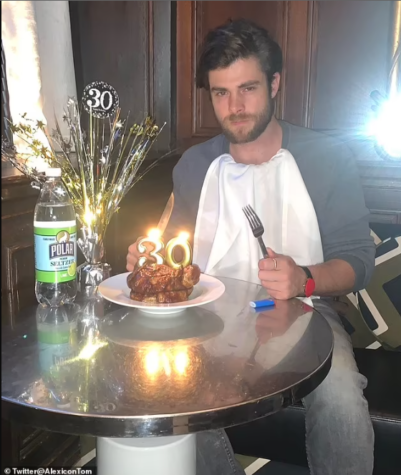 Over the course of his 40-day challenge, he first said that there was no pain during the first couple of days. In the weeks following he explained that he started to become cramped and bloated from all the sodium in the chickens. At the end of his 40-day challenge, he had lost 16 pounds all from eating just rotisserie chickens.
While eating all the chickens he called it a "sensory bomb" with all the flavors. "The dark meat is too salty and greasy, the white meat is dry," said Tominsky. The sound of him poking and grabbing at the chicken made him uneasy and pull back. He quickly became tired of eating only rotisserie chicken, making the last week of his challenge even more difficult. Toward the end, he would chew the chicken into small pieces and mix it with the water in his mouth to make it easier to go down. It would take him anywhere between one and two hours to complete one whole chicken. "Basically, I drank the chicken," said Tominsky. As gross as it seems, it worked and helped him to complete his challenge.
Tominsky said that it felt worthwhile doing the competition because in comparison one man eating 40 rotisserie chickens is "microscopic in comparison to what the world lives with and sees every day".
After his challenge was complete, PETA stepped in and reached out to Tominksy to issue a new challenge. They wanted him to go 40 straight days eating vegan foods, while also supporting him with a starter kit to a 40-day subscription to Purple Carrot, a vegan meal service. But Tominksy had no interest in yet another food challenge after his last one left him "cramped" and "bloated". He responded in an email by saying, "At the moment, I cannot commit to any food challenges. However, I understand the symbolism of the offered challenge, and it does have me thinking about the cause and message your organization stands by. To counteract the 40 chickens I consumed, I plan to never eat chicken again. I also plan to cut back on the meat I eat but to choose a vegan lifestyle, I will not commit to it. I would feel like a hypocrite, considering I am using my new platform to help get donations for food pantries in the city of Philadelphia. Sixteen percent of all households in Philly face food insecurity. Turning down animal-based foods is just not an option I can accept. Regardless, I respect your organization has value, and you stand up for what you believe in."
In a return email from PETA they said that they would have liked if Tominsky watched videos of farmed chickens killed for stores to be sold and eaten. The Vice President of PETA, Tracy Reiman, said in the email. "PETA can't bring these birds back, but we can help the 'Chicken Man' become the 'Vegan Man' and save the lives of nearly 200 animals every year."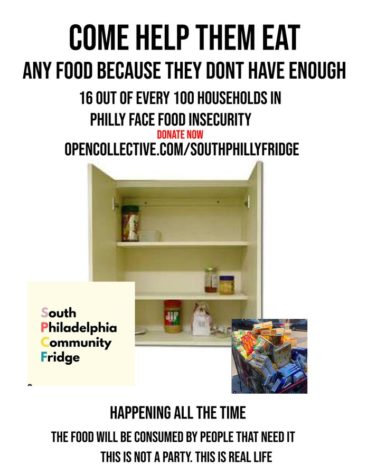 Tominsky's chicken challenge brought joy to many residents of Philadelphia. "It just seemed right, and I think that the people of Philadelphia and maybe the world would agree," he told Good Day Philadelphia. Since his challenge, he has been helping people in need find access to food since 16 in every 100 households in Philadelphia suffer from food insecurity.
To better help, those in need Tominsky had partnered up with South Philadelphia Community Fridge or @SouthPHLFridge on Twitter, a volunteer-run mutual aid group whose goal is to help the people and families of Philadelphia who are facing food insecurity. To the right is a poster he made to get people's attention and bring awareness to the cause. This poster is made in the same format in which his invite to watch him eat his 40th chicken was made. His original poster brought a lot of attention in a short amount of time and with the holidays coming up hopefully that same attention to bring to the South Philadelphia Community Fridge poster.
Leave a Comment
About the Contributor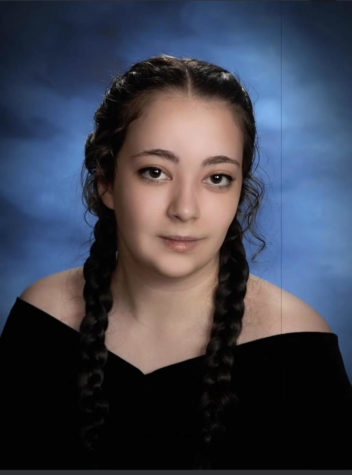 Bella Lenahan, Correspondent
Bella Lenahan is a senior at BASH and is in her second year of journalism. She loves watching and reading crime documentaries/ books.