Youth And Government in BASH
Youth and Government is back in our High School! If you love Politics and want to learn about the process of our government, Youth And Government is for you. In the club, students get to debate bills and have fun exploring Harrisburg.
The club is hosted by the YMCA, who started the program in 1946. It has been running for 76 years, growing with more people every year. With Covid, the club couldn't meet in the traditional manner; however, it is now back in-person, and  everyone is antsy to get things started up again.
In the club, students can choose between 3 categories: Press, Senate, and Legislative. The Press is allowed to walk between the House of Representatives and the Senate and the general mass of the capital. The Senate debates bills that come from the House of Representatives.
Mrs. Snyder, an advisor for the club, was interviewed about why she wanted to be involved with Youth and Government- she said that she wanted to find an opportunity to work with students outside of Social Studies class. When asked what she would say to a student who is nervous on joining Youth and Government she stated,"anyone that is slightly thinking about joining should because everyone there is very welcoming, very devoted, and likes to have fun while learning new things." She believes it's the perfect opportunity for all students to make change and have a voice.
The last question she answered was in general does Youth and Government require a lot of work or can you jump right into it. She said "you have to be committed to it with the bills and articles being written and the Model Convention in Harrisburg in April, you have to be prepared, it is fun and very exciting but you have to come with preparation."
The advisors of Youth and Government are Mr. Bleiler and Mrs. Snyder; you can reach them at [email protected] and [email protected].
Leave a Comment
About the Contributor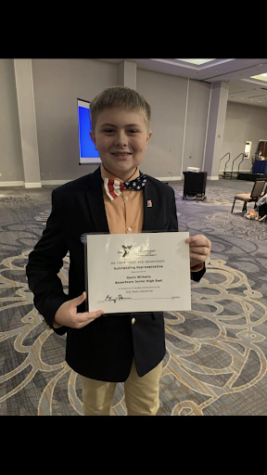 Gavin Wilhelm, Correspondent
Gavin Wilhelm is a freshman in Boyertown Senior High. He has been awarded the Outstanding Representative in the 2022 Model Convention. Gavin was assigned...