History Of Sunnybrook Ballroom and BASH Proms
Prom is a time of celebration for seniors as it marks the end of their journey through high school. The dance is a special time for seniors as it's a time to get together and make some memories dancing the night away.
This year's prom was held at the Sunnybrook Ballroom on May 6, 2022, and to the surprise of many students, this is the first time BASH has used this location as a host for the senior prom. 
The Boyertown Class of 1957 was the first BASH prom to enjoy dinner and dancing at Sunnybrook Ballroom in Pottstown, PA. This was not an official prom event, instead, it was planned entirely by the students, and funds were outsourced. This marked the beginning of a long-standing tradition for years to come.
The SunnyBrook Ballroom is a vibrant and is a well-known monument in Pottstown, Pennsylvania, and one of the few remaining dance halls from the pre-World War II era. It is also a popular venue used for weddings, banquets, corporate, and special events. 
It began in 1926 as a swimming club where well-known socialites spent their summers. During the 1930s to 1940s a ballroom was built to match with the ongoing changing times. During these times, great dance floors were popular and used to match the "big bands era." 
Ray Hartenstine Sr., subsequently regarded as "the dean of the big band ballroom operators," chose to build a dance pavilion to the swimming pool and picnic grove he had constructed five years earlier on a section of the ancient "Sunnybrook Farm" during the Depression, in early 1931.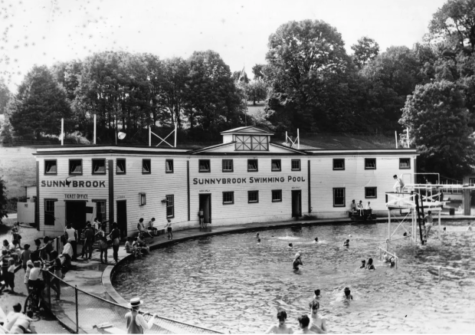 Joe LaFrance and his Bosch Radio Band, described as "one of the greatest in the country," were the first band to perform at Sunnybrook Ballroom when it opened on Memorial Day 1931.
The venue hosted other popular bands and artists that would stop by to perform including Benny Goodman, Tommy and Jimmy Dorsey, Glenn Miller, Louis Armstrong, and Frank Sinatra.  
With many more bands, particularly the more well-known ones, now demanding considerably greater guarantees, the admittance price was raised after World War II. Whereas it used to cost $.75 or $.90 plus tax to get in in the 1930s, and maybe $1.25 in the early 1940s, the fee for the major names was fixed at $2.00 plus tax, or a total of $2.40 in the fall of 1945.
Other than the price changes for admittance, everything was pretty much the same. As Ray Hartenstine Jr. described it, "it is a joy to come to Sunnybrook," and it was a location where there were no issues. It was an atmosphere that was liked and respected by all of the people who would come to participate in the festivities. Everyone was dressed to impress, and if somebody got out of line in any manner, they were asked to leave.
The venue has also hosted political rallies, community meetings, weddings, wedding receptions, class and family reunions, high school proms, and other special events. 
Some honorable mentions of senior proms at the Sunnybrook Ballroom are the classes of 1976, 1987, 1991, 1992, 1996, 1997, 2002, and the class of 2021.
Whilst searching among the Boyertown High School History Facebook page, there is a clear pattern of BASH using this venue for many many years.
View Comments(1)