Mrs. Fine: Both a Mother and A Teacher
Written by Alia Interian, Edited by Kasey Gress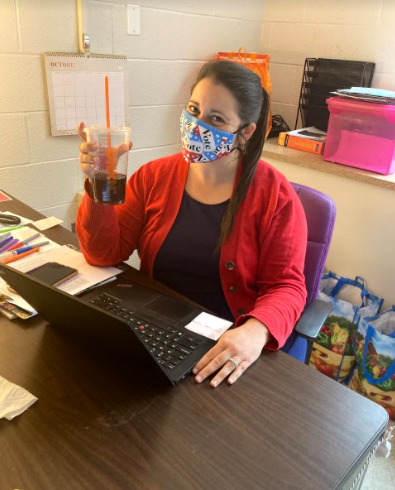 Being a mother while working a full time job can be a challenging task for anyone, but amazing teachers like Mrs. Fine, make it look so easy!
Mrs. Fine was first inspired to become a teacher very early on. When she was younger, our intelligent English teacher couldn't tie her own shoes or understand how to tell her left apart from her right. However this would quickly change when she was introduced to her Second Grade teacher. The teacher had put up little hands on the board that said left and right, Mrs Fine would sit there and repeat the two together while looking at her own hands. This inspired her to keep learning, moving onto tying her own shoes. That is one of the many challenges in her life that she has overcome. But 2 ½ years ago she began a journey that would face to be one of the more difficult hurdles in her life.
Mrs. Fine had a little boy named Lincoln who has already shown his own intelligence through the stories they read together every night. He has already started forming sentences and can recognize several of the books his mom has read to him previously. His bright personality matches his first word which was "Yay!" Isn't that cute?
While having a child is one of life's most precious and special moments, it comes with its challenges. For Mrs. Fine, she works full time as one of BASH's English teachers. She often has work that she has to bring home or emails she must respond to from students. While her job is very dear to her and brings her much joy, once at home Mrs. Fine loves to relax with Lincoln and spend time with him. She tries to work on schoolwork after he goes to sleep for the night or during her extra time here at school. She often takes work home and stays up late, drinking cups and cups of coffee to get it all done. There are also other ways that she's learned to adapt to being a mother and a hard-working teacher.
Mrs. Fine spoke a lot about her co-planning with other teachers. One of which, she mentions, is Mrs. Sebro, another English teacher here at BASH. Together, they make their job easier by planning English lessons together and sharing the workload. This helps make the work much more manageable so Mrs. Fine has time to spend with her young boy.
Despite all of the demanding times that she has faced, Mrs. Fine wouldn't trade it for the world. Being able to teach her students and share knowledge is something that will always mean a lot to her, and being able to share some of that knowledge with her own son is the greatest gift of all!