Prom 2021 updates
As the state Governor plans to ease Covid restrictions on May 31st, this opens up an opportunity for alterations to be made to prom. This means each senior attending now has the ability to bring a date, and they no longer have to be a student from Boyertown.
When it comes to BASH Prom 2021 details, here's what we know:
Sign-ups were completed on Sign-Up Genius, and $25 per ticket payment made on EZschoolpay – due on May 13th
Bear Gym has capacity of 600 people and the event may not exceed that, so tickets sold first-come-first-serve
The are 3 possible dinner times (chance of four) with seating of two people per table at six-feet apart
Guest pass forms for prom dates were due in Main Office by May 14th
Face coverings must be worn
Students must stay for the entire prom if planning to attend post-prom
The prom will be held in the Bear Gym at BASH with dinner being eaten in the Cub Gym. Holding the prom at the high school was the best option in order to allow as many seniors as possible the ability to attend without running into certain restrictions other venues may have. And as far as a bringing dates, they can be from outside the school district and must be below the age of 21.
When students signed up for prom through Sign-Up Genius, they were able to put down their name, along with their dates name if bringing one, and could select what dinner option they would like. The three listed were Roast Turkey, Hawaiian Ham, and Baked Ziti. Under this they could also make notes of any food restrictions or allergies they may have.
A majority of the senior class has expressed excitement for this year's prom and is happy to see that there will still be a sense of normalcy at this event. Before, students were worried that the entire senior class wouldn't be able to attend, but this isn't the case anymore as roughly 400 seniors signed up to attend and many are bringing dates too.
The only challenge some of the upcoming graduates were not super enthusiastic about was the fact that prom is held the day after graduation. In previous years, a lot of seniors would leave for senior week at the beach or for vacations right after graduation, but this year they won't be able to if they plan on attending prom. However, this is the only high school prom many of the BASH seniors will get, and going to the beach with friends can always be put on hold for just one day.
Leave a Comment
About the Contributor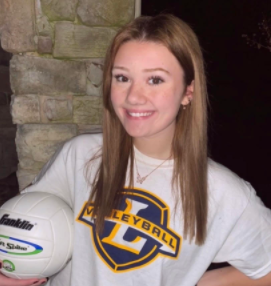 Jessica Ahart, Editor in Chief
Jessica Ahart is a senior at BASH that has written for The Cub and taken journalism for the past four years. She also previously wrote for the West Press...