New Facebook Page Celebrates BASH Grads
A new Facebook page popped up on Thursday, May 14, with the aim of celebrating the senior class at BASH. One of the highlighted — and only — posts features a 27 minute long video showcasing every student's senior portrait.
The video, with high quality versions of every senior portrait submitted for the yearbook, reads, "Celebrating our seniors… Congratulations!!! We are so proud of you!"
Indicated to be made by BASH administration and staff, the page's first post shares an emblematic "Class of 2020 Strong" statement.
Some are showing their support by posting to the page, including a former teacher.
Congratulations to all the seniors and a special shout out to my former WES 5th graders. Very proud of all of you! Class of 2020. Stay strong! ❤️ Mrs. Hersh," wrote Mrs. Tracey Hersh, a fifth-grade teacher at Washington Elementary School.
Parents are also showing support, with some going all-out.
Sara Cadavid, mother of senior Emanuel Pulecio, shared a photo of a banner she has hanging outside her home, which reads, "WE PROUD FOR OUR 2020 GRAD, BOYERTOWN HIGH SCHOOL, EMANUEL."
Another shared congratulations, referencing past Earl Elementary students.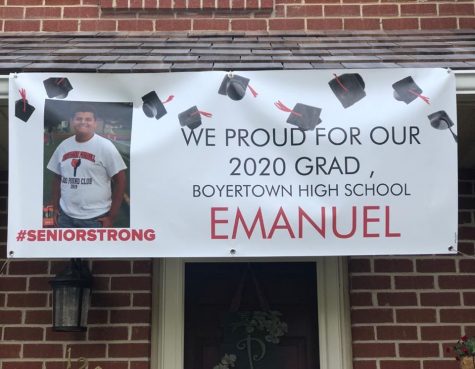 "Way to go! I am so proud of Mrs. Korenkiewicz's first graders and all the former Earl Elementary Students!" Janette Marie wrote on the page. "Seems like just yesterday you were roaming our halls and now you are all grown up! Congratulations and best wishes for the future! I know you will accomplish great things!"
Seniors are set to drop off all school items next week, as well as pick up caps and gowns and any other items left in the school. Senior awards are said to be announced on social media next week. Virtual graduation is on June 4 on the district channel as well as Youtube.
Leave a Comment
About the Contributor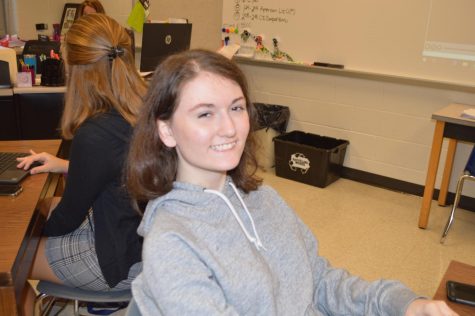 Jocelyn Lear, Editor-in-Chief
Jocelyn is a graduate of BASH. She served three years in the CUB and she previously wrote for the East Observer. She was in many clubs, such as SADD, Stage...