Jeremy Zucker's new single resonates with feelings of reflective acceptance
With a soft melody and meaningful lyrics, many students may relate to the message of the song.
Released Friday morning, "always, i'll care" rippled through Jeremy Zucker's fans with a lightning nostalgia unique to his music. Opening with a melody so raw, emotional and lullaby-like, the listener is left wonderfully aware that they are listening, once again, to Zucker's heart.
The track, a soft-sung piece that reverberates with feelings of helplessness highlighted with acceptance, comes almost three weeks after Zucker announced he finished making his debut album, titled love is not dying, set to release in spring this year. The second single from his debut album has received over half a million streams in its first sixteen hours after release, according to Jeremy Zucker's Instagram.
With lyrics that flit between highlighting the distance and cold loneliness that comes with it to a brooding introspection that reveals his acceptance of the situation, the first verse rings with the thought-provoking question: "Is it selfish not to be selfless?"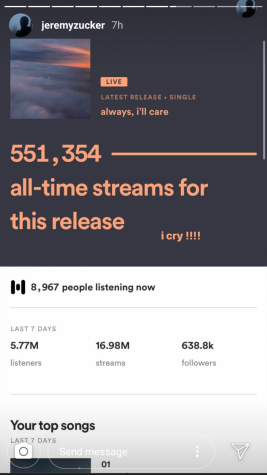 Zucker's latest song goes on to reassure an ambiguous person that he'll always care about them, despite his actions saying otherwise. At first glance, the chorus seems a gentle and caring reminder; however, it can be interpreted as empty reassurances that spring up between people when the distance has grown and they've emotionally outgrown each other.
Despite these empty assurances, Zucker seems to linger on the memories.
The second verse shifts the setting away from a car and now into perhaps a house or bedroom, where he's going through photos of him with this person and wistfully thinking of times past. With the change in setting comes the implication that this person comes to mind often, bringing to surface all of these complicated emotions. Two specific lines in the verse bring up a line of thought that, perhaps, is more offhand than anything: "Listening to self-control / Those feelings that you'll never know."
Conveying a more frustrated implication while maintaining the melody that seems to dance off his tongue, he shifts his voice to more direct tone, losing a bit of the lightness. A possible interpretation includes his self-control being him ignoring the want to contact the person, and being frustrated that they don't do the same, earlier being cited as calling him unnecessarily just to hear his voice.
His acceptance leads to an almost-plead to the person to let him go, and to move on emotionally. Despite this, he tacks on another lilting reassurance that if it "gets heavy" he'll never let them be alone like it's implied they have in regards to him.
Now—this song has all the indicators of a paradox. But that's always been the beauty of Zucker's music: it conveys the complexity of human emotions, often pairing seemingly contradictory emotions that create a three-dimensional effect to his art. Human beings aren't just love or hate; they're often a mix of both positive and negative emotions, and Zucker shows that through his lyrics as well as his melodies themselves. With his almost lighthearted singing paired with the emotional instrumental, the song washes over the listener in waves of emotional clarification. It's an awe-inspiring experience to listen to a Jeremy Zucker song for the first time.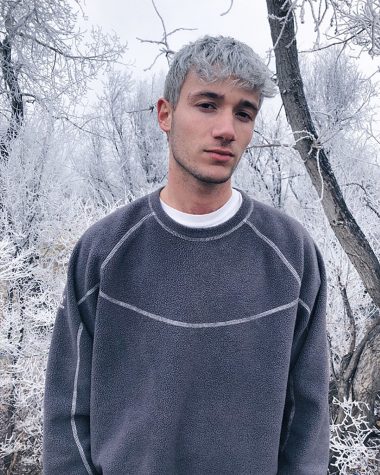 Not only are his songs emotional, but his music videos as well.
In his latest music video, for this new single, he's seen on a beach singing along to the song with a smile on his face and holding a bunny. This peaceful setting coupled with him being alone, as well as the sprinkled clips of people clinging to one another, convey the exact message he sings: together but not. He himself is alone, as he states in the song, but his song is a blanket of comfort for those he cares for or has cared for in the past, and has neglected to show them such in his actions.
With a similar vintage feel to the video, Zucker released his music video two years ago for his single, "all the kids are depressed." With this emotional and honest song reflecting on the current mental state of adolescents and young adults, he included a personal project. After issuing a casting call for people to share their experiences with depression, Zucker shared select stories in his video in a raw and shocking display of feeling that has been long overdue. With this project, Zucker trended on YouTube and the world shone a little more hopeful for it.
The new single isn't the only one that has made waves promoting his upcoming album. Back in July this past year, "oh, mexico" was also released, with a sentimental and loving message pervading the first single for his first album.
Throughout the years since his debut in 2015, Zucker has produced seven EPs while attending Colorado College, from which he graduated in 2018 with a degree in molecular biology. After Soundcloud and Spotify attention came from his 2015 single "Bout It" featuring Daniel James and Benjamin O, Zucker was signed to Republic Records in 2017. He then put out his break-out EP Idle, featuring popular single "talk is overrated" with well-known artist Blackbear.
He followed up with a relatively quick series of EPs; first Motions, then Stripped., glisten, and summer,. Last May, Zucker collaborated with his long-time friend and fellow musician Chelsea Cutler for the EP brent, which highlighted emotions involving lost love and reminiscence. With each new EP, his fan-base has grown, chiefly shown through the international success of his hit single "comethru" off of summer, and his EP brent.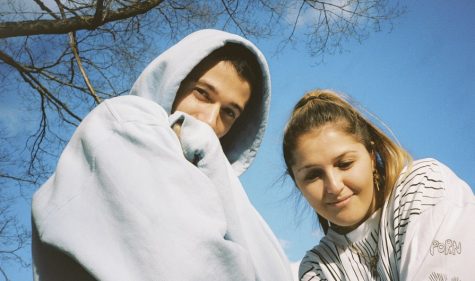 Last year the 23 year-old New Jersey singer earned a RIAA Gold Certification as well as a MC Platinum Certification for "comethru" off of his 2018 early fall EP. The song has garnered more than 280 million streams on Spotify, a streaming service that has been instrumental in Zucker's success. On Spotify, he gloats over 13 million monthly listeners, mainly from Jakarta, Indonesia, as well as in the Philippines, U.S., and Thailand.
His EP brent achieved early success with over 1.2 million streams in the first 24 hours after release, fitting for the emotional experience Zucker and Cutler had while writing it. In an interview with Ones to Watch, the duo shared their creative process in the recording studio of an "old, converted carriage house in Connecticut."
"We slept on couches and air mattresses and wrote a bunch of songs. At the end of the week, we had brent," they said.
Both agree that their music shares a deeper complexity that hopefully others may relate to.
"That cabin held a certain kind of quiet–one punctuated with existential conversations, impromptu jam sessions, and early 2000s rom coms," the two shared. "Think of this project as a time capsule, a diary of the process that resulted in one of the most fulfilling musical journeys in either of our lives. These songs kept us warm in the deep snow of December. We hope they can do the same for you."
Students may be able to relate to these feelings of distance and lost relationships, whether romantic or platonic. In the coming months, over half a thousand students will graduate and move on with their lives, with many leaving Boyertown behind for the bulk of the next two to four years.
With their departure, comes the distance. It'll be an emotional journey, hopefully just as fulfilling as it was for Zucker and Cutler, for these students to accept the changes in life and to continue to grow. Despite the distance, some students will surely feel exactly what Zucker sings, "I swear, always, I'll care."
Leave a Comment
About the Contributor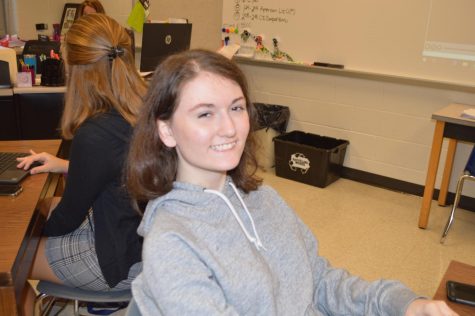 Jocelyn Lear, Editor-in-Chief
Jocelyn is a graduate of BASH. She served three years in the CUB and she previously wrote for the East Observer. She was in many clubs, such as SADD, Stage...