Students Dislike Instagram's Latest Move
Has Instagram alienated their base with their decision to "remove likes"?
Last Friday, the Instagram chief Adam Mosseri announced that some American posts will have their likes "hidden" – though several other countries have already seen this implemented.
The social media app seeks to relieve the pressurized environment of Instagram by removing the ability for one to see other peoples' likes, but not their own. For example, one will be able to see how many people (and who those people are) liked their latest photo, but they won't be able to see how many people liked another person's post.
Instagram is well-intentioned, but many students here at BASH are seeing past their motives, saying the decision was nonsensical and some going as far as accusing the app of taking fascist action.
Freshman Aiden Izzo called the decision "stupid."
"I've never gotten many likes, but that's crazy," he said.
Aiden isn't alone in calling the decision rash. Plenty of students are finding the changing of what seems to be an essential core of Instagram to completely change the platform, and they raise genuine questions regarding how people utilize Instagram.
"I don't think it's a good idea, companies post things that they need to see likes for," said freshman Caroline Wainwright.
Caroline's concern might mind one to the fact that some people utilize Instagram as an occupation—these profiteers of the app are commonly referred to as "influencers."
Despite her being unaware of the invisibility of likes pertaining only to others, many influencers' fame depends a large part on what other people think of them. They receive inquiries and offers from advertising companies because they see how popular they are on the app; if these companies can't see how popular the posts are, they aren't going to send as many offers, if any.
While one may not even shed crocodile tears for these influencers, often critiqued for perceived superficiality, other students believe the platform is hampering users' ability to express themselves.
"[Removing the ability to see likes] is like removing free speech," said senior David Frisco.
David and other students believe there is an importance to being able to communicate their liking of other peoples' posts. It goes beyond simply informing the poster that they enjoy their picture—it's about signalling to other people their friendship as well. In a way, friends liking each others' posts is a sort of socialization and bonding that the removal of likes could put an end to.
In their pursuit to remove pressure from the platform, Instagram has alienated many of their users—and the consequences this will incur remains to be seen.
Leave a Comment
About the Contributor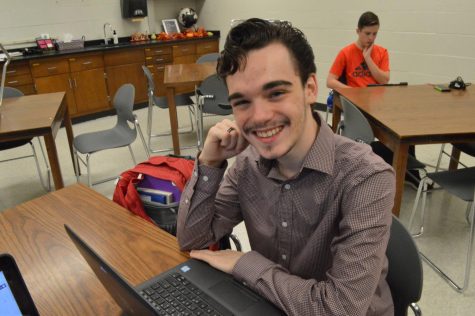 Blaze Myers, Opinions Editor
Blaze Myers is a graduate of BASH. His senior year was his first year in the CUB, previously only collaborating. He was in several leadership positions,...