New Survey Shows Seniors Gearing Up For Life After High School
Fall is in the air, leaves are on the ground, and college admissions time has arrived. A new BASH Cub survey shows most students know what they're doing, and a majority have finished their college search process.
An overwhelming majority of 91.9% respondents reported knowing that they want to pursue further education; of this, 76.7% are looking for a traditional four-year bachelor's degree.
BASH, which has a noticeable graduation percentage who pursue local community colleges like Montgomery Community College, lovingly called Montco, or Reading Area Community College, known as RACC, reportedly has 19.7% of seniors pursuing that tract.
Community college is a cheaper alternative to a traditional four-year, allowing students to save money and achieve an associate's degree. Students who graduate from community college typically find a job with their associate's degree, or transfer to a traditional four-year for the last two years of college, achieving a bachelor's degree.
Boyertown also has a less noticeable⁠—but still there⁠—tech school presence, with many students going to BCTC (Berks Career and Technology Center) for a variety of certifications, from First Responder/EMT to cosmetology to IT. All of these certifications allow students to get a job in their desire field immediately out of high school; they may also go to tech schools after graduation. Currently, 4.9% of students are pursuing this route.
Among the admissions process, 41% of students have applied, while 34.4% are in the midst. Of those applying, 67.2% are sure of what they want to major in, while 32.8% are either undecided, between choices, or don't know.
Seniors favor staying closer to home, with in-state applications coming to 57.6%, out-of-state to a slim 8.5%, and a mixture of both at 33.9%.
Despite these application, nearly a quarter of students (23%) have not visited the colleges they're applying to this year. The rest, 77% of respondents, have either visited all of their prospects, or some.
Overwhelmingly, students are most worried about money in relation to college (67.2% of respondents). This correlates with over three-quarters of students (76.3%) applying for scholarships.
Other significant worries include future stress over college classes, sports, or extracurriculars, and balancing work and school in the future. Students are less worried about friends, roommates, or being on their own.
Futures seem bright for this round of Boyertown graduates.
Leave a Comment
About the Writer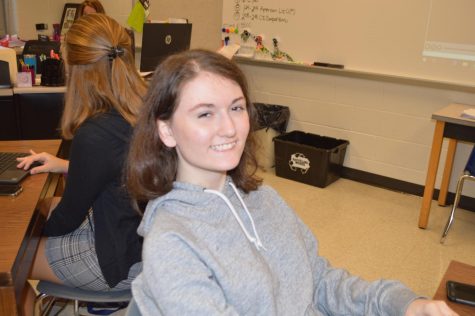 Jocelyn Lear, Editor-in-Chief
Jocelyn is a graduate of BASH. She served three years in the CUB and she previously wrote for the East Observer. She was in many clubs, such as SADD, Stage...