The Story Behind Kristen in the Hall
T.V. News has been a staple in BASH for years, providing the school with necessary information. Along with allowing students to catch up on recent events, T.V. News also includes many segments. One of these is the popular "Kristen in the Hall," hosted this year by Kristen Sell.
For those not familiar with the show, every week Kristen goes around the school and asks students a question each week, which varies. Once she gets all the answers, she puts them together in a comedic montage, so viewers can see the diverse responses. The show provides some comedy in the morning and allows all different types of people to get their opinions heard. 
How did Kristen manage to get this job? It wasn't exactly a difficult or grand decision.
"I kinda volunteered on a whim…" she said.
Last year, students nominated themselves for the job by filming their own "audition" for it. The audition was a pilot episode for what their version of "In the Hall" would be like. Mr. Cherkasky, the telecom teacher, and former "In the Hall" host Jake Kovacs came together to decide on the funniest and best audition. This culminated in the surprise announcement of Kristen getting the job.
Kristen does have an interest in editing and videography, and thought it would be a great way to get connected to the school, since she would be talking to so many people. She says she might be interested in doing something like this in the future. 
Many remember the old show, "Jake in the Hall." Will Kristen be able to do the original show justice? So far, it certainly sounds like it. Jake put lots of emphasis on the comedic answers people would tell him to add that comedic factor.
However, Kristen plans to change that and the way the show is executed.
"I really want to focus the attention on the effects I put in, instead of just funny answers," she said.
Her goal is to be able to include as many people as she can, which can be hard to begin with (considering many people don't want to be interviewed), but even harder when she wouldn't be able to put in the more "average" answers.
"I feel like with Jake, it was often the same people. I want to make sure I can include everyone," Kristen said.
That's the main plan Kristen wants to add – more effects, and for the show to be more inclusive. 
In the end, it looks like "Kristen in the Hall" should be a success this year and even a favorite among students. With Kristen's new ideas, the show will have a whole new spin on things, and will surely brighten viewers' days. So, keep an eye out for Kristen on T.V. News – you won't be disappointed.
Leave a Comment
About the Writer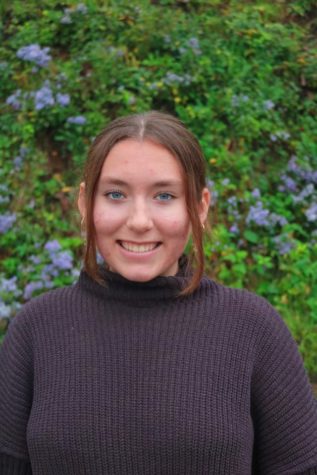 Emma Wenerowicz, Editor in Chief
Emma Wenerowicz is a senior here at BASH, and has been writing for the Cub since she was a freshman. Emma first joined the newspaper because of her love...