Mysterious Instagram Meme Page "btownmemes" Lives On
Popular Instagram account that makes memes about BASH is passed on to the Class of 2020.
The school sensation Instagram page "btownmemes," has officially passed on to two students of the Class of 2020. These seniors, a guy and a girl, choose to remain anonymous.
The account, founded by the Class of 2017, boasts, "Great memes from the best place on Earth," and over 1,600 followers. Recent posts include poking fun at the new stadium, the increased vaping fine, and Officer Miller's departure to Daniel Boone School District.
This year's admins inherited it from Boyertown alumnus Garrett Witherington of the Class of 2019, according to one of the new owners.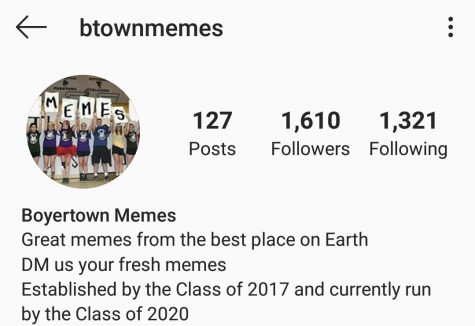 "I had specifically asked Garrett about taking the account," he said. "He wasn't really planning to pass it on, because no one was showing interest."
He wanted to make sure the account didn't just "die off," shooting for one post a week at least. Regular posting has been a problem with the account in past years.
"If we can get more than [one post a week], we'll definitely post more than that," he said, "but we'd like to make sure that we're kind of consistent about it."
The two admins split jobs between them; one making the memes, and the other managing DMs and requests.
"I'm the only one who has made the memes so far," he said. "I've just had her help out with accepting the requests and stuff."
Every meme posted so far has been made by the admins. However, the account is more than open to accepting more admins, as well as memes from other students and suggestions or ideas.
"We are looking for new people, if anyone's interested they can DM the account," the admin said. "We love submissions. Even if it's just ideas. I mean, there's only two of us, and I'm not even here all of the day. There are a ton of classes that I'm not in, so I'm missing a lot."
Past classes have struggled with a lack of inspiration, causing long droughts of any kind of post. While interest stayed at a high, posts were far and few between last year.
"I did talk to last year's class and they were having a hard time getting ideas," he explained. "The only reason the earlier classes were posting so much was because they weren't actually making all of the memes, they were getting a lot of submissions, and the past couple years it's gone down."
The main reason for the account is to just make relatable memes about the school and to entertain people, according to the admin.
"Being in high school, you know, we like to kind of collectively make fun of the school itself. So it's kind of our way to do that but to keep it not too offensive. Just to poke fun at them when we can," he said.
He differentiates "btownmemes" from other Boyertown meme pages, such as aptly named, "Boyertown_Memes." This meme account in question has recently disappeared from Instagram, presumably either deleted or taken down for inappropriate posts. The admin points out how the account isn't specific to BASH.
"I did follow it once, they post really wacky stuff," he said. "That's not what we're trying to do. We're trying to make it be about the school. So I think we're very different from them."
Ultimately, the admins are looking for students to take the account once this school year ends and the class graduates.
"We're already looking for people to take it over next year. So, Class of 2021, step it up," he laughed. 
Leave a Comment
About the Contributor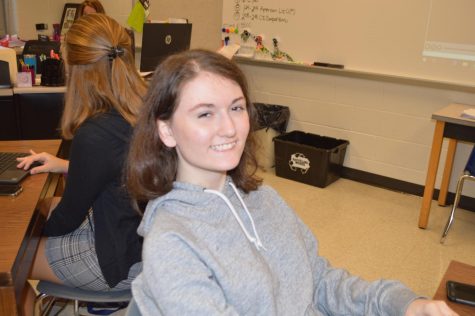 Jocelyn Lear, Editor-in-Chief
Jocelyn is a graduate of BASH. She served three years in the CUB and she previously wrote for the East Observer. She was in many clubs, such as SADD, Stage...