FLEX Enrichments: A Thorough Guide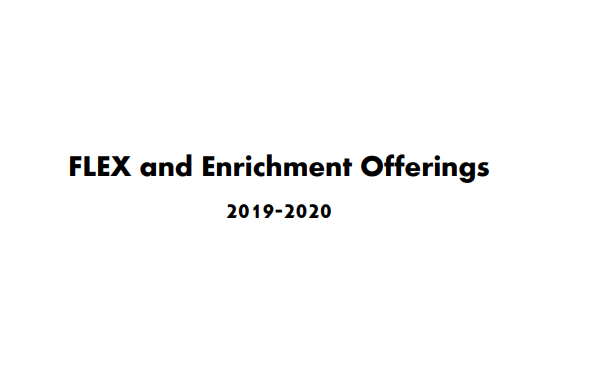 Beyond a typical study hall for flex, students can also sign up for many different FLEX Enrichments, from creative writing to athletics to organizations within the school.
Making a decision is hard, and making one uninformed is harder. Below is a comprehensive list of all the FLEX Enrichments a student may sign up for, along with the description and adviser.
The Accent – Mr. DiLanzo
The Accent is a creative writing club focused on being an outlet for creativity while also improving members' skills through practicing different styles, genres, "pet projects," and analyzing the techniques other writers use. The club works together on producing the annual Accent creative writing magazine, given out to students and parents at the end-of-the-year Arts Expo.
The magazine features both writing and art submissions, which members organize and choose to be in the magazine. Mr. DiLanzo, in room 507, invites anyone "interested in any form of creative writing – poetry, short stories, drama – editing or literary discussion," to please join!
The Cub – Mrs. Kraus
The CUB is the school's online newspaper, where we write news, opinion, sports, and features articles on what's happening around the school or affecting students! The flex is used to "conduct interviews, write, take pictures, and update the website." We accept not only those interested in journalism, but also photographers! Email [email protected] for more info.
The Bear Yearbook – Ms. Diaz & Mrs. Folk
This flex is only open to those already in Yearbook Club who need extra time to work on their assignments or have ideas for a new yearbook page.
Link Leaders* – Mr. Crouse
*This flex requires the adviser's approval in order to join.
The Link Leaders flex is only open for Link Leader Commissioners, to "plan, prepare, and lead" other members in activities for their 9th grade groups. Leadership development is heavily focused on.
School Store* – Mr. Letts
*This flex requires the adviser's approval in order to join.
The School Store flex is open to those who have taken or are currently taking the Retail Management class. Flex is the busiest time for the school store, so students must be quick and work on a rotational basis with other school store students. Anyone not assigned a shift for flex will spend it "ordering, inventorying, or using the period as a QSR as directed by the teacher."
TSA – Mr. Schopf (9th) & Mr. Pennington (10th-12th)
The TSA Flex is time "to work on individual and group events" with fellow TSA members. TSA focuses on designing, building, and testing creative solutions to TSA competition problems. Joining this flex as a TSA member is a great way to stay on top of projects and deadlines and to utilize time wisely.
Ceramics Studio – Mr. Frunzi
This flex is for those currently enrolled in a ceramics course who would like to "continue creating outside of the normal class period." Activities include learning new techniques, continuing class projects, beginning independent projects, or helping to maintain the studio through loading kilns, making clay, and cleaning up. This flex is limited to only 20 students.
Creative Weaving – Mrs. Weber
The weaving flex is for those motivated in improving their artistic skills and who have a background with creating woven fiber forms, especially in "coil baskets, reed baskets and loom weavings."
Drawing Studio – Mr. Dareneau
The drawing flex is for serious art students interested in extra time in the drawing studio, where members may participate in " individual instruction, portfolio preparation, community collaborations, discussions with working artists, and viewing of Art21 and art related videos." The drawing flex also helps prepare for Arts Expo at the end of the year as well.
Art Journaling – Mrs. Vogels
Open to everyone, this flex walks students through creating an art journal and filling it with different activities and prompts. This flex is meant to be a stress reliever as well as a reflective and mindful period, where "various artistic techniques and materials" will be utilized.
Preschool Care * – Mrs. Strick
*This flex requires the adviser's approval in order to join.
The Preschool Care flex is open to both those currently enrolled in the preschool program and those who have taken the class in the past. Mondays and Fridays will be spent supervising the children when preschool is in session; the rest of the days act as a study hall.
Happiness 101 – Mrs. Langol
Happiness 101 evaluates "misconceptions about happiness" and utilizes techniques to improve each member's own happiness. The flex will "focus on positive psychology and find what behavioral changes and mindsets" members can use to improve their lives. Guest speakers and "opportunities to put happiness theories into action" accompany this flex.
SADD – Mrs. Fine
Students Against Destructive Decisions, or SADD, aims to raise awareness for multiple campaigns. From drunk-driving, vaping, and underage drinking to mental health awareness and suicide prevention, SADD is determined to make a difference in students' lives at BASH. SADD is a national organization.
Select Singers* – Mr. Brunner
*This flex requires the adviser's approval in order to join.
This flex is an "ensemble of the strongest 9th and 10th graders from Mixed Chorale." The flex meets daily and requires an audition to participate. Few after-school rehearsals will be called, with the ensemble performing at BASH's choir concerts.
Jazz Combo* – Mr. Langdon
*This flex requires the adviser's approval in order to join.
This flex focuses more on the band, accepting those who play traditional jazz instruments to "learn how to play in a small jazz combo setting and learn the basics of improvisation." Active participation is expected.
Advanced Musicianship – Mr. Cinquini
This music flex is for musicians preparing"'solo repertoire" for festival, college, or scholarship auditions. Instructor feedback and mentor-ship is available, along with tutoring on concepts such as music theory and sight-seeing. Active participation is expected.
Yoga/Mindfulness – Señora Dominguez
The Yoga flex acts as a stress relief period to refocus, relax, and rejuvenate oneself. Activities will include "visualization exercises, mindful walking, gratitude writing, light yoga/stretching activities," and more. A yoga instructor will come in throughout the year in this flex. Tuesdays in the yoga flex are study halls so students may work on school work.
Envirothon Competition Team – Mrs. Hoffman
The Envirothon flex is for students looking to participate in the academic county Envirothon Competition. This competition " challenges students to think critically about the natural world and their roles in it while developing a basic understanding of the earth's ecological systems and the interdependence of the human species within these systems." Focus areas include "aquatic ecology, forestry, soil & land use, wildlife, and current environmental issues." The flex will be spent learning about the topics and preparing for the competition.
STEALTH – Mrs. Bergeyova
Students Training, Eating, and Living Totally Healthy, or STEALTH aims to promote healthy living and wellness. Members of this flex "plan school-wide activities and tournaments, tend and harvest BASH's tower garden, and explore ways to volunteer at community wellness events" as well as staying active and playing team games.
Wanderlust – Señor Donovan
The Wanderlust flex focuses on world traveling on a budget, specifically on how to plan your own international trips without spending too much money. Members will also learn how to stay safe in unfamiliar places. Additionally, the flex will teach students some key phrases in world languages as well as how to create a plan to study abroad or a dream vacation.
SAT/ACT Reading Test Support 
This flex is open to 11th and 12th graders who would like extra help on the SAT or ACT tests.
Theatrical Engineering – Mr. Ramsey
As an extension of Stage Crew activities, this flex is open to anyone interested in behind-the-scenes stage work. Activities such as setting up the stages for "various concerts, assemblies, dance recitals, and musicals," as well as learning hands-on light and sound production, and moving set and prop pieces including backdrops. A QSR is guaranteed for students in this flex at least once a week.
The Writing Center – Mr. Wise
The Writing Center focuses on tutoring peers and aiding in their writing troubles for various classes. Members will develop their leadership, public speaking, and writing skills as well through helping other students. This flex helps "prepare students to work in collegiate writing centers after graduation," as well.
The Amazing Escape – Mrs. Donovan
The Amazing Escape flex is focused on puzzle and problem solving, especially with escape rooms. Members will create and solve interesting and innovative escape rooms, utilizing teamwork and intelligence.
Youth & Government – Mr. Burychka
The Youth and Government flex, fondly known as YAG, is for members of the club as well as "any student generally interested in learning about our government and becoming involved in politics." Members learn about governments, both domestic and foreign, as well as elections and current events. Those in this flex may also interact with local lawmakers and political campaigns.
Leave a Comment
About the Contributor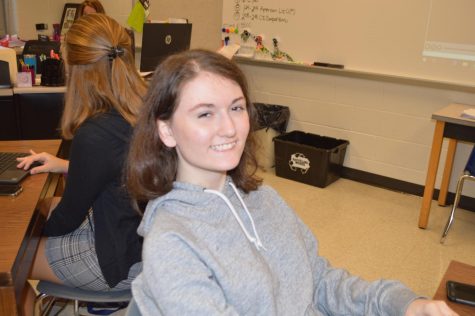 Jocelyn Lear, Editor-in-Chief
Jocelyn is a graduate of BASH. She served three years in the CUB and she previously wrote for the East Observer. She was in many clubs, such as SADD, Stage...