Remarkable Restoration: Tech Students Working to Bring 1959 Truck Back to Life
Walking into the cavernous bays of the Berks Career and Technology Center's diesel shop, one vehicle stands out among the other icons of American transportation that students have the opportunity to work on.
It isn't unique for its relatively small size, and certainly not because it sits on jackstands in a mostly disassembled state. What sets the rusty green semi-tractor apart from its counterparts is its age and role in students' education, rolling off of Mack's Allentown assembly line sixty years ago.
The old truck, a 1959 B61, was once a workhorse for Veneziale Trucking of Souderton.
"It used to have a fifth wheel and hauled freight for that company, and in its day it was a good strong truck," Heavy Equipment Instructor Jim Mack said. "It last ran ten to twelve years ago to get it on and off the trailer when my father moved it to the Mack Excavating site, but it's been sitting since then."
Restoring on the truck will allow Diesel program students to see how technology has progressed from trucks built in the 1950's to modern vehicles.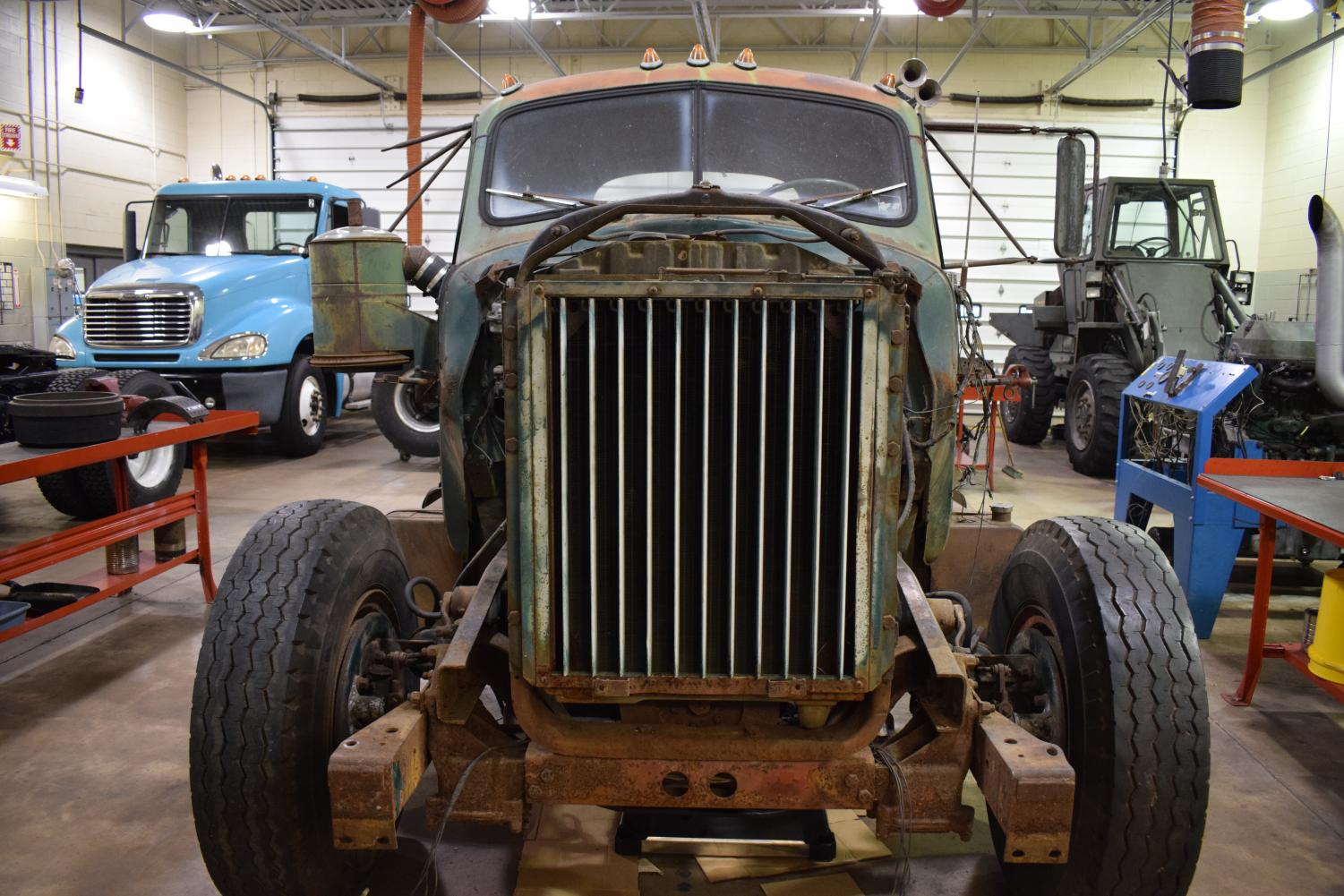 "It's really old school and simple compared to our newer trucks, but at the same time still relevant to the program," Diesel Technology instructor Kevin Heimbach said.
He doesn't have a timeline for when the restoration will be finished, he said, but a priority is to get it running. "We plan on getting some bodywork done on it and fresh paint."
The school acquired the old Mack in late 2017 when it was donated by Phil Mack of Mack Excavating in Gilbertsville. With a smirk looking over the truck and its current shape, Heimbach described it as "complete but not running."
A sad sight after sitting exposed to the elements for the better part of forty years, complete but not running is a bit of a sugar coating. Flat, dry rotted tires, peeling or nonexistent paint, broken lights, and a cab that looks like it was inhabited by a family of squirrels are only the cosmetic issues, and under the hood an even longer road lies ahead.
"It was last one the road sometime around the date on its last registration tag, so about 1978 or 1979," says Mack, son of the truck's donor Phil Mack. "We bought it privately as a parts truck and it was stored on my grandfather's farm."
In the infamous terminology of the used auto market, "it ran when parked, but by the time the school got it in the shop it wouldn't even turn over."
Once the students get the truck running, other planned modifications include a rebuilt instrument cluster on the dash, a conversion from a six volt electrical system to twelve volt for compatibility, and a completely rebuilt engine.
Once completed the truck is planned to be a PR exhibit for the school and Diesel program, and entered into parades and other public events around the county.
Leave a Comment