'The Clapping Guy' Adds A Bit of Cheer to End of Students' School Day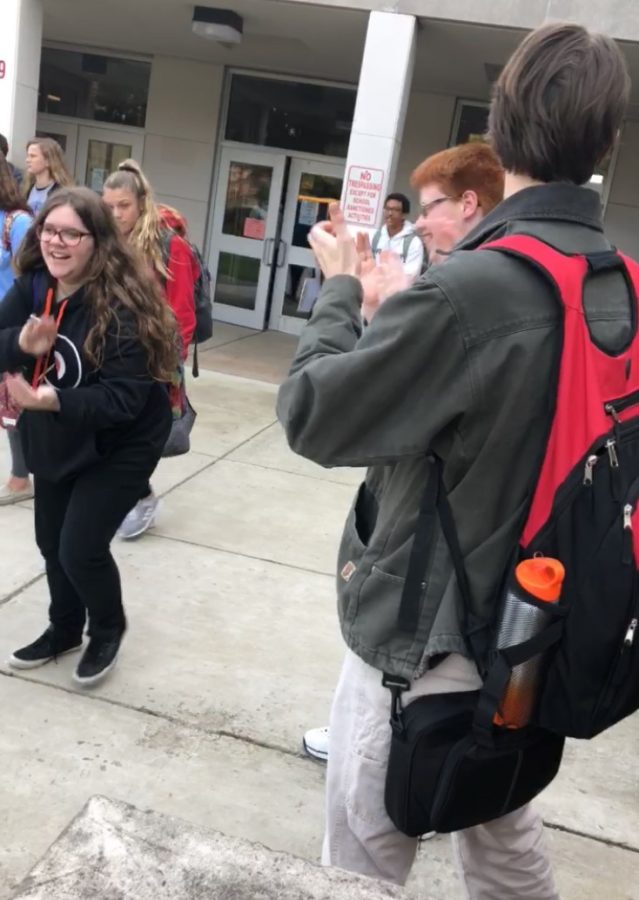 To earn a standing ovation, someone usually has to give a stellar performance.
Here at BASH, students get one every day just for leaving school.
In contrast to many students who leave school silently, head down with earbuds, lost in their own music or thoughts,  Freshman Stephen Braheny each afternoon stands on a bench just outside the entrance by the counseling office, smiling and clapping for people as they are leaving.
He has been doing this since the first day of school.
"I didn't want to just stand outside and do nothing; I wanted to do something fun,"  he said. "It's always entertaining to see peoples reactions."
Some people smile, some just stare, and some snarl. Some find it so interesting that they take out their phone and record Stephen, while others start clapping along with him.
"People join in and there will be a group of people clapping for no reason," Stephen said.
Freshman Olivia Christman is one of the people who occasionally joins in the clapping.
"I think it's funny!" she said. "It's fun to join in."
Stephen has gained some notoriety from all this. In class, he's heard people call him "The Clapping Guy" and "Clappy Hands", "Mr. Clappy Hands", and "Clappy Man".
"I don't really do it for the popularity," Stephen said. "I just do it because I can."
Clapping every day can be hard work. Much like a politician who has to shake hundreds of hands daily, it can lead to minor injury.
"After like the first week my hands were sore, [because] I'm clapping for roughly 15 minutes," Stephen said.
But that doesn't deter Stephen. Like a dedicated athlete, he continues on, in pursuit of his end-goal, which is simply entertaining people.
"I'm doing something I enjoy, and other people are getting enjoyment out of it as well," he said.
Each day, he starts packing up a few minutes early to rush out of his last class so he can beat the crowd to get in position to clap. '
"I've got to race to get to my spot," he says.
He plans to continue his daily clap for the next three years. Then, he hopes to pass the baton.
"I hope someone else just picks it up to continue it."
View Comments (2)