S'no Joke: Flakes Were Still Falling in Mid-April
Students were stressed by one of the snowiest, coldest winters in recent history.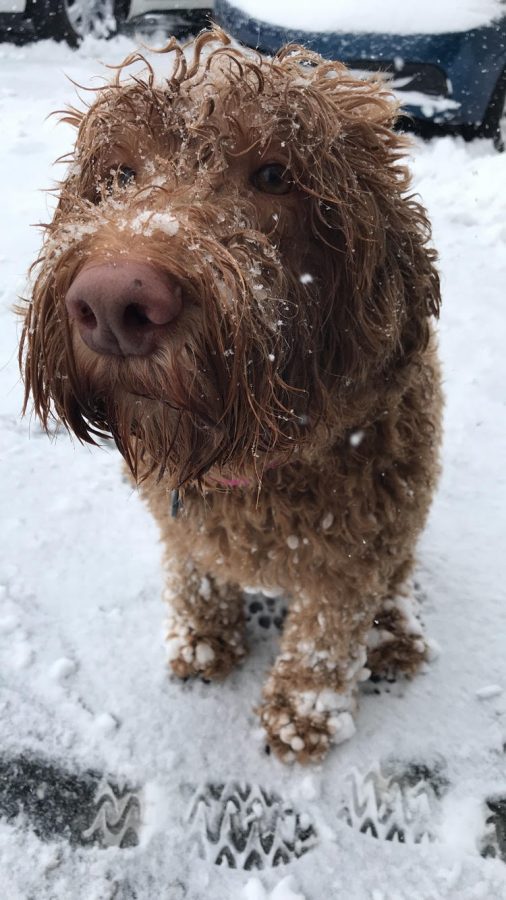 Nine snow days, multiple late starts, and seemingly hundreds of dark days later, Boyertown students are done with winter.
"I'm literally dying, I hate it so much," Sophomore Tommy Johnston said.
This year's snow total was 29.8 inches, compared to 15 inches last year. Also, the snow lasted very late, with the last snow day on April 2nd and flurries even into mid-April.
Presidents Day, February 19, and Easter Monday, April 2nd, were taken away. But then, April 2nd turned out to be a snow day, so the school started adding  days onto the end of the school year, extending the school year from June 5th to June 8th.
Not only was winter snowier, but it was colder. In March this year, the lowest temperature was 29 degrees compared to 37 degrees last year.
Junior Christopher Derocher said the cold weather "tends to make me go insane".
He said he has gotten "cabin fever" having to stay inside so much.
"And when it snows, we tend to lose our TV, so I end up either binge watching old movies or watching my brother play Madden on the PS4. Either one of these really sucks," he said. "It also doesn't help I have to hand shovel my driveway."
Freshman Joshua Torrens says the long, cold days make him feel tired and unmotivated.
"I hate the cold and snow is only good for getting out of school," he said. "One way to combat the winter blues was by playing Fortnite with the boys."
Freshman Jessica Ahart agreed that the prolonged winter weather made her more gloomy and irritated.
"The only thing I really enjoy about winter is getting to ski and go sledding with friends, but I don't particularly like the winter season." She said she has gotten through by thinking ahead to warmer months. "It just makes me want summer so much more."
Tommy said another reason the snow was annoying was because it interfered with some of the clubs he is in. "Drama club was cancelled a few times," he said.
However, the crazy amount of snow has not bothered everyone.
"I get to keep wearing leggings and my hoodie," Freshman Jenna Dumbrowsky says.
Junior Kylie Thompson said he also enjoyed the snow.
"It rarely snows and I don't think we should take that for granted," he said. "Most of the memories me and my family have are during the snow days when we made forts and sled down big hills. It just reminds me of the memories when I was a kid, so I love the winter and the snow."
Freshman Rachel Kennedy said she likes that the long winter extended the ski season.
"I enjoyed going snowboarding with friends throughout all of the snow that we have gotten this year," she said, "but I got tired of it when it was spring and still snowing."
Leave a Comment