Students Speak Out Through Printmaking Projects
Mixed Media Art students are expressing their feelings about taboo topics such as self harm and sexual harassment through printmaking.
Students in Art Teacher Ms. Naomi Vogels' class were assigned to think of social topics that meant something to them so they could speak out about them through an art form that goes back hundreds of years and has a strong tradition of being used to express ideas.
"[Printmaking] was sometimes called the art of the oppressed," Ms. Vogels sad.
After brainstorming topics, each student picked one they felt strongly about. They came up with ideas such as trophy hunting, depression, rape, pollution, bullying and dog fighting.
"The students were excited to actually talk about something that meant something," Ms. Vogels said.
After they had their idea, they each began sketching a design to represent it. Then, the design was transferred onto a lithium block and carved into the block, which was then stamped onto paper.
"This process was a lot of trial and error," Freshman art student Merisa Carrasquillo said.
Carrasquillo chose to do dog fighting as her project. She wanted to raise awareness about the cruelty that these dogs can face. She carved a boxing ring with dog paws hanging overhead like boxing gloves.
"Some people might not be aware of some things happening around the world and it's important to get them to help make change," she said. "Everyone can agree, though, that we can change these issues and help everyone and every animal out for the better."
Another student, sophomore Jenna Dumbrowsky chose mental health as her printmaking project. The topic hits home for her.
"A lot of my friends and family suffer from various mental health issues," she said, "and so when this project came up I thought it would be nice to dedicate it to them."
Although doctors recognize mental health issues quicker and easier these days, they are still sometimes overlooked in society, she said. Her project shows this through a design that shows a person being attacked in the head by a monster. 
"There's still a lot of stigma surrounding [mental illnesses]," she said. "With this project I felt like I was able to give an abstract but visual representation of what someone suffering from a mental health issue goes through."
Leave a Comment
About the Writer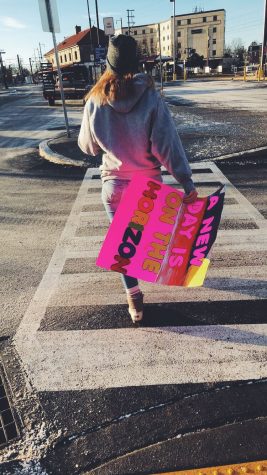 Casey Tremblay, Staff Writer
Casey is a Sophomore and a new student to Boyertown.

Casey is a huge student activist who in her free times enjoys making her voice heard around the...