Flipped Classroom Supposed to Add Up to More Individualized Learning in Math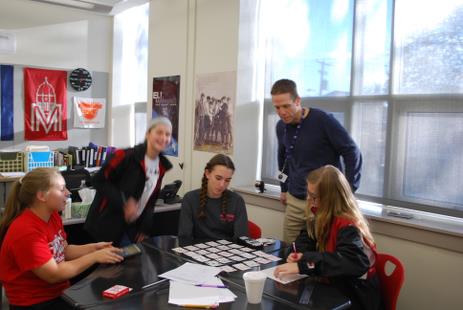 For years, students have been used to math class where they listen to a lecture about a new concept, then go home and practice problems.
This year, in Mr. Michael Peterson's Algebra I class, students instead watch a recorded video lecture the night before, then class time is used to ask individual questions and review.
This new way of learning is called a "flipped classroom" and is being put into practice in schools all over the country. The point of flipped classroom is to be able to watch a lecture at the student's own pace (able to rewind or fast forward). It also allows students more time to ask individual questions and to practice problems during class.
"It allows for more class time to teach skills on a one-to-one level rather than to the whole class at once," Mr. Peterson said.  
He said he started using the flipped classroom model about four years ago.
"I saw a series of YouTube videos by Dr. Lodge McCammon at NC State and what he said made a lot of sense to me so I tried it," he said.
He began by using other teachers' videos, then he started using his own a year later.
"I feel that having students take notes on their own allows them to work at their own pace and process the information at a rate more comfortable to them" he said. "It is more efficient time wise and no information ever gets left out."
Some students have had a hard time getting used to the new method.
"I believe it would be easier to learn the lesson in class," Freshman Algebra I student Anna Whiteley said. "That means the teacher will be there and you can get ahold of them if you don't understand something."
Mr. Peterson said he believes the method actually allows for him to answer more of students' individual questions.
"When forced to take notes in a whole-class setting all the time, day after day, students who struggle to keep up fall behind and can't catch up," he said. If students watch the videos at night, they can write down questions to ask the next day.
Freshman Gwen Marcy said she generally likes the method, but she sometimes is left not fully understanding a concept when she watches the video, even after discussing it in class the next day.
"I wish he would go over it more after we watch the video because of what I don't understand, but other than that it's good," she said.
Mr. Peterson said he has heard both positive and negative reactions to the flipped classroom.
"Reviews have been mixed, as with any method of teaching, but mostly I get positive feedback about the technique," he said.
He said the key is how much effort students put in.
"When students do the work they generally succeed," he said. "When they don't do the work, they generally struggle."
Leave a Comment
About the Contributor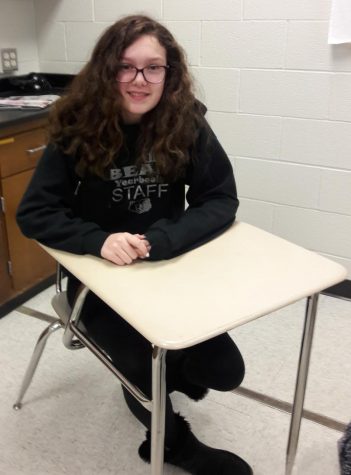 Emily Warkentin, Staff Writer
Emily Warkentin is a freshman in the journalism class. She was interested to take this class because she really liked her journalism class at JHE. Her...