Students Pen Poetry, Prose During Creative Writing Flex
Athletes, artists, and musicians are very visible at BASH.
But where are the writers?  
Almost two dozen can be found in Room 507 each day in the Flex Creative Writing enrichment class. Advised by English Teacher Mr. Dan DiLanzo, students spend time practicing different writing styles and analyzing texts.  
From "The Raven" by Edgar Allan Poe to The Zoo Story by Edward Albee, students spend their time during Flex growing as writers and readers by studying and practicing a variety of genres. The enrichment was created three years ago.
"I run a book club, and some of the kids wanted to put it together and made it into a flex," Mr. DiLanzo said.
The purpose of the group is to give students a place to express themselves and to get published in The Accent, an annual literary magazine distributed at Arts Expo at the end of the year, Mr. DiLanzo said.
It gives "kids an opportunity to explore different creative writing genres, get feedback from peers and staff on pieces, [and] put together the magazine".
Over the years, the creative writing flex has grown, and now it has 21 students.
Samantha Heckler-O'Connor, an 11th grader, is among them. She said she spends "hours upon hours" on writing, which is her passion.
"I personally love writing and that's all I do," she said. "I plan to have at least one piece in [The Accent], and a lot of it is based off of the book I wrote."
Some students are hoping Creative Writing becomes a class in the future, including Samantha, who said she would take it "in a heartbeat".
"I feel like a class could take you out of your comfort zone and push you to try more styles, more so than a club," she said. "A club isn't graded, so you aren't required to partake in it. I would want to try different styles and learn what makes a novel eye-catching or appealing to readers."
Mr. DiLanzo said the idea is being considered, although it might take some time.
"I would definitely make it a class," Mr. DiLanzo said. "The different English courses have been through a lot of restructuring in the last several years, and we wanted to solidify those courses before expanding opportunities."
Leave a Comment
About the Writer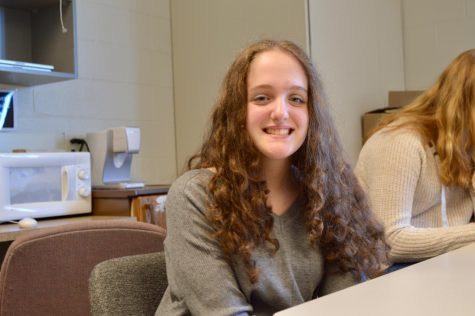 Samantha Hoffman, Staff Writer
Samantha Hoffman is a sophomore who loves to read and write, and she is a member of The Cub. She enjoys fiction writing and is involved in The Accent. Other...