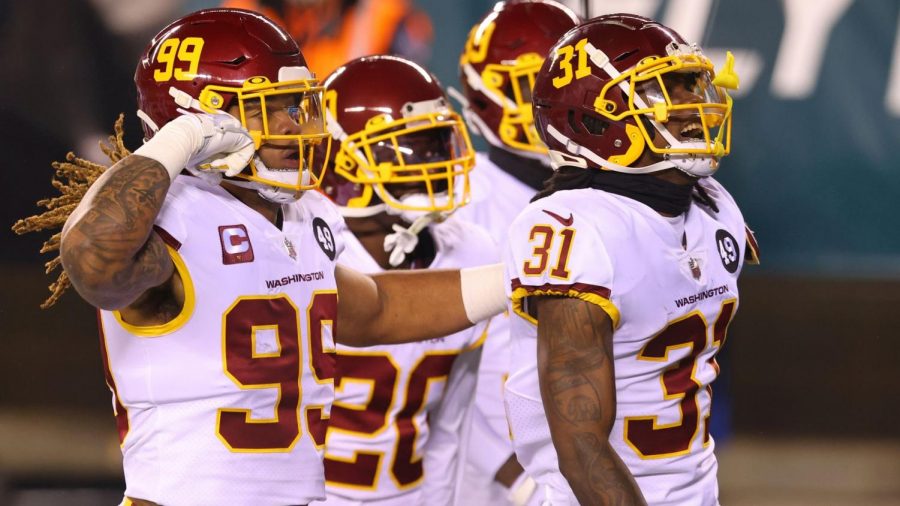 Game Recap: Eagles lose final game of season, and allow Washington to win the division over the Giants
In their final game of the 2020 NFL season, the Eagles took on the Washington Football Team at home on Sunday Night Football. This game has no playoff implications for Philly but Washington would clinch the NFC East title with a win, and they did exactly that. In this must win game for WFT, if they had fallen to Philly, then the New York Giants would have taken the division crown after beating the Dallas Cowboys earlier that day. Quarterback Alex Smith, who is sure to win Comeback Player of the Year, struggled to get anything going on offense after returning from an injury that sidelined him for two weeks, and despite Philly not playing a handful of keys players on both sides of the ball. It was Washington's elite defense though who won them this very sloppy NFC East like game.
Quarter 1: Washington started with the ball first and Smith led them right down the field and tosses a touchdown pass to top wide receiver Terry McLaurin. This was the first time Washington scored on their opening drive all year. WFT leads 7-0. Jalen Hurts then with the ball targets Zach Ertz but instead throws an interception to rookie seventh round safety Cam Kurl. Kicker Dustin Hopkins makes a 42-yard field goal to put Washington up 10-0. Hurts throws back to receiver Greg Ward on a trick play, who then throws a pass to Travis Fulgham.
Quarter 2: With the help of some costly penalties by Washington, the Eagles get into the redzone, and Hurts runs in for the touchdown. Score now 10-7 WFT. Smith goes down on third down forcing a punt. Hurts weaves, steps up and fires to wide receiver J.J. Arcega-Whiteside. Hurts then once again escapes and runs in for the touchdown. Philly takes the lead 14-10. Washington then goes on a last minute drive, and tight end Logan Thomas goes up and makes the catch over a Eagle defender for the score. Going into halftime WFT leads 17-14.
Quarter 3: After some quiet possessions, runningback Boston Scott gets a big hole, and runs to midfield. Smith throws a high pass to runningback JD McKissic which bobbles around and safety Marcus Epps intercepts it. Eagles decide to go for it on fourth & goal but Washington's defense holds strong once again.
Quarter 4: Philadelphia decides to put Nate Sudfeld in at QB to give him a chance. He takes a deep shot and it is picked off by the former Eagle safety Jeremy Reaves. Smith fails to take advantage of this opportunity and gives it right back to Philly as linebacker T.J. Edwards picks him off. But then another turnover occurs as a bad snap to Sudfeld gets swatted by defensive end Montez Sweat, and picked up by rookie defensive end Chase Young. Hopkins kicks a 41-yard field goal and Washington goes up 20-14. Sweat and linebacker Jon Bostic each get a sack on Sudfeld forcing a punt. Now Washington fumbles the snap, but Smith luckily recovers it. The Football Team then faces fourth & inches and get the Eagles to jump. Philly gets the ball back with little time remaining and can't pull off any miracles. The Football Team wins 20-14.
There you have it. The Washington Football Team is the NFC East champs at 7-9. They quite honestly deserve it with everything the team has been through starting with the name controversy and eventual change, head coach Ron Rivera getting diagnosed with and beating Cancer, and the return of Alex Smith after suffering his broken leg two years ago. Its truly impressive what this team has become. On the other hand, the Eagles have become somewhat of a mess. They fall to 4-11-1 on the season and finish dead last in the division. Not to mention the Carson Wentz wanting out situation and the controversy surrounding head coach Doug Pederson.
Jalen Hurts passed for 72 yards and threw one pick, and had two rushing TDs.  Boston Scott had 65 rushing yards and Arcega-Whiteside led with 40 receiving yards. Alex Smith passed for 162 and threw two TDs and two INTs. Antonio Gibson led in rushing with 75 yards, and Cam Sims led in receiving with 43 yards. Next Saturday, Washington will host Tom Brady and the Tampa Bay Buccaneers in the Wild Card Round, while the Eagles will sit at home an watch, Fun fact: there hasn't been a repeat division winner in the NFC East since 2004. As Washington looks ahead to their playoff game, Philly will look ahead to their sixth overall pick in the 2021 draft, and possibly consider some changes within the organization.