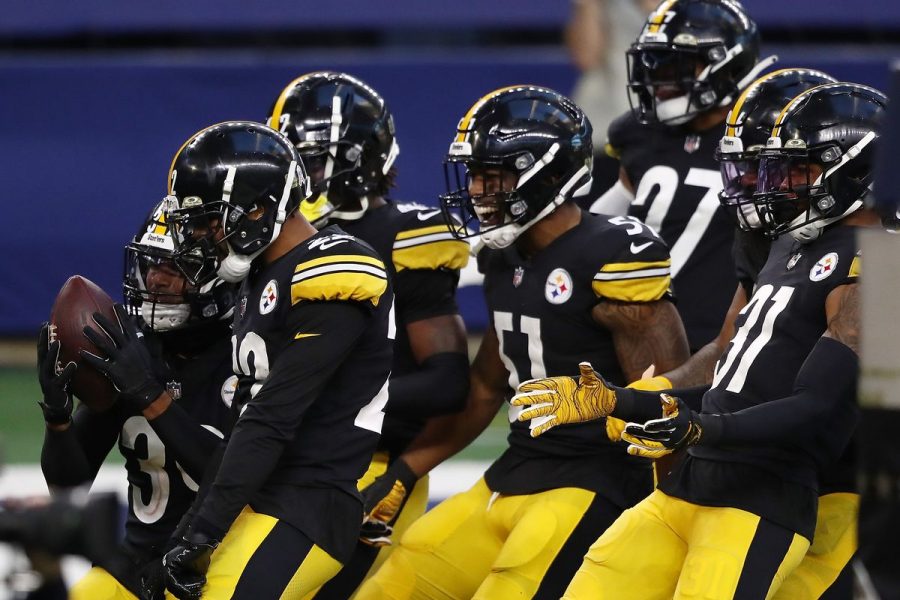 Game Recap: Pittsburgh Steelers pull out win against Garrett Gilbert led Dallas Cowboys
Now I don't think anyone was expecting this game to come down to the wire like it did. The undefeated Steelers with a great offense, and elite defensive line should've feasted on the Cowboys historically awful defense, injured offensive line, and fourth starting quarterback who was in the XFL earlier this year. But it was not that at all, with Pittsburgh barely escaping with a win to keep their undefeated streak alive, and Dallas still somehow in contention in the NFC East.
Quarter 1: After a dime of a throw goes right through rookie receiver, Chase Claypool's hands, the now starting quarterback, Garrett Gilbert, who is starting over Ben Dinucci and Cooper Rush, drops a dime to wide receiver Amari Cooper. Steelers make the stop, and Dallas kicks a 38-yard field to go up 3-0.
Quarter 2: The Steelers go for it on 4th & 1, and the Cowboys defense decides to awaken, and make the stop. Gilbert escapes the pressure and runs for a first down. He does it again. After another nice chuck play, Gilbert finds rookie receiver, Ceedee Lamb for a touchdown. 10-0 Dallas leads. Steelers punt after their most recent drive. Wide receiver, Cedric Wilson catches the ball and throws it back to cornerback, CJ Goodwin who runs all the way down to about the Steelers 10-yard line. Amazing special teams play by the Cowboys. They get set back after a penalty on the punt return, and are held to a field goal attempt, which Greg Zuerlein makes from 44 yards away. 13-0 Cowboys continue to lead somehow. Pittsburgh itches to do something before the half, Ben Roethlisberger finds wide receiver James Washington open in the endzone as they connect for a touchdown. Kicker Chris Boswell shanks the extra point attempt to the left. Steelers trail 6-13. Lamb catches a pass, but the ball is knocked out and falls into the hands of safety, Minkah Fitzpatrick. With that, Boswell kicks a 59-yard field goal. Cowboys lead 13-9 entering halftime.
Quarter 3: After a nice drive by Gilbert, they kick a 45-yard field to put the Cowboys up 16-9. Big Ben nearly throws an interception, and Dallas gets the ball back and drives down the field once again. Pittsburgh's defense seemingly non-existent until Dallas gets into their territory in which the Steelers hold them to a 39-yard field goal. Cowboys extend their lead once again by three. 19-9.
Quarter 4: Almost immediately after the fourth quarter starts, Big Ben connects with wide receiver Juju Smith-Schuster downfield, and he fights his way into the endzone for a Steelers touchdown. The extra point is blocked, but just like that, Pittsburgh is now only down by four points, 15-19, with a whole quarter left to play. Dallas immediately responds as they return the punt to Pittsburgh's 36-yard line. Gilbert, in the redzone, is hit as he throws, and Fitzpatrick picks him off in the endzone. The ball gets deflected on a third down, and the Steelers are held to a field goal. They now only trail by one. Steelers get the ball back, and wide receiver Dionte Johnson breaks a tackle and runs all the way down to the Cowboys 12-yard line. Soon after, tight end Eric Ebron catches a pass, and leaps over a defender for the touchdown. The two-point conversion fails, but Pittsburgh still leads 24-19 with about two minutes left in the game. Both teams get stopped on their next possessions and Gilbert bombs one out to Lamb for a huge gain. With one last effort to win the game, Gilbert heaves the ball into the endzone, and it is deflected by the Steelers secondary. Pittsburgh comes out on top 24-19.
The Pittsburgh Steelers remain the only undefeated team left in the league with an 8-0 record. Both of their last two games were won by pass deflections against the Titans and Cowboys. They remain on top of the AFC North. The Dallas Cowboys fall to 2-7, now tied with the Giants for last place. For the Steelers, Big Ben passed for 306 yards and three touchdowns. Runningback James Conner rushed for just 22 yards on the day. The receiving game was more efficient as Juju racked up 93 yards of receiving. For Dallas, Garrett Gilbert threw for 243 yards, one touchdown, and one interception. Tony Pollard led the team in rushing yards with 57, and CeeDee Lamb had 71 receiving yards. Will the Steelers be able to keep their undefeated streak alive as they face off against Joe Burrow's Bengals? What will Dallas do at quarterback after their bye week? Will Garrett Gilbert continue to start, or will Andy Dalton take the spot back?