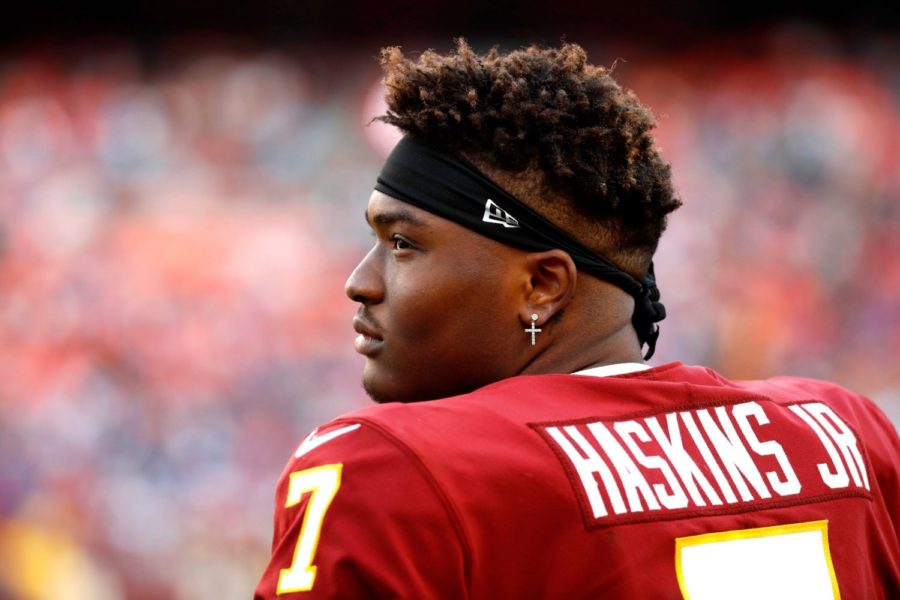 Rest in Peace Dwayne Haskins
Tragic news broke the sports world Saturday morning.
Pittsburgh Steeler, and former Washington quarterback, Dwayne Haskins Jr, tragically passed away after being struck by a dump truck the morning of April 9th down in South Florida.
Haskins was down in Florida with about a dozen other Steelers' teammates including other Steelers' QB Mitchell Trubisky, who had invited Dwayne. This was a trip with some of the team's quarterbacks, running backs and wide receivers, just for them to work on their chemistry and build stronger bonds with one another.
The official police report has not been released yet, but it was known that Dwayne had pulled over along the highway, and had gotten out of his car for some reason, and that's when he was hit.
People within the Ohio State, Steelers' and Washington organizations, and across the NFL world mourn the loss of the 24-year-old.
Dwayne Haskins Jr was born on May 3, 1997 in Highland Park, New Jersey to parents Tamara and Dwayne Haskins Sr. He played high school football at Bullis School in Potomac, Maryland.
Back in 2008, Dwayne visited Ohio State, and said he would play football there. Those words were spoken into existence when he committed to become an Ohio State Buckeye after his high school career. He became a Buckeye legend. During his single season starting as the QB there in 2018, he tossed 50 touchdowns and threw for 4,831 yards. Both Big Ten records. Haskins led the team to a 13-1 record and a victory in the Big 10 Championship. He was also a Heisman finalist that year as well.
Following his legendary season at Ohio State, he declared for the 2019 NFL draft, and he was selected fifteenth overall by the Washington Redskins. Dwayne first NFL win for the Redskins came in 2019 beating the Detroit Lions 19-16. During his two years in Washington, Haskins tossed twelve touchdowns and won three games in his starts there. After his second season, he and Washington ended up parting ways, and Dwayne was fortunate to find a new home soon after in the Steel City.
He served as a backup to Ben Roethlisberger in Ben's final season in the league, and looked like Dwayne would be getting a second chance to start.
Prior to that season, Dwayne had also married the love of his life, Kalabrya Gondrezick-Haskins on March 19, 2021.
Dwayne was regarded as a man who loved life. He loved his family, friends, teammates, coaches, and the game of football. Teammates noticed his drive to improve at his craft and to learn and better understand the game. He always took time to get to know his teammates and build relationships. "Dwayne was a great teammate, but even more so a tremendous friend to so many. I am truly heartbroken," said Steelers' head coach Mike Tomlin on the loss of Dwayne.
Thoughts and prayers go out to to his wife, family, friends, and anyone else affected. Dwayne would have turned 25 on May 3rd.
Rest in peace Dwayne.
Gone too soon.