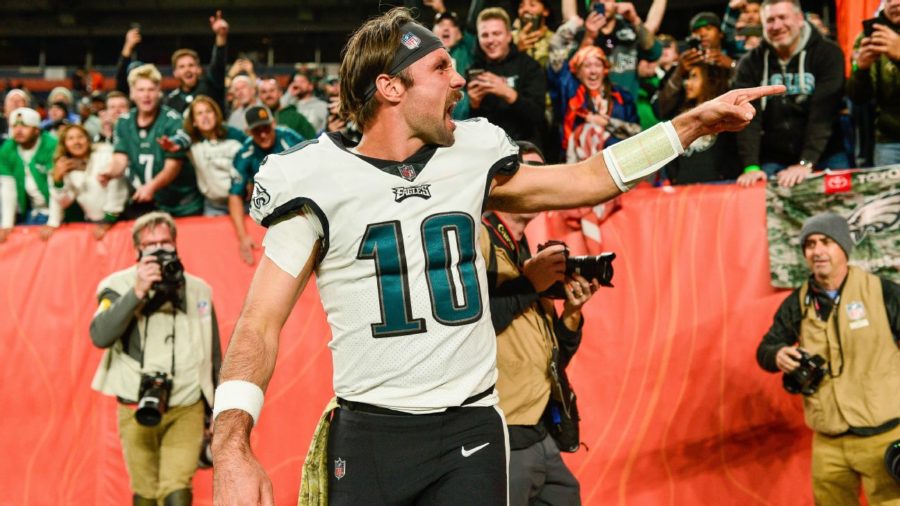 Minshew Mania returns!
The mustache has returned!
With Jalen Hurts being ruled out of the game, the next man up for the Eagles was the legendary mustache supporting, Duval QB, Gardner Minshew II.
As for New York, rookie second overall pick, Zach Wilson makes his return after suffering a PCL injury in late October.
Both teams look to be in rebuilding years, but Philly actually has a shot at the playoffs, and a win here would get them right back into the thick of it.
Quarter 1: Kicking off the game, as the Eagles kick off to the Jets, wide receiver Braxton Berrios, who was back to receive the kick, has a spectacular return as he takes the ball back to the Eagles' twenty. On third down, Wilson zips a pass to rookie stud wide receiver Elijah Moore for the touchdown. New York has a rookie kicker, Alex Kessman, starting, and he misses the extra point. 6-0 NYJ. Gardner Minshew now making his Philly debut, throws a screen to Dallas Goedert, who picks up fifteen plus yards. On the play-fake, Minshew, getting hit as he throws, drops it in for Goedert, who makes the catch, and scores. 7-6 PHI. As Wilson drives his team downfield, running back Tevin Coleman helps out with a powerful run to about Philly's twenty. Wide receiver Jamison Crowder gets down to the one. Wilson QB sneaks, and breaks the plain for the touchdown. Kessman misses another PAT. 12-7 NYJ. Another Goedert screen proves successful to pick up a first down.
Quarter 2: Minshew leads a drive, and tops it off with his second TD pass to Goedert. 14-12 PHI. Coleman has a nice fifteen-yard run up the middle. Wilson hits Crowder on a slant inside the ten. Going for it on fourth & goal, Wilson finds a wide open Ryan Griffin, the tight end, for the score. They go for the two-point conversion but are unsuccessful. 18-14 NYJ. Devonta Smith stiff arms a Jets defender, and picks up ten extra yards. Minshew hands off to Kenneth Gainwell in the redzone, and he goes right up the middle, and keeps going right into the endzone. 21-18 PHI. On third down, Wilson bounces off his lineman, and gets crushed by Josh Sweat for the sack. Jalen Reagor muffs the punt but gets it back, and uses his speed to run to about the fifty. On a third & nineteen, Minshew finds Quez Watkins wide open, and Watkins has enough time to come back for the pass, turn around, and run for the first down. Jake Elliott hits a thirty-one yard field goal, and Philly leads 24-18 going into Halftime.
Quarter 3: Miles Sanders has a couple conversion runs, followed up by Minshew finding Reagor for a first down inside the Jets' thirty. Minshew floats a pass toward Goedert which draws a defensive pass interference on cornerback Bryce Hall, setting the Eagles' offense up inside the ten. One yard further out this time, Elliott makes the field goal. 27-18 PHI after the long drive. With the ball back, The Eagles' offense lines up to possibly go for it on fourth & three, and get linebacker C.J. Mosley to jump, giving Philly a first down. Going for it on fourth down again, Minshew takes the ball himself, and forces his way through the pile for the new set of downs.
Quarter 4: Elliott puts the ball through the uprights on a forty-three yarder. 30-18 PHI. Wilson fires and Moore makes the catch at about the forty-five. Wilson then pitches back to running back Austin Walter who then throws it back to Wilson who throws to Griffin for the first down. On third & long, Wilson sails the ball over his receivers' heads, and gets intercepted by Marcus Epps. Sanders then breaks free on a run, and crosses into Jets' territory before going down inside the thirty-five. A forty-six yard field goal is made by Elliott. 33-18 PHI. Needing to score some touchdowns, the Jets' offense goes for it on fourth down, and fail to convert. Gainwell runs on the outside and slides down in bounds to keep the clock running. A high snap for Minshew sails over his head and he recovers it. Wilson converts a fourth down with a pass to running back Ty Johnson. With no chance to comeback, Wilson completes a pass to Berrios, and the clock hits zeros. Eagles win with a final score of 33-18.
For the first hand full of drives, both teams were coming away with touchdowns, until the Jets stopped scoring, then it became Philly's ballgame from there on out.
The Eagles are now 12-0 against the Jets all time.
Zach Wilson had a good start to the game before all of a sudden losing all momentum. Zach completed twenty-three of thirty-eight pass attempts for 226 yards, and two TDs to one INT. Tevin Coleman had fifty-eight rush yards with rookie back Michael Carter still out, and Elijah Moore led with seventy-seven receiving yards and a TD. The kicking issues is what hurt New York first, with the rookie Austin Kessman going 0/2 on PATs, and them failing to convert a two-point attempt, and it all went downhill from there in another lost season.
Gardner Minshew threw just one incomplete pass midway through the game. Minshew finished completing 20/25 pass attempts for 242 yards, and two TDs. Miles Sanders had a good day with 120 rushing yards, and Dallas Goedert had 105 receiving yards and a pair of TDs. The defense clamped up in the second half after realizing they were playing the Jets.
The Eagles, as expected, bounced back and now improve to a 6-7 record. They still sit at third in the NFC East, and in the hunt as Washington beat the Raiders to improve to 6-6, and currently own the NFC's sixth seed.
With how well Minshew played, it is up for debate whether he should start over Hurts, but the Eagles have already stated they are still rolling with Hurts as their starter.
Philly finally gets their bye week next week, as they will prepare to face the Washington Football Team, which will have major playoff implications for both teams.