Now former Raiders WR Henry Ruggs III is arrested after being involved in a fatal car crash
Tragic news related to the NFL has recently surfaced.
On Tuesday morning in Las Vegas, at 3:39 a.m., an accident occurred involving a Chevrolet Corvette and a Toyota Rav4. The driver of the Corvette was identified as Las Vegas Raiders' wide receiver Henry Ruggs III. His vehicle rear-ended the Rav4 causing the accident. The vehicle Ruggs hit, then burst into flames. The driver was a 23-year old woman, who sadly died in the crash as her car caught fire leaving her trapped inside. Her dog also passed away due to the same circumstances. Ruggs and his girlfriend, who was riding with him, were both taken to the hospital to be treated for non-life threatening injuries. The Las Vegas Metropolitan Police Department later released a statement about the incident.
Henry Ruggs III (22) was drafted twelfth overall by the Raiders in the 2020 NFL Draft. Ruggs was on of three big name receivers coming out of the draft. He shined as a wide out at Alabama. His main strength was his insane speed, which he used to beat opposing defenders, and shine on the field.
His first season with the Raiders was more on the quiet side as Ruggs struggled with injury and posting just 452 receiving yards and two touchdowns. In his second year in pro football, Ruggs looked to be coming into his own now, and already through Week 8 had 469 receiving yards and two touchdowns, already outperforming his rookie season self.
Ruggs had an extremely high ceiling as a player, and was looking to be climbing his way up, but this one bad decision ruined it all, as it cost a human life, and Ruggs' future in the NFL.
Earlier on in the night before the incident, Henry Ruggs was at Top Golf and had been drinking. Unfortunately he chose to attempt to drive home after and it resulted in him causing the death of a woman, whose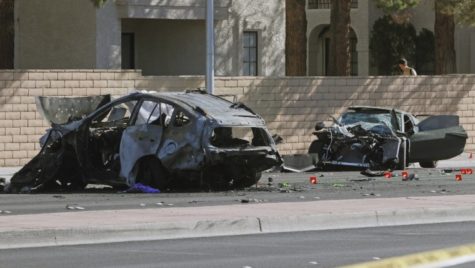 name was Tina Tintor, and her dog. Ruggs was reportedly driving at a speed of 156 mph. When his car's airbags deployed, the car's speed was at 127 mph. Ruggs is very lucky to be alive. He was showing signs of impairment after the crash, and after further testing, it showed that his blood-alcohol level was more than double the legal limit. There was also a loaded gun found in his car.
Shortly after the accident, the Raiders, after releasing a statement addressing the events, soon announced they were releasing Henry Ruggs.
Ruggs has been charged with DUI that resulted in death, and in the state of Nevada, there is no probation for this felony, and he could face two-twenty years in jail. He made his first court appearance on Wednesday, wearing a neck brace, and seated in a wheelchair. Ruggs' bail amount was set at $150,000 with strict conditions to include home confinement, electronic monitoring, no alcohol, no driving and the surrender of Ruggs' passport.
The Justice of the Peace, Joe Bonaventure stated that, "I cannot recall a speed that high in my career on the bench."
It is yet to be determined what his sentence will be. Ruggs is set to re-appear in court on the tenth of November.