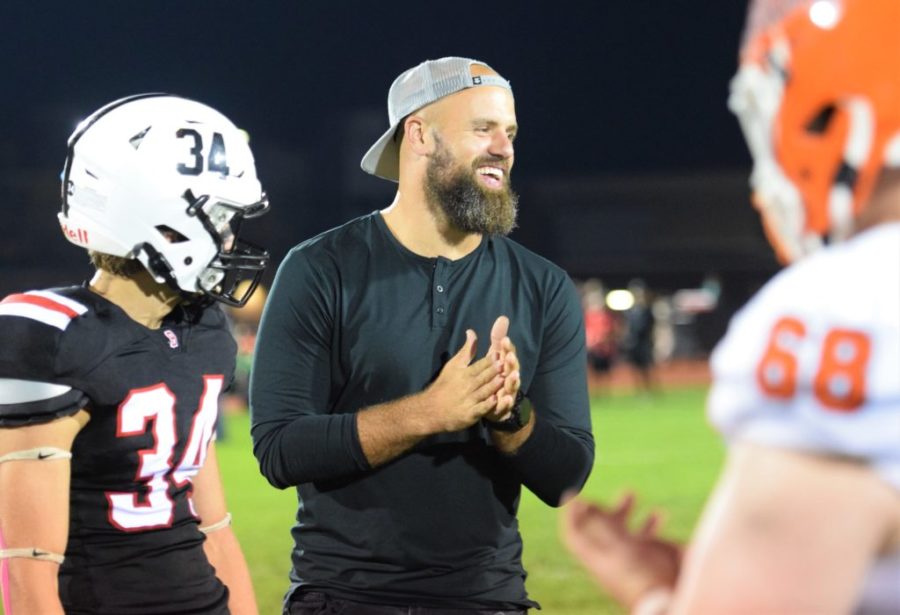 Super Bowl Champion, full back James Develin, makes return to Boyertown High School as the football team's honorary captain
It's not everyday that high school students get a chance to meet a former Super Bowl winning player, but that's what the students at Boyertown Area High School got the opportunity to do.
James Develin attended Boyertown Senior High, and was a defensive lineman for the football team. After graduation, he enrolled in Brown University located in Providence, Rhode Island. He continued his football career in college playing defensive end, and after going undrafted in 2010, and failing to make the Cleveland Browns, he signed with the Oklahoma City Yard Dawgz of the Arena Football League (AFL). Develin spent just one week with the team, appearing in a single game.
After that short stint, he was informed that the Florida Tuskers of the now non-existent UFL, were looking for a fullback. Develin had never played the position before so he learned, and Jay Gruden, former Washington Redskins head coach, and at the time, the coach of the Tuskers, liked what he saw, and Develin was on the team for a few months.
Shortly after his stint there, he signed with the Cincinnati Bengals practice squad. He failed to make the team after the 2012 preseason, and that's when he signed with the New England Patriots practice squad. He was promoted to the active roster four weeks into the season, and gradually solidified himself as the Patriots' starting fullback.
Develin played for the Patriots for eight seasons, collecting three Super Bowl wins, and was a 1x pro bowler.
James had to unfortunately retire in 2020 due to unforeseen complications in which doctors discovered that he had a muscle and disc issue within his neck and upper back as well as an underlying spine issue. For his own health and safety, he decided to retire at the age of thirty-one. Retiring has its bright sides in which he gets to spend more time with his wife Jennifer Develin, and sons William and James.
While it nice to spend more time with his loved ones, James for sure missed playing the sport he loved and had nothing but good things to say about playing for the Patriots and coach Bill Belichick, and playing with Tom Brady. "They're such good people," Develin said referring to Tom and Bill, "As good as Tom is a player, and as good as Bill is a coach, they're even better people ya know, they have no ego, they're very approachable, very personable guys. I think that comes through in what they do respectably. Tom's a great leader because he just associates with everybody, and Bill's the most disciplined coach you can possibly find, and that's what he demands out of his players, and so the fact that he's disciplined it ya know sets the example for all of his players, so it was a great opportunity to get to learn from those guys for eight years, and lucky and proud I was part of this team."
Now after years and years of being away, James Develin has been able to make his return to his alma mater, Boyertown Senior High. "It's good man. It's been awhile since I've been back," said Develin, "I think prolly like six or seven years at this point. Haven't been back to see a game since I graduated, was always busy this time of year. It's great being back and seeing some old faces." When reflecting on some of his favorite memories of playing football back at Boyertown, James recalled when they used to play on Thanksgiving Day, and brought up playing against various teams, and just how great of an experience it was for him. James got to meet with and talk to the football team prior to the game. He also walked out onto the field with the youth football kids, and got to spend some time with them.
Develin then walked out onto the field with members of the Bears football team as the team's honorary captain to shake hands with the opposing team, Perk Valley before kickoff.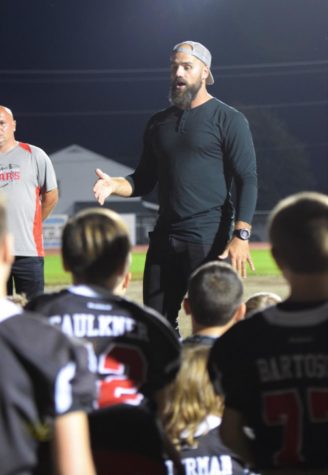 Unfortunately for Develin, Boyertown was getting crushed by PV, and by Halftime were losing 28-0. When asked what Boyertown could improve on in the second half James said, "I'm biased being a fullback so I think running the ball always helps slow the game down a little bit. Seen a couple big plays getting in it, but PV's had a couple good plays against us, and we always try to negate big plays whenever we can."
James' insight did not reach the players and Boyertown ended up losing to PV in a blowout loss 38-0. Some wish Develin was able to come to last weeks' Homecoming game in which Boyertown won 42-11, but James had other priorities at the time including training for, and then running in the Boston Marathon on October 11th. "It was awesome," said Develin, referring to his experience taking part in the marathon, "It was something that was definitely out of my comfort zone. It took a long time to kinda prepare my body and my mind, but the experience was unreal."
James Develin was one of the greatest athletes, and people, that has come out of Boyertown, and it was truly great to witness this B-town legend return to his old high school.