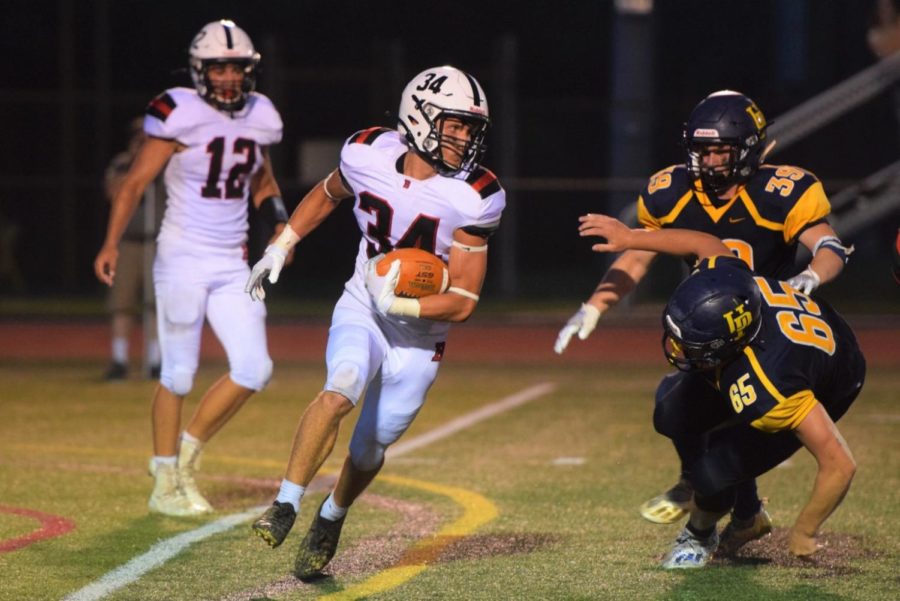 Despite being without starting QB Ryder Gehris, Boyertown captures a win over Methacton at the Homecoming Game
The Homecoming Pink Out football game is usually always the biggest game of any sports team's regular season, at least here at BASH.
Tons of BASH students filled the student section, all repping their Pink Out wear, as it is also Breast Cancer Awareness month, and other students and parents alike, fill the rest of the stands supporting their high school football team.
Unfortunately for BASH students, the Homecoming dance was cancelled, but there still was to be a Homecoming king and queen. The king was announced earlier that day at the virtual Pep Rally as senior Leo Egbe, who is also the starting running back for the football team. The Homecoming queen was to be announced at Halftime of the game.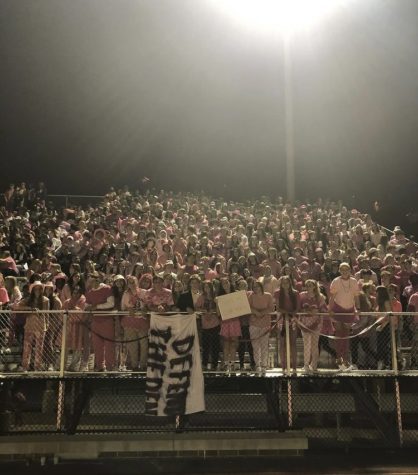 Boyertown (2-4) went up against the Methacton Warriors (4-2). Now just simply looking at Methacton's record, one would think they have been playing very well this season, but looking at their schedule of who they have faced in weeks prior, most teams they played have a losing record, potentially showing that they may not be all that threatening, but was for Boyertown to find out and hopefully expose them.
Quarter 1: To kick off the HOCO game, the Bears kick off to Methacton, and they bring the ball back for a good kick return. Luckily, Boyertown is able to hold them, as on a fourth down attempt by the Warriors, Luke Ordway sacks Methacton QB Dan Brandi, forcing a turnover on downs. No scoring success for the Bears and they punt, and the ball gets inside the ten yard line. Methacton's next drive then results in a punt, and their punter bobbles the snap, and Boyertown special teams gets a hand on it, setting up great field position for the Bears' offense. Backup QB, Anthony Panarello, flips the ball to Roman Marinello, who takes it in for the first touchdown of the night. Boyertown takes the first lead up 7-0. Right before the end of the quarter, Tremain Wilson takes off for a huge run down field.
Quarter 2: That run results in a field goal. 7-3 Bears. Marinello has a great kick return that gets into Methacton territory. After the Warriors get the ball back, they fake a punt and convert on fourth down moving-the-chains. They come across another fourth down situation, and this time fail to convert. The game continues to be very defensive until Boyertown converts on a fourth & two in Methacton territory. Following the successful conversion, Panarello targets Marinello at around the right side of the endzone, and Marinello makes a great one hand grab, scoring his and Boyertown's second TD of the game in the final seconds of the half. 14-3 Bears lead entering Halftime.
Halftime: Senior Audrey Swartley was announced as Homecoming queen at Halftime.
Quarter 3: Panarello runs on his own, picking up good yardage. He then pitches to Marinello for his third TD scored of the night. Bears lead 21-3. Getting the ball back again, the offense puts together a great drive a scores again, this time on the ground with Egbe. Bears 28-3. Boyertown's defense continues to shut down the Warrior's offense as they go scoreless in the third quarter.
Quarter 4: With little to no chance to make a comeback, Methacton scores a TD with Brandi connecting with Brian Dickey. The two-point conversion is successful, Methacton trails 11-28. Panarello scores a TD, taking it in himself untouched. 35-11. Brandi gets a pass intercepted by Cade Sennott, the Bears put seven more points on the board with the first play from the turnover when Egbe breaks free going all the way for a rushing touchdown. Boyertown wins with a final score of 42-11.
Putting on an excellent performance, and capturing their first home victory of the season, Boyertown exposed Methacton who was riding an easy schedule. Boyertown did what had to be done, and they never took their foot off the gas racking up forty-two total points.
For Methacton, Dan Brandi completed thirteen passes on twenty-four attempts for 164 yards, and one TD to one INT. He also led the team in rushing yards with forty. Brian Dickey led in receiving with seventy-eight yards and his single TD.
For the Bears, Anthony Panarello completed three of eight passes for thirty-eight yards and a rushing TD. Leo Egbe racked up 155 rushing yards and two rushing scores. Roman Marinello led in receiving yards with thirty-four, and had three total TDs. Cade Sennott had his INT, and Luke Ordway had a pair of sacks.
Even though the Bears were still without Ryder Gehris at QB, the rest of the team stepped up with Egbe racking up the ground yards, and Marinello was responsible for most of B-town's points. The defense was great as well holding Methacton to just eleven points, eight of them coming in the fourth quarter.
The Bears improve to 3-4 on the season, still with a chance to make the playoffs. Friday they host Perk Valley, so it will be seen if the team will be able to carry their momentum from this win into this game and get back to a .500 record.