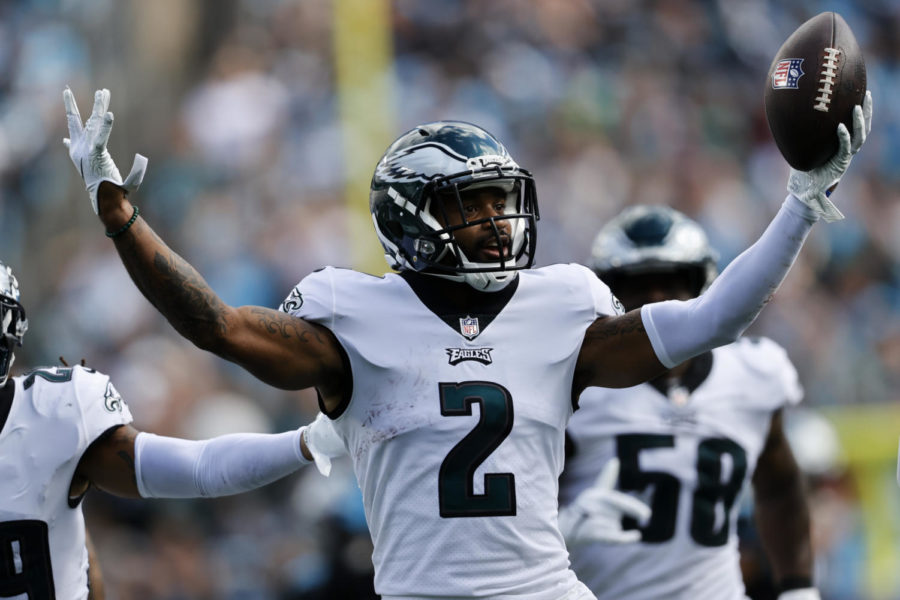 Eagles comeback against Panthers, intercepting Sam Darnold three times
Coming into Carolina, the Eagles are desperate for a second win, and the Panthers look to bounce back after suffering their first loss of the season the week prior.
The identity of what Jalen Hurts really is at QB remains unknown, and Sam Darnold continues to revive his career after leaving the Jets, and before this week, led the NFL in rushing touchdowns with five.
As the Carolina Panthers would say: "Keep Pounding", well the Eagles listened and pounded the Panthers into the ground in a come from behind win as they snatched the dub away from Sam Darnold's hands and flew away with it.
Quarter 1: On the first drive of the game, with the help of a face mask penalty on Eagles linebacker, Alex Singleton, and Darnold uses his legs, as he has been doing plenty so far this season, to pick up a first down. Zane Gonzalez kicks a forty-eight yard field goal. Panthers take the early lead 3-0. Philly's offense starts with a three & out. After a great punt to the five-yard line, Darnold, targeting wide receiver DJ Moore, who has been his favorite man to throw to, gets picked off by Darius Slay. On fourth & goal, Hurts connects with Devonta Smith on a short slant for the touchdown, BUT, like it has been the first four games, another penalty comes in, this time on Greg Ward Jr for offensive pass interference, taking the TD away and forcing the Eagles to kick a field goal from thirty yards out, which Jake Elliott makes. Tie game 3-3. Hubbard runs out left, and picks up a twenty+ yard gain. Rookie tight end, tommy Tremble then catches his first touchdown of his career, putting Carolina up 10-3.
Quarter 2: Darnold stepping up as the pocket collapses, heaves one deep for Robby Anderson, but Avonte Maddox knocks it away, saving a touchdown. After a couple possessions, on third & short, Darnold gets sacked by Javon Hargrave. On a third & long, the Eagles try a screen to Kenny Gainwell, who gets tackled almost immediately. Punting away, a Carolina special teamer gets a hand on the ball, and it lands inside Eagle territory. Just outside the redzone, after the gifted field position by the tipped punt, Josh Sweat sacks Darnold on third down. Gonzalez nails a forty-three yard kick. 13-3 CAR. A slightly high snap goes through Hurts' hands and into the endzone, and after attempts to recover it, the ball rolls out the back of the endzone for a safety. 15-3 CAR. In the final seconds of the half, Elliott drills a fifty-eight yard field goal. Eagles trail 6-15 entering Halftime.
Quarter 3: Jalen Reagor shows off his speed on a punt return, getting out to the fifty yard line. Smith catches a third down ball, but Donte Jackson forces him to fumble, and Jeremy Chinn picks it up, and takes it back to about the fifty. Carolina fails to capitalize on the turnover and Darnold is sacked by Fletcher Cox, his first sack of the season. Hurts takes a shot down the sideline, but overthrows Zach Ertz, and Donte Jackson intercepts it. The Panthers then give the ball right back to the Eagles, as Darnold, targeting Moore again, gets picked by Slay for the second time. Hasson Reddick charges Hurts and plows him for a sack, and then does the same on the play right after. Darnold fires a pass caught by tight end Ian Thomas into Philly territory. Darnold just gets the ball off, as he is chased and tackled by Hargrave, but is forced to punt. Hurts lets one fly, a wide open Quez Watkins hauls it in, and is tackled down at the ten yard line. Hurts QB sneaks on the goaline and breaks the plain for their first touchdown of the day. 15-13 CAR.
Quarter 4: Gonzalez hits a fifty yard kick making the score 18-13 CAR. Hurts fakes a handoff, and with plenty of running room, gets across the forty. Going for it on fourth down, Ertz makes a diving attempt, but cannot catch it. After getting stopped after the turnover on downs, Carolina goes to punt and it is blocked by TJ Edwards, giving Philly the ball at the twenty-seven yard line. Hurts runs left, and gets in. They try a two-point conversion, and Hurts, rolling out right, somehow hits Smith in the back of the endzone. 21-18 PHI. Carolina converts a long third down as Anderson makes the catch. Darnold throws toward the sideline, and Steven Nelson picks him off. Miles Sanders has a good first down run. Hurts picks up another first down, sealing the victory for the Eagles. Final 21-18 Birds.
While not having a great offensive showing with a pick, lost fumble, and a couple failed fourth down conversions, the defense stepped up with three picks, two by Slay who locked down Moore all game long, and three sacks on Sam.
Hurts completed twenty-two of thirty-seven passes for 198 yards and a pick. Sanders was quiet with just forty-five rushing yards. Smith led with seventy-seven receiving yards.
On Carolina's side, Sam Darnold completed one less pass on the exact same amount of pass attempts as Hurts for 177 yards one TD to three picks. Hubbard had a nice day as the starter with 101 rushing yards. DJ Moore had just forty-two receiving yards. The defense, who has been overall fantastic this season, was great again including two sacks and a pick, though the offense did them no favors.
It is clear that the Panthers struggle when CMC is not on the field, and are having a hard time finding an identity as an offense without him. He may be back next week against the Vikings, but either way they need a win to keep a winning record as they now fall to 3-2.
The Eagles, now improving to 2-3, play the reigning Super Bowl Champion Tampa Bay Buccaneers on Thursday Night Football. Putting up points shouldn't be a challenge as the Bucs secondary is injured and lacking, but it really will all come down to if this defense, who came up clutch this week, can do enough to slow Tom Brady, and pull off another upset victory.