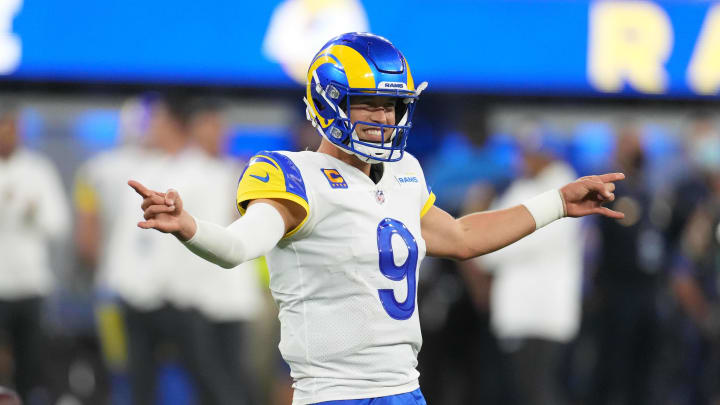 Undefeated NFL Teams: For Real or Fake?
As the NFL season concludes week three, there remain a handful of teams left undefeated, and riding high.
The Los Angeles Rams and Arizona Cardinals are both 3-0, and at the top of the NFC West.
Along the west as well, in the AFC, the Denver Broncos and Las Vegas Raiders surprisingly lead the division over the Chiefs, who are dead last, and the Chargers.
Lastly, the Carolina Panthers lead the NFC South, even over Tom Brady's Bucs, after they suffered their first loss to the Rams.
All five teams have impressed, and played very good football through these first few weeks, some more shocking than others. But which teams are a true threat to compete this year? And which teams are frauds riding off luck or an easy schedule?
Los Angeles Rams: 
Probably the easiest team to figure out right now. The Rams are for real, plain and simple. Trading quarterback Jared Goff, and a couple of picks to the Detroit Lions for quarterback Matthew Stafford, will go down as one of the greatest trades in recent memory. Stafford has elevated the team to the next level, and are back to being Super Bowl contenders. Goff was never bad, he just wasn't great, and running back Todd Gurley carried that offense. But nonetheless, Stafford has been lights out amazing for the LA Rams. They really made people believers after they took down the reigning Super Bowl champ Tampa Bay Buccaneers in Week 3, establishing themselves as the current best team in the NFC, and honestly, the NFL.
Stafford and wide receiver Cooper Kupp are currently the best QB,WR duo in the league, with Kupp leading the league in receiving yards with 367 and five touchdowns to go long with it. Just like their electric connection, Stafford and head coach Sean McVay have also clicked almost right away as well, finding immediate success, between one of the best head coaches in the league, and one of the most underrated QBs of the past decade.
Despite popular break out candidate, second year running back Cam Akers tearing his achilles, the run game has been productive with Darrell Henderson leading the attack.
The defense has come as advertised as well. Cornerback Jalen Ramsey, and defensive tackle Aaron Donald, have been their usual elite selves causing havoc for opposing offenses. Ramsey posts a single pick which sealed the game against the Colts in Week 2. Donald while collecting just two sacks this season so far, is always out on the field making an impact one every single play.
The Rams seem to have the early advantage to take their division in a tough NFC West, and early favorites to represent in the Super Bowl. The Stafford led Rams are no joke.
Arizona Cardinals: 
Before the season started, most people believed that the Cardinals would be the worst team in the NFC West. Not bad, just not as good as the other three. Right now, they are a close second  for best team in the division, right behind the Rams.
Quarterback Kyler Murray, who some were skeptical about, is currently at least top five in the MVP race. Through three games, he posts 1,005 passing yards, third overall, thrown for seven TDs, and posts a passer rating of 76.5. He and the Arizona offense have put up 30+ points in each of their first three outings against King Henry's Titans, Dalvin Cook's Vikings, and T-Law's Jags.
While the running game outside of Murray isn't very good, the receiving game makes up for it. Three out of the Card's top four wide receivers have already posted at least one game this season with 100+ yards. AJ Green, Christian Kirk, and rookie Rondale Moore have all showed out in at least one game so far this season showing how deadly their passing attack is, and that is without even mentioning the leader of that group, DeAndre Hopkins, who is always a threat, having the best hands in the league.
The defense did not have high expectations coming into this season, and was the main concern of the team, especially in the secondary after losing Patrick Peterson and Malcolm Butler. They are performing better than expected. Linebacker Chandler Jones, racked up five sacks, and a pair of forced fumbles in their season opener against the Titans. With newly acquired future HOFer defensive end, JJ Watt, drawing a lot of attention, Jones has gotten a lot more opportunities to make the big plays. Head coach, Kliff Kingsbury also seems to be figuring out how to correctly utilize former first round linebacker Isaiah Simmons.
I've been liking what I've seen from Arizona thus far, and its fair to say that they are for real.
Carolina Panthers:
The Panthers have been a surprise some, but a team others believed were a playoff dark horse. There were mixed feelings when the Panthers acquired QB Sam Darnold from the Jets, and while Darnold hasn't anything astonishing, it still holds true once you leave a team like the Jets, especially in a system run by Adam Gase, you will find better success elsewhere.
Darnold got his revenge game against the Jets in Week 1, and they mopped the floor with the high flying Saints in Week 2. Thursday night at Houston was a cakewalk as well.
Sam doesn't have carry too much of the workload anyway, as star running back Christian McCaffrey is the centerpiece of the offense. Unfortunately, the dual threat back, is out for the next few weeks with a hamstring injury, forcing the team to have to adjust accordingly. While that is a huge blow, they still have elite receivers. DJ Moore and Robby Anderson are one of the top wide receiver duos in the league. Not to mention rookie Terrance Marshall Jr showing flashes as well.
While the offense seems to get most of the attention with Darnold, it has really been the defense that's come out of nowhere. We've known they have a ton of young talent, just no one expected it to click this early. The defense through three weeks leads the league in multiple categories including total yards allowed, pass yards allowed, rush yards allowed, and is second in points allowed. Defensive end Brian Burns has been very good so far this season with three sacks, as well as pass rusher Haason Reddick whom they acquired from the Cardinals, who is among the top of the league in sacks as well with 4.5. Defensive tackle Derrick Brown, has been stuffing the run, and linebacker Shaq Thompson has been all over the field. Rookie cornerback Jaycee Horn, who was drafted eighth overall, was allowing a zero passer rating until he broke his foot during the week three game. Carolina did trade for second year Jags cornerback CJ Henderson, to replace Horn so hopefully he helps.
Overall, the CMC and Horn injuries are concerning. Darnold has played the best he ever has, but I'm not sold especially with losing McCaffrey for a bit. The defense while it has been impressive, did have an early easy schedule. I'm not fully sold, and believe they will get exposed soon for being fakes.
Las Vegas Raiders: 
The RAIDASSS are 3-0. No one thought they'd be playing this well after the off-season they had. They lost the majority of their good offensive linemen including center Rodney Hudson to the Cardinals. They also signed a handful of defensive players, including Chargers cornerback Casey Hayward, who all looked to be on the decline of their careers.
Derek Carr, though, has been the star of the team. He currently leads the league with 1.203, and has six TDs. Just like Kyler and Stafford, he sits among the frontrunners for MVP right now. The Raiders are the first team to start 3-0 against teams that finished with ten wins or more the season prior as they upset Lamar's Ravens, beat Big Ben's Steelers, and Xavien Howard's Dolphins. There was some concern as they went into overtime against the Tua-less Dolphins, but nonetheless they came out victorious.
It isn't all just Carr and elite tight end Darren Waller carrying in the receiving game, second year wide receiver, Henry Ruggs, has been stepping up this year posting 237 yards so far. Receiver Hunter Renfrow, has been under-the-radar as he himself has 204 yards already being very productive and reliable.
The run game has been efficient, led by Josh Jacobs, though he has been injured recently, but they also have Kenyan Drake in the backfield, a swell as recently acquired back, Peyton Barber who posted a 111 yard game.
The defense overall has been a nice surprise. Defensive end Maxx Crosby has been the team's' best defensive player with two sacks, and has just been a force on that Raiders front, disrupting play after play. Casey Hayward Jr, who some thought was nearing the end of his elite years, rebounded these early weeks, winning the majority of his matchups.
While thought to have a lack of talent, it seems that is the opposite of what Vegas has. Carr and them have impressed, beating overall good opponents, and it does look like these Raiders are for real.
Denver Broncos: 
A team with loads of talent is expected to win games. That is the Broncos so far. The only thing that was holding them back was their quarterback situation. They absolutely made the right decision starting Teddy Bridgewater over Drew Lock. Teddy Throwsavelt, as Broncos fans like to call him, right now is a dark horse MVP candidate. He has yet to throw an interception and posts a QBR of 116.4.
The Broncos are loaded with weapons. Running back Melvin Gordon leads the rushing attack. Unfortunately they lost second year receivers Jerry Jeudy, to a high ankle sprain for extended time, and KJ Hamler to a torn ACL. Luckily they still have number one receiver Courtland Sutton and underrated receiver Tim Patrick. Tight end Noah Fant is an elite pass-catching option as well.
The defense has lived up to expectations so far. Future HOF linebacker, Von Miller is back from an ankle injury that caused him to miss most of last season and already has four sacks. But the main firepower on this team is in the secondary. Defensive backs Kyler Fuller, Justin Simmons, Bryce Callahan, Patrick Surtain II, and Kareem Jackson are all on this team's roster. This secondary is a quarterback's nightmare to throw against.
Here's the issue. The Broncos have played debatable the bottom three teams in the league in the Jets, Jaguars, and Giants. Their real test will come this week against the Baltimore Ravens, and I believe Teddy B will struggle. With that said, I do feel that the Denver Broncos are fakes.
While winning multiple games straight to kick off the season is great for any team, and impressive to witness, some just simply have an easier schedule to start, or simply got lucky like the Panthers and Broncos. But some are showing up and the hype looks real, for the Rams, Cardinals, and Raiders, and these are teams to watch out for down the stretch of the season.