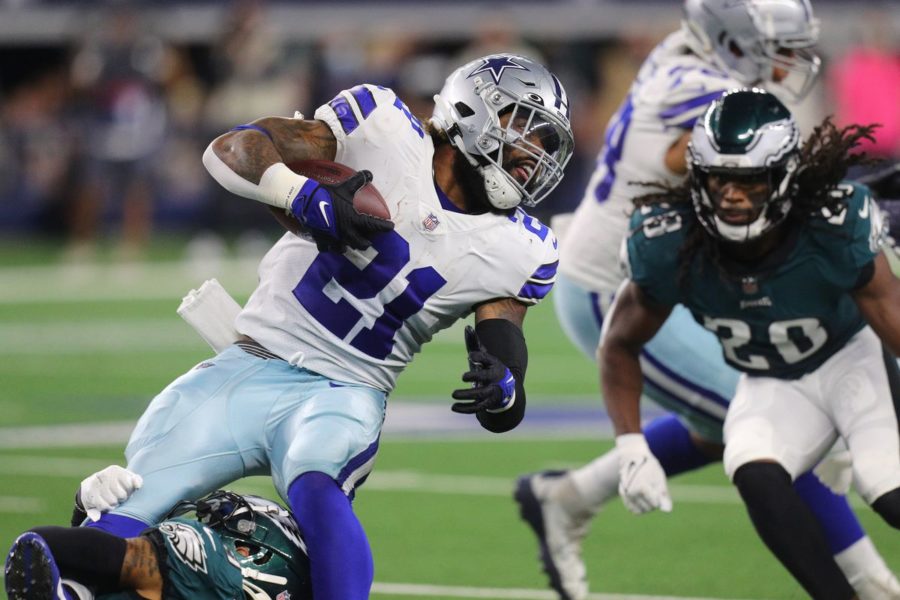 Eagles struggle as Dak and the Cowboys pull off a blowout victory over their rival.
Ever since that week one blowout victory over the Falcons, the Eagles have not been flying so high.
In an always critical, and rivalry fueled battle against the hated Dallas Cowboys, potential Comeback Player of the Year candidate, quarterback Dak Prescott, welcomed young QB Jalen Hurts and his 1-1 Philly Eagles into AT&T Stadium. The two teams and fan bases go way back, as the heated rivalry can always be entertaining to watch as players and fans alike scuffle on and or off the field, no matter the outcome. Last week, Dallas eked out a win over the Los Angeles Chargers due to a bad call by the refs, so where the Cowboys really stood in this league was still to be determined.
The meeting this time around, was completely and entirely one-sided as Dallas' weapon-filled explosive offense gave Philly no chance to catch up, nor did the defense who played extremely well giving Hurts' and the offense trouble all night long.
Quarter 1: In possession of the ball first, Dakota Prescott and the loaded Dallas offense drives on the Eagles' defense, and on a play fake, Dak airs the ball out to second year wide receiver CeeDee Lamb, who makes the catch, and is downed inside the one-yard line. The following play, running back Ezekiel Elliott, with the help of his blockers and linemen, gets into the endzone for the first touchdown. Dallas leads 7-0. Jalen Hurts has a lot of hype and sudden sky high expectations on his shoulders after his nice start to the season, and his first pass in the game goes to Dallas Goedert at the forty, and he takes it down inside the Cowboys' forty. Hurts, looking for Jalen Reagor in the front right corner of the endzone, under throws him, and into the arms of cornerback Anthony Brown for Hurts' first interception of the season. With the ball in his own endzone, Dak looks to throw. as his pocket gets increasingly smaller, he loses the football as he goes to throw, and pro bowl defensive tackle, Fletcher Cox, comes up with it scoring a big man defensive TD, and just like that, the game is tied 7 points apiece. With the help of Eagle penalties, and Dallas flexing their multiple weapons, they travel down the field, and a reception by Zeke puts them inside the one. With some miscommunications and a penalty, head coach Mike McCarthy opts to go for it on fourth and goal, and while Dak keeps the ball, and appears on the second effort to reach the ball across the plain, the referees rule it short, and the Eagles get the ball on a turnover on downs. Eagles fail to capitalize off the turnover and go three & out after Hurts almost gets sacked for a safety. Once again, the Cowboys' offense drives right down the field, and Dak connects with tight end Dalton Schultz for the TD.  Dallas 14-7. A screen to Miles Sanders gets nine yards. The following play, Hurts is sacked, then can't complete a pass to tight end Zach Ertz, with cornerback Trevon Diggs in coverage.
Quarter 2: The Dallas offense continues its dominance, and they feed Zeke the ball multiple times on this drive, and with his handful of powerful runs, finally breaks into the endzone for the score. Kicker Greg Zuerlein misses the extra point attempt. Dallas leads 20-7.  Sanders hits an opening and rushes for twenty-five yards, reaching mid-field. Soon after, they are forced to punt, as their offensive struggles continue. Dak, on third down, rushing out to his left inside the endzone, throws across his body, and wide receiver Cedrick Wilson makes an impressive and focused catch over Eagles' defensive back Avonte Maddox, but only gets one foot in bounds forcing a Dallas punt. Devonta Smith makes a catch, and evades a defender for a nice gain. Hurts is then dropped by defensive tackle Osa Odighizuwa for a sack. A screen to Sanders on third & twenty-four falls short of the first. Halftime: Eagles trail 7-20.
Quarter 3: Goedert picks up some nice yardage to kick off the second half. Hurts while targeting Smith, gets picked off by Trevon Diggs, as Smith fell down on the route, and Diggs takes it back for a Cowboys' pick-6, and his third interception in three games, one in each now. Hurts throwing his second of the night. 27-7 Dallas. The Dallas defense chases Hurts around again, as he cannot seem to get any good scrambles, and is stopped short once again. Eagles defense finally has its way, stopping Dak and Zeke. Just as it looks like another Philly punt is inevitable, Hurts evades a sack, and with pressure right in his face, he stays calm and bombs the ball out to Quez Watkins, who has made some excellent plays so far this season, makes another one into Dallas territory. Hurts to Ertz gets down to the ten. A blown coverage by Dallas on third down, gives the Hurts to Ertz connection another play, as Ertz catches a wide open pass for the touchdown. Philly trails 14-27. Philly's defense continues to be more effective in the second half, and defensive end Josh Sweat sacks Dak, forcing a punt. Eagles offense fails to get going this time around, and gives Dallas their momentum back, and they chop away with their weapons at the Eagles.
Quarter 4: Dak gets blasted by linebacker TJ Edwards in the redzone behind the line of scrimmage. He then scrambles on third & goal, and is dropped about three yards short. They go for it on fourth down, and Dak does not see a wide open Lamb, running a slant in the middle of the endzone, but luckily, successfully finds Wilson who toe taps in the back of the endzone. Dallas leads by twenty, 34-14. Hurting to score points, Hurts and the offense go for it on fourth & nine from their own territory, and Hurts gets sacked. The man who got to him first was rookie linebacker, currently defensive end, Micah Parsons. Dallas responds by extending their lead with Schultz juking out four Eagle defenders and scoring his second touchdown of the night. 41-14 Dallas leads. Hurts starts slinging the ball around to at least shorten the point differential, some to running back Kenny Gainwell, and rolling out right, makes a nice touchdown throw to Greg Ward Jr. Cowboys burn clock and put in their backups, and in primetime, steamroll the Eagles in a 41-21 victory.
Dak is back, and he is for real. Completing about 80% of passes for 238 yards and three touchdowns, he has shown the Cowboys have come to play and are the clear cut best team currently in the NFC East with the other three teams struggling mightily in each of their respective games.
On the other hand, while Eagles fans may not want to hear this, but the Eagles are getting exposed. They could get nothing going on offense, and the defense had no answer of how to stop this Dak led offense. Hurts completed 64% of passes for 326 yards, and two TDs to two INTs. He also led the team in rushing with thirty-five yards. Dallas Goedert led in receiving with sixty-six yards.
Other stars of the game outside of Dak include Zeke, who seems to be getting back to his old self with ninety-five rushing yards and two TDs, rookie Micah Parsons being disruptive all night long, and Trevon Diggs, locking down old college teammate Devonta Smith, including getting a pick-6. The Dallas defense as a whole was impressive all night, showing much improvement from last season with Dan Quinn as their new defensive coordinator, as they had little trouble containing Hurts. Dalton Schultz and running back Tony Pollard had notable performances as well. They play the undefeated Carolina Panthers next week, though without star running back Christian McCaffrey, so Dallas may have a better chance to extend their win streak.
What went wrong for Philly? Well for starters, they only ran the ball a total of THREE times the whole game. Sanders only got two handoffs. The play calling was extremely lopsided and questionable on part of rookie head coach Nick Sirianni. Everything that happened can't all be blamed on the play calling though. While it didn't help the situation, Hurts did visibly struggle throughout the game. A pair of costly picks and a ton of punting. He also didn't get much help from the defense besides that one early Cox TD. Penalties were also a huge killer for the Eagles especially on defense. They racked up a total of eleven on the night, and lead the league with thirty-five total penalties in the first three weeks.Sirianni needs to immediately fix this teams costly disciplinary issues if they are going to stand any chance against the more elite teams they face. They could not stop the Dak Attack, and the feeding of Zeke.
With the division loss, the Philadelphia Eagles sit at third place in the division with a 1-2 record. Their week four game does not pose anything better as they face Patrick Mahomes and the Kansas City Chiefs, and despite their 1-2 record, are still very dangerous. Philly will need to fly high and hard if they have any chance of winning this game, or at least making it competitive, and proving they are a real threat in the NFC East.