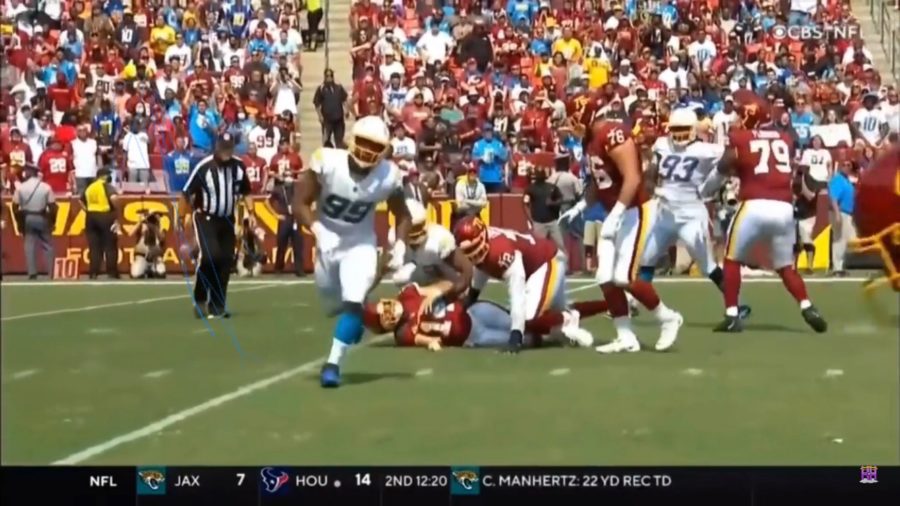 Experiencing an NFL game
This past weekend, I had the pleasure of going to the Los Angeles Chargers @ Washington Football Team game on Sunday September 12th @1:00pm at Fedex Field located in Greater Landover, Maryland.
Experiencing an NFL game live and in person is miles better than sitting on your couch watching it at home. I just thought I'd share my first experience of this new atmosphere of physically being at the game, and being just a few hundred or so feet away from star NFL players.
Tailgating: 
Traditionally, many NFL and sports fans alike, roll into the parking lot hours before the game, and just hang out, eat, drink, play games, and converse with other fans. I arrived at the stadium a few hours early with my dad Michael, best friend Landon whose a Chargers fan, and his dad Everest who is a Patriots fan. We parked around some other tailgaters and threw a football and played Can Jam with some of them, and just chat as well which was really nice.
Entering the stadium: 
At about noon, we made our way into the stadium to check it out, and walk around for a bit before the game. Personally, growing up and living in the Philly area, I see very few Washington fans, so it really was great to see tons of other football fans who love the same team. We stopped at some openings that look out over the field, and were able to see some the players for the first time. The actual football field also looks a lot smaller in person with the ginormous stadium surrounding it.
In the stands:
After taking a look around the stadium, we went down to our seats. We had gotten really good seats too, only sitting about thirteen rows away from the the field. Some of the players were out warming up, and seeing them it just hits you. I said to myself, "Wow, they're actually real people." Seeing players such as defensive end and DROY Chase Young in person, and as close as we were was incredibly awesome. Our seats were on the visitors side, so there was a decent amount of Chargers fans surrounding us, but there were still plenty of other Washington fans everywhere.
Following taking it all in, it was one day after 9/11 so there was time dedicated to honoring all the lives lost on that day twenty years ago the day before. After the time spent reflecting on it, we stood for a moment of silence, and fireworks were shot off. It was just such a powerful moment commemorating everyone affected by the event, and it even had people chanting "USA!" "USA!"
During the game:
There are a couple things you need to know when you go to an NFL game. One is that there will be very few times where you actually sit down during the actual game. Two is that you will mostly likely lose your voice and or hearing during and after the game. The overall atmosphere at the game is also insane, and incomparable to simply watching it on TV. Everytime Washington would score or have a good play, just the energy that would emit from all the fans was just so awesome to experience and be apart of firsthand. Cheering with, and high-fiving other fellow fans is such a cool thing to experience.
Unique experiences: 
Outside of going to the game, which is a whole experience in itself, you sometimes get lucky enough to witness events such as an insane play by your team, or something weird or crazy happens outside of the game itself, like along the sidelines, or with the fans.
One of the more unpleasant events that occurred at the game was when what appeared to be a sewage pipe, burst, and soaked a Washington fan. I was nowhere near the pipe burst, and was not even aware of the event until after the game. According to an article about the incident by ESPN editor, Tory Barron, the originally assumed sewage pipe was actually a leak from a storage tank filled with rain water, making the situation not nearly as bad as it could've been. The soaked fan, and other fans sitting near also got their tickets upgraded to suite seats if desired, tickets to a game of their choice, and were given Washington gear, according to ESPN's Washington reporter John Keim.
There was another incident that happened right by me in the stands. Right after Washington cornerback William Jackson iii intercepted a pass by Justin Herbert, a fan from one of the upper level sections of the stands chucked his drink, not sure if it was water or alcohol, down at our section and hit a Washington fan, who was understandably very upset about it, as him and a couple others searched for the fan who threw it for a few minutes. The victim was sitting a few rows below us and slightly to the left, so only about a droplet of the drink got on me and Landon, but it was definitely interesting to witness something like that firsthand. I assume it was a Chargers fan solely based off the fact Washington had just gotten a turnover, but I never found out who the culprit was.
Switching to on-the-field events, there were two specifically. The first one was when Washington quarterback Taylor Heinicke threw a bomb in the direction of star wide receiver Terry McLaurin, who was in double coverage. Once the ball got closer to him, one Charger defensive back, Nasir Adderley, jumped in front of the pass, and from where I was sitting in comparison to where the play happened, it looked as if Adderley forced an incompletion as it appeared that he had caught the ball and landed out of bounds. I went to sit back down as I thought we were going to punt when my dad shook me and shouted that Terry had caught it. The ball had gone through Adderley's hands and McLaurin made the adjustment, catching the ball over his left shoulder while falling to the ground, and hit the ground in bounds before he went out so it was a catch by him. I would firmly say that that play is already in the running for catch of the year, and it was truly awesome to witness it in person.
The other crazy thing that happened on the field was as the Chargers neared Washington's endzone, and as I had mentioned earlier, William Jackson iii had intercepted Herbert. The very first play after the turnover was a hand-off to running back Antonio Gibson, and the ball gets punched out by a Chargers defender, and they recovered the fumble, so Los Angeles got the back from Washington, with back-to-back turnovers. While it wasn't fun for me or my dad to watch that unfold, it was still crazy to witness a unique event like that, that doesn't happen real often in the NFL
Pros and Cons:
Now the pros of attending an NFL game are pretty clear. You get to watch star athletes and favorites players play in person, your surrounded by fellow fans, and the atmosphere is amazing.
The cons are honestly clear as well, and unfortunately I experienced a couple of them. The one risk with going to the games is that your team might very well lose the game. That is what I witnessed. Fortunately it was a good game, but it really comes down to your attitude towards it. Of course you'll probably be upset about the loss, but you still gotta support and cheer on your team, and not let it ruin your entire experience.
Injuries are sadly a part of the sport, and whether its a player on your team, or the opposing team that gets hurt, it's never fun to witness, and I'd never wish an injury upon anyone. Washington quarterback, Ryan Fitzpatrick, took a big hit on one of his passing plays, went down, and was soon ruled out of the game with a hip injury. It was later diagnosed as a hip subluxation, and he will miss six-eight weeks. It's never good to see your starting QB go down, especially in the season opener. But turning a negative into a positive, the backup QB, Taylor Heinicke came in and played very well. Partially because of his story, and how well he played against the Tampa Bay Buccaneers in the playoffs last season, all the Washington fans love him, and were all chanting "HEINICKE!" "HEINICKE!" as he ran out onto the field, showing how much love and support he already has from his team and the fans, and he played very well to top it off, despite it ending in a loss.
That was my NFL experience. Overall, it was an amazing time, and if your a football fan and have never been to a game, I highly recommend going.