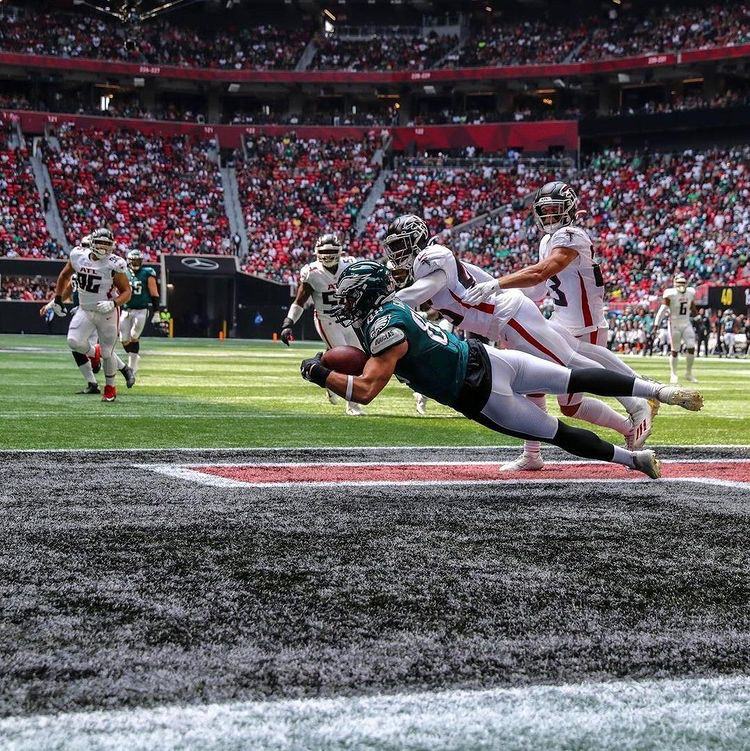 Game Recap: Hurts and the Eagles blow out the Falcons in season opener in Atlanta
What a way to start off the NFL season for the Philadelphia Eagles!
A good portion of Eagles' fans have gone into this season with the mindset that this is a rebuilding year. With a young, inexperienced quarterback in Jalen Hurts, and a rookie head coach in Nick Sirianni, and while it very much may still be that, in a game that was expected to be close between two bottom-tier teams, Philly stood out and absolutely dominated the Falcons offensively and defensively.
Quarter 1: Atlanta gets the ball to start the opener, and puts together a drive that ultimately ends in a twenty-one yard field goal by kicker Younghoe Koo. Falcons lead 3-0. Hurts leads the Eagles down the field on their opening drive, with the help of wide receiver Quez Watkins, and stepping back to the Falcons' twenty-five, Hurts drops the ball in to rookie  tenth overall pick, and Heisman winner Devonta Smith for Philly's first TD of the season, and Smith's first catch of his NFL career, as the Alabama duo connects once again at the NFL level. Philly leads 7-3. Running back and special teamer, Cordarrelle Patterson, picks up multiple Falcons first downs. On third & nine, Matty Ice evades Eagles linemen and runs and dives attempting to pick up the first down but comes up a yard short. Going for it on fourth & one, Matt Ryan connects with rookie fourth overall pick, tight end Kyle Pitts to move the chains.
Quarter 2: Eagles defense holds strong in the redzone, and force a twenty-seven field goal by Koo. 7-6 Eagles. Hurts rolls out right and finds a wide open tight end Zach Ertz, who was on the trade block during the off-season and ended up staying in Philly, for a big gain into Falcon territory. After multiple uneventful drives, Hurts breaks away from the pressure, and runs for a first down and more with under a minute left to go in the half. With seconds left in the quarter, Hurts rolls out right, and throws a dart across his body to tight end Dallas Goedert for Hurts' second TD pass of the day. Two seconds left, as the Eagles opt to go for two, and get it with running back Miles Sanders walking right into the endzone. Halftime score: Eagles lead 15-6.
Quarter 3: Miles Sanders runs out right, picking up a twenty-five yard run. Linebacker Jacob Tuioti-Mariner comes from behind and sacks Hurts on third down. Eagles' D shuts down Atlanta again. Sanders with a patient run with great blocking, gets across the forty. Sirianni attempts to go for it on fourth & two, but rookie back, Kenny Gainwell get stuffed. A pass interference call on wide receiver Calvin Ridley, takes away an excellent catch and run by running back Mike Davis which ends up costing Atlanta that drive. Getting great field position from the punt, Sanders gets the handoff, shakes a tackle, and weaves through the Falcon defenders, and gets inside the ten. Very next play, Gainwell has all the room to run, and enters the endzone. 22-6 Eagles.
Quarter 4: Falcons attempt to blitz Hurts, who picks it up, and hits Smith for the first down. Falcons and Eagles punt back and forth for a while till Atlanta opts to go for it on fourth & ten inside their own territory, and Ryan gets sacked by defensive tackle, Javon Hargrave, giving Philly's offense great field position. Hurts fakes to Sanders, and throws a screen pass to speedy wide receiver Jalen Reagor, who speeds into the endzone for a touchdown. 29-6 Eagles. Having no other option but to go for it on fourth down again, Matty Ice gets rocked. Eagles' kicker, Jake Elliott hits a forty-three yarder to put the final statement on their blowout victory.
Everyone will say how it was the Falcons, and their defense is awful, and that's why Hurts and the Eagles played as well as they did. But nevertheless, Jalen Hurts put on a heck of a show throwing for 264 yards, completing twenty-seven passes for three TDs and zero INTs. For a guy that has little NFL experience, and had trouble with accuracy, he played real well. Miles Sanders led rushing with seventy-four yards, and Devonta Smith had seventy-one receiving yards, another player people were hesitant on, not because of talent, but because of his thin frame, but so far Smith is healthy and playing well. Have to credit the defense as well, who absolutely shut down a usually high-powered offense, and held them to six points.
While known for putting up a ton of points early, and then eventually blowing the lead due to their awful defense, Atlanta seems to have given up on even putting up the points. Losing future Canton bound wide receiver Julio Jones to the Titans hurts, and Kyle Pitts needs some time to adapt to the NFL. Matty Ice completed twenty-one passes for 164 yards. Cordarrelle Patterson had fifty-four rushing yards, and Calvin Ridley led in receiving with just fifty-one yards.
Atlanta takes on Brady's Bucs in Week 2, and I have a feeling this will be another blow out loss for them. As for the Eagles, they currently sit atop the NFC East after one week, with the Cowboys, Giants, and Washington all losing their Week 1 matchups. Week 2 for Philly features a matchup against the San Francisco 49ers, which will prove a much tougher matchup, and the big question is will Hurts continue his impressive play, or was it just a fluke.