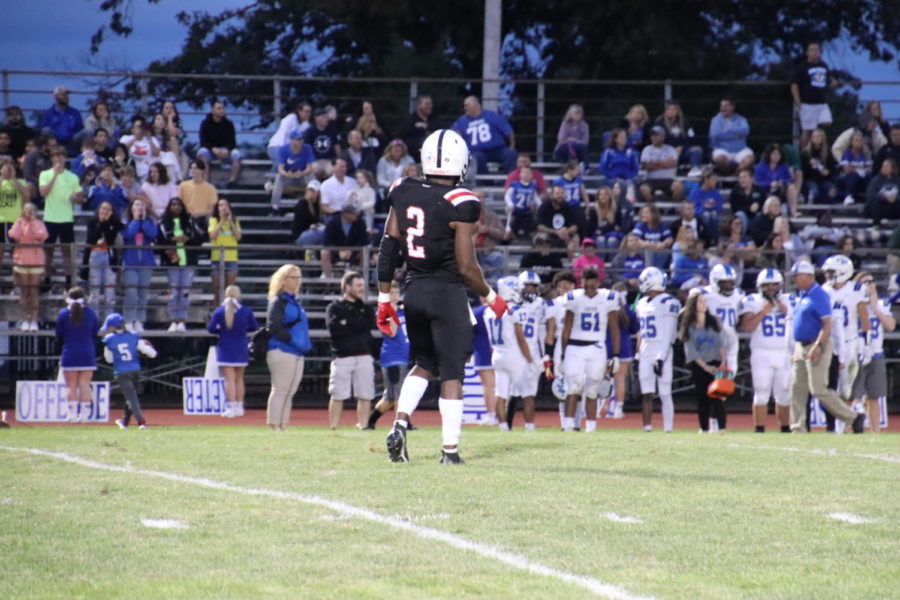 Exeter football mops the floor with Boyertown, blowing them out 56-8
Under the Friday night lights at Boyertown Senior High's Memorial Stadium, the Bears welcomed the Exeter Eagles into their home stadium on September 3rd, and they welcomed Exeter with open arms. Boyertown was riding high after winning their season opener against Upper Perk 35-12, but they were in for a rude awakening when Exeter stepped onto B-town turf.
Now granted, the Bears were missing a few key players including starting linebacker Ben Gangwer, who got contact traced, and was forced to quarantine which resulted in him missing the game. Exeter's football team featured multiple players with multiple Division 1 offers. Tight end Joey Schlaffer is among them, with offers to universities such as Tennessee, Maryland, and Rutgers, and it looks he may be committed to playing for the Tennessee Volunteers as shown by his Instagram @joey_schlaffer. Joey is also the son of my former principal, Dr. Joseph Schlaffer, from when I attended Lausch and Jacksonwald elementary schools back in Exeter. Exeter's linebackers are also something to be feared One of them is linebacker, J. R. Strauss, who also plays fullback. He is committed to playing for the Villanova Wildcats. The other D1 linebacker on the team is Ty Yocum. Yocum also plays tight end and full back. It does not appear that he has committed to any college yet, but either way this Eagle trio is a force to be reckoned with.
1st Half: Exeter scores the first points of the game with running back Messiah Robinson. Exeter goes up 7-0. Boyertown struggles early on, and either goes three & out multiple times, or can't get farther than getting one first down. Their punting game wasn't doing so well either. One punt after going three & out only reaches Boyertown's forty-one yard line. Exeter's quarterback, Colin Payne, who has a D3 offer to Alvernia, connects with Schlaffer for a big gain. Yocum rushes for a touchdown, putting Exeter up 14-0. With the ball back, wide receiver Roman Marinello picks up a good chunk of yardage, but B-town doesn't get much farther and are forced to punt. During the one punt by Boyertown, the punter snaps the ball, and then proceeds to punt the ball right into the back of his own blocker. The ball flies straight up in the air, and with amazing field position, on the first play, Exeter immediately scores with a QB sneak by Payne. Exeter's defense once again dominates Boyertown's offense, and on the Eagles' next possession, Payne tosses a pass to Jacob Wolfe for a big touchdown. Exeter now has a tremendous 35-0 lead over the Bears. Finally something to get the home crowd hyped up, running back Leo Egbe has a big catch and run deep into Exeter territory. QB Ryder Gehris being the guy behind the pass. When it finally looks like the Bears will capture their first points of the game, Roman fumbles at just about the goal line on third down, and Exeter recovers the ball. Immediately following Exeter's fumble recovery, Payne connects with Strauss from their own endzone, and J.R. goes all the way for the score. Lead 42-0. Egbe has a good run, but then fumbles the ball, and Exeter once again recovers. Now gradually putting their backups into the game, Exeter doesn't let up despite that, and still finds success, as third string running back, Cabraun Woody, scores a touchdown right before the time expires in the first half. The Exeter Eagles lead the scoreless Boyertown Bears 49-0 entering halftime.
During the first half, I spoke to Exeter high school senior, Landon Small, and he told me that their teams' head coach, Matt Bauer, had the original goal of getting all their starters out of the game to rest by the half, and they were able to do exactly that.
2nd Half: The third quarter of the game was very uneventful, with Exeter now having their second and third stringers in playing, and Boyertown still finding no success in reaching the endzone, or even so much as a field goal. Finally though, in quarter number four, tight end Nick Panarello finds the endzone for the Bears, and they get on the scoreboard. They go for the two-point conversion and get it. At least there won't be a shutout as the score now shows 49-8. But it isn't over there. Instead of taking a knee and letting the clock run out, Exeter decides to let their backups get some work in, and Woody breaks free and scores another touchdown. Final score 56-8. Exeter Eagles win.
It was clear to many from the start, that our Bears were no match for all the D1 talent Exeter possessed on their team. Boyertown now resides at at .500 record at 1-1 as they travel to play Wyomissing who currently sits at 2-0. Crossing our fingers that the Bears can avoid falling into a losing record.