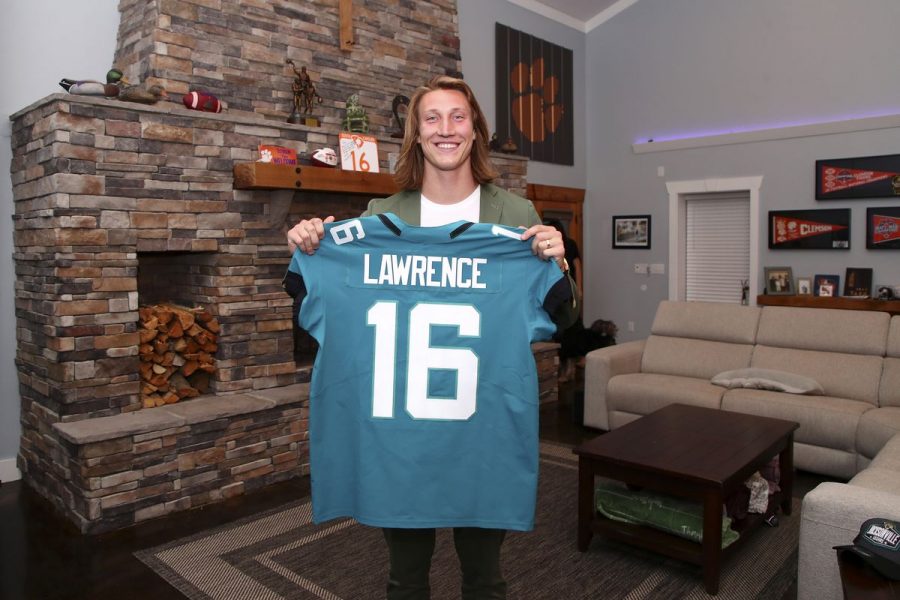 Top 5 players drafted in the NFL 2021 draft
The first round of the 2021 NFL draft was held at 8:00pm on Thursday, April 29 2021 at First Energy Stadium in Cleveland, Ohio.
This draft is mainly known for its loaded quarterback prospects. The Jacksonville Jaguars held the first overall pick this year after going 1-15, and the Jets a close second going 2-14 with the second overall pick. Both quarterback needy teams.
Before the draft started there were a couple trades made. The Philadelphia Eagles had traded their sixth overall pick along with a fifth round pick (No.156) to the Miami Dolphins in exchange for the twelfth overall pick, a fourth round pick, and a 2022 first round pick. Not long after this trade, the Dolphins agreed to trade the third overall pick, which they had gotten from the Houston Texans back when they traded offensive tackle Laremy Tunsil to Houston, to the San Francisco 49ers in exchange for the twelfth overall pick, a 2022 third-round pick, and first round picks in 2022 and 2023. This is more or less confirming that the 49ers will be taking a QB with the third overall selection.
The draft was somewhat back to normal this year. Players, their families, and fans were allowed in person at the draft, but some players still understandably stayed home and got drafted virtually. NFL Commissioner, Roger Goodell, was allowed to hug the players drafted when they came up on stage, as he had been fully vaccinated. Now with the first round complete, lets take a look at the top five players drafted.
Jacksonville Jaguars: Trevor Lawrence, QB, Clemson
With the first overall pick, the Jags selected Clemson quarterback Trevor Lawrence. It was the most clear cut selection of the entire draft, but it feels so great that it is finally official that Lawrence is now apart of DUVAL County. Trevor has never lost a regular season game throughout his high school and college football career, only losses coming in the playoffs when he didn't win it all. During his time at Clemson, Lawrence accumulated a total of ninety touchdowns to just seventeen interceptions, and passed for 10,098 yards with a total QBR of 164.3. NFL analyst of ESPN, Mel Kiper Jr. had this on his Post-Draft Analysis about the Jags drafted Trevor: "A Jacksonville organization that missed the playoffs in 12 of the past 13 seasons and has the second-worst record in the NFL since 2008 gets a once-in-a-decade quarterback prospect. Lawrence will be developed by the impressive offensive brain trust of head coach Urban Meyer, offensive coordinator Darrell Bevell and passing game coordinator Brian Schottenheimer. In addition to having all the tools to run the base offense, Lawrence has the football acumen, release, accuracy and athletic ability to run the zone-read and RPO packages Meyer had success with at the college level. — Muench"(https://www.espn.com/nfl/draft/rounds). The Jags went 1-15 this past season and alternated between QBs Gardner Minshew, Jake Luton, and Mike Glennon. Clearly in rebuild mode, their main goal was to obtain the next best QB, and they did exactly that by drafting Lawrence.
New York Jets: Zach Wilson, QB, BYU
The second most predictable selection became official as the Jets took BYU quarterback Zach Wilson. Moving from Utah to New York, Zach Wilson is coming to a rebuilding Jets team. Originally Justin Fields was viewed as the second best QB prospect before Wilson really burst out and took over the scene. Outside of having an excellent pro day, Wilson finished his college career with fifty-six TDs to fifteen INTs. He passed for 7,652 yards and received a QBR of 162.9. The 2020 season was his breakout year though as he threw thirty-three TDs to just three picks which really got the attention and interest or NFL scouts, the league, and the Jets. Wilson will be replacing QB Sam Darnold, who was recently traded to Carolina, as the team looks to a new leader in Zach, and build a team around him. As already shown, Zach will take some time adjust to not only being an NFL QB, but moving across the country, and getting used to not living in Utah anymore.
San Francisco 49ers(via HOU through MIA): Trey Lance, QB, North Dakota State
Now this is where the draft gets more interesting. The Niners traded up to draft Jimmy Garoppolo's replacement. The thing was, is that there were three possible QBs they could take after Lawrence and Wilson. Justin Fields, Trey Lance, and Mac Jones. It soon got narrowed down to Lance and Jones, and they ultimately ended up selecting Trey Lance out of North Dakota State with the third overall pick. The concern with taking Lance so high was that he only played one college season, as he opted out of last year, and just started and played throughout 2019 where he did have a great season nonetheless. He tossed twenty-eight TDs, ZERO INTs, passed for 2,947 yards, and had an outstanding QBR of 173.8. Again it is cause for concern whether Lance is NFL ready not only because he only played one college season, but he is also twenty years old. San Fran believes they are a quarterback away from a Super Bowl, and believe Lance is the upgrade they need over Jimmy G. They have a great supporting cast for Lance on both sides of the ball and hope this sets them up for a future Lombardi trophy.
Atlanta Falcons: Kyle Pitts, TE, Florida
Florida tight end, Kyle Pitts, was taken by the Atlanta Falcons fourth overall. Pitts was the best tight end prospect in the draft, and debatably even one of the best prospects overall, so much so, the defense needy Falcons used their fourth overall pick on him. During his time at Florida, Pitts racked up 1,492 and eighteen TDs with QB Kyle Trask throwing the ball to him. Trask was a second round pick in the draft, as he was not one of the better QB prospects, who of which were all drafted round one, which further strengthens the fact of how good Pitts really is. Atlanta looks to light the scoreboard up this year with the addition of Pitts to an offense already with TE Hayden Hurst and wide receivers Julio Jones and Calvin Ridley, all getting the ball from QB Matt Ryan.
Cincinnati Bengals: Ja'Marr Chase, WR, LSU
With the fifth overall pick, the Bengals drafted LSU wide receiver Ja'Marr Chase. Chase is debatably the best wide receiver in the draft despite opting out of the 2020 season due to Covid-19. In his two seasons played at LSU, Ja'Marr scored twenty-three TDs and put up 2,093 receiving yards. Heading to Cincinnati, he reunites with former LSU teammate, and QB, Joe Burrow. Both very clearly wanted to be reunited, but this looks to have come at a cost. The Bengals desperately need offensive linemen, an this was exemplified when Burrow torn his ACL and MCL last season. He was also sacked thirty-two times before his injury. Offensive tackle, Penei Sewell was still available to draft, and would've tremendously bolstered Burrow's protection. Even though they passed of Sewell, adding Chase to the offense already comes with him and Burrow's connection from playing at LSU together. If they do get o-line help, Burrow now has Tyler Boyd, Tee Higgins, and Ja'Marr Chase to throw to, and Chase could really take the offense to the next level.
These five players have big expectations to reach being the top players taken in the draft. While it is a great honor, they need to put in the work and effort to keep finding success in the NFL, and they all have the potential to reach it.