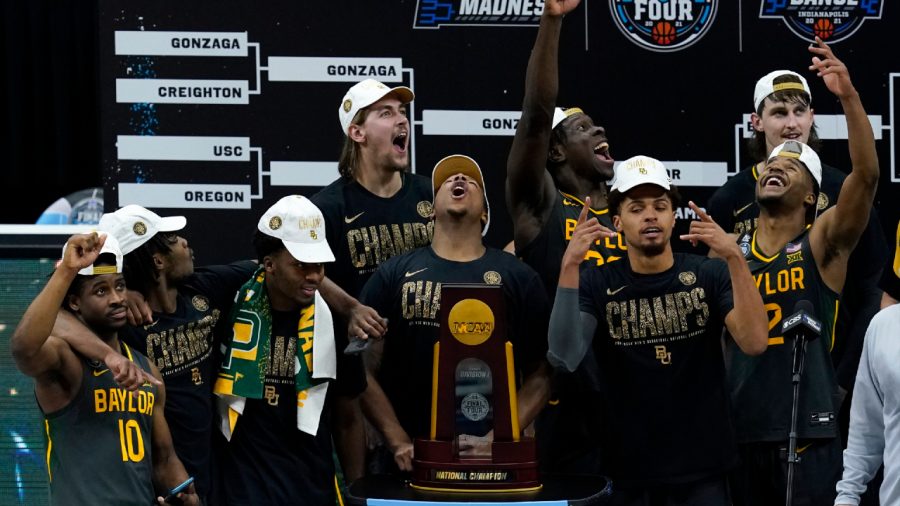 The Baylor Bears bring home their first NCAA basketball tournament victory, ending Gonzaga's undefeated season
March Madness has officially ended with the NCAA Men's Basketball tournament game on Monday night featuring the Baylor Bears and the Gonzaga Bulldogs. Gonzaga, a team known for always being a top team in March Madness, with the potential to win it all, but always blows their chances along the way somehow, has finally gotten to the big game, and looking to finish their season undefeated after winning all of their previous 31 games including an instant classic in their Final Four game against the eleven seeded UCLA Bruins who after guard Johnny Juzang scored two points to tie the game 90-90 with seconds left in overtime, had their Cinderella story ended when Gonzaga freshman guard, Jalen Suggs, took the ball to a little past half court, and took a desperation shot to try and win the game and miraculously drains it. Gonzaga, coached by Mark Few, goes to face Baylor, coached by Scott Drew, who took care of the Houston Cougars 78-59 in their Final Four game, in the championship game. Both Baylor from the South, who had a 27-2 record going into the final game, and Gonzaga from the West, were the number one seeds in their divisions respectively. The biggest game in college basketball, and maybe even in college sports, looked to be a good one as Gonzaga and its fast-paced, explosive offensive would be paired against Baylor's elite defense as well as their delicious three-point shooting game.
First Half: As the game opens up, the first points are scored by Davion Mitchell, Baylor's third year guard, giving them the early lead. up 13-4, Baylor's guard Jared Butler puts up a three-pointer assisted by Mitchell. A saved ball gets back to guard Adam Flagler, and he drains a three. Baylor just continuously putting up an offensive performance against Gonzaga, and forward Jonathan Tchatchoua gets open in the paint, and dunks. Baylor now up 23-10. Butler drains another three with about ten minutes left in the half. Butler hit the rim, and Gonzaga guard Jalen Suggs rebounds it, and takes it down the court, and throws a quick pass to forward Drew Timme for his dunk. Gonzaga stills trails fairly far by fifteen. Around four minutes left in the half with Baylor up 35-22, Flagler adds to their cluster of three-point shots made, and the Bears go up sixteen points. Forward Cody Kispert, steals the ball away from Baylor, and sets up guard Joel Ayayi for the dunk. Guard MaCio Teague, for Baylor, gives them yet another three- point shot. With under a minute left in the first half, Suggs turns aggressive, and forces his way to the hoop for a two-pointer. Ending the half, Suggs flips the ball to forward Anton Watson, in a nicely executed play to cut Baylor's lead to ten, as they lead Gonzaga 47-37.
Second Half: Up 53-41 now in the last half of the championship, Mitchell drives down court, and hits a layup, with  a poor defensive attempt by Gonzaga. Tchatchoua gets a nice toss to him and follows up immediately with a dunk. Baylor continues its dominance currently up 64-51. Kispert drives toward the basket but gets rejected by Baylor, as Flagler splashes a three-pointer. An excellent play by Baylor. Down twenty points, now Gonzaga gets a nice three-point shot from Suggs. Mitchell fakes out half of the Gonzaga Bulldogs and goes up for the layup with around four minutes left in the game, and Gonzaga appears to be down bad physically and emotionally. 84-65, under two minutes left, Suggs taps the ball away from the Bears, and hits a layup, but they are still too far from making a comeback as a couple more shots from each team make it a 86-70 game final as the clock hits double zeros, and the Baylor Bears come out as March Madness champions.
For their first time in school history, Baylor has taken home the NCAA title. Gonzaga got so close this year, almost proving everyone wrong that they don't blow it each and every year in the bracket, but despite getting to the big game, could not stop a powerful Baylor offense. Timme led the team in rebounds with five, guard Andrew Nembhard had four assists, and Suggs led the team in points scored with twenty-two. For Baylor, guard Mark Vital had eleven rebounds, Butler had seven assists, and also led in points scored with twenty-two. Baylor really knocked Gonzaga back down to Earth hard, reminding them just how it is to win it all, after the Bulldogs were all hyped after their insane ending against UCLA. Both teams look to be back in March Madness in the coming, hopefully normal year with fans. Will Baylor repeat? Or will Gonzaga finally prove the doubters wrong and take the crown? Well for now Baylor celebrates their well earned and deserved title.