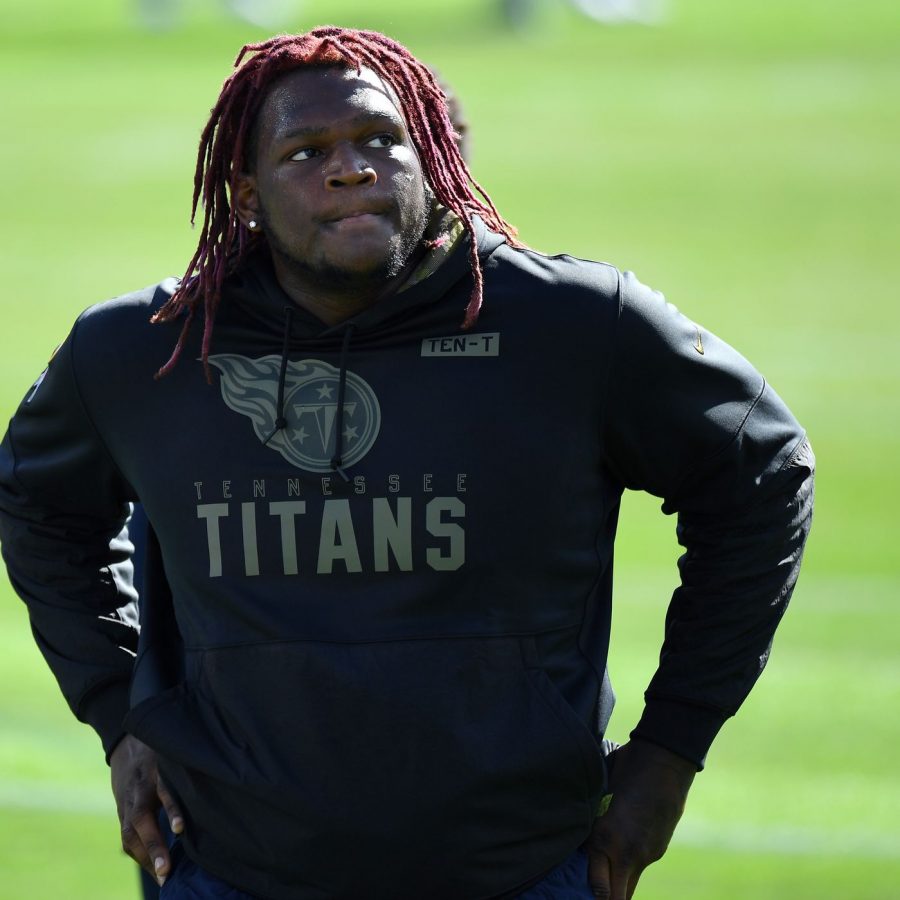 Struggles within the 2020 NFL first round draft class
Many great players have already emerged from the first round of the 2020 NFL draft such as Offensive and Defensive Rookie of the Year award winners in Chargers' QB, Justin Herbert and Washington's defensive end, Chase Young. Other young rookie players from the first round including Vikings' wide receiver, Justin Jefferson, Bucs offensive lineman, Tristen Wirfs, Cowboys wide receiver, CeeDee Lamb, and Bengals' quarterback, Joe Burrow, have most notably shown their potential to be stars in the league as well. But sadly, just like every year, there are always a handful of disappointments from the first round. Whether that player failed to reach expectations in the league, or the occasional getting into legal trouble and having their young careers ruined. The legal troubles of specifically first round players are not as common as simple poor on-the-field performances, but it has been a little more common in recent years.
Isaiah Wilson is an offensive tackle from the University of Georgia that was drafted by the Tennessee Titans 29th overall in the 2020 draft. Now off the bat, this was a questionable pick for the Titans, as Wilson was a more or less raw player, and during his rookie season, ended up only playing four total snaps. After the season concluded, Wilson tweeted out that he was done football as a Titan, deleting the tweet shortly after. Roughly two weeks later, the Titans traded the former first round pick to the Miami Dolphins along with a 2022 seventh-round pick in exchange for a 2021 seventh-round pick. Wilson's four snaps were all in just one game this season, and he was also placed on the reserve/Covid-19 a couple times. There were other incidents Wilson was involved in that hinted at him being a problem. In August, at Tennessee State University, police responded to the smell of marijuana coming from an off-campus apartment. It was reported that Isaiah went to the second story balcony and appeared to briefly consider jumping, per the Associated Press. Following this incident, he was arrested and charged with a DUI in September. After Miami graciously gave Wilson a second chance, Wilson repaid this new chance by showing up late to his physical and team meetings. He even failed to show up for workouts he himself had scheduled. Just two weeks into him joining his new team, he was released. Miami wanted to help Isaiah get back on track and give him a second chance, but he made it very clear that he does not want the help right now, and will currently be remembered as a bust.
Jeff Gladney was drafted out of TCU by the Minnesota Vikings 31st overall. Like most rookie cornerbacks, Gladney struggled in his first year allowing the third most receptions with 68. Even fellow Vikings' rookie cornerback, Cameron Dantzler, performed better than Gladney, and was one of the few bright spots on an awful Vikings' defense this season. Gladney was already being discussed as a draft bust despite only having one pro season under his belt, but now those talks have increased as Jeff reportedly turned himself into the Dallas County Jail after an arrest warrant was filed against him for felony family violence assault following an incident involving Gladney and a 22-year-old woman in which an argument ensued over cell phone content. The altercation escalated to the point in which Gladney progressed to assaulting the victim. Like already stated, Gladney later on proceeded to turn himself into police custody.  The Minnesota Vikings stated they are aware of the situation, and have made no further comment on what they will do with Mr. Gladney as he currently remains on the team.
Outside of these off-the-field situations, there are those other players that have underperformed in their rookie seasons, and need to step up and meet their high expectations. Henry Ruggs, drafted 12th overall by the Las Vegas Raiders, was the first wide receiver taken in the stacked wide receiver draft. Ruggs, mostly known for his insane speed, did not have the ideal rookie year. He dealt with some injuries, and had some drop issues, which resulted in him only putting up 452 yards and two TDs, and being outplayed by fellow team receivers Nelson Agholor, Darren Waller, and Hunter Renfrow. QB Tua Tagovailoa, drafted fifth overall by the Dolphins, was the second QB taken. Tua did not start till Week 8 against the Rams. Tua showed some flashes, but his struggles were more noticeable, and for the rest of the season, him and fellow QB Ryan Fitzpatrick, switched in and out of the starting QB spot. His rookie struggles, and Herbert and Burrows' rookie success, brought about talks if Tua can succeed as an NFL QB, but Miami finally seems committed to his long term development, as well as him getting more experience, can get him to reach his expectations.
Getting drafted in the first round can be a big honor to the players selected, but can also put a lot of pressure on them to reach the elite expectations almost immediately. You really never know what your getting when you draft a player, no matter how many meetings you have with them, or how much you study their film, you can't predict success at the NFL level.