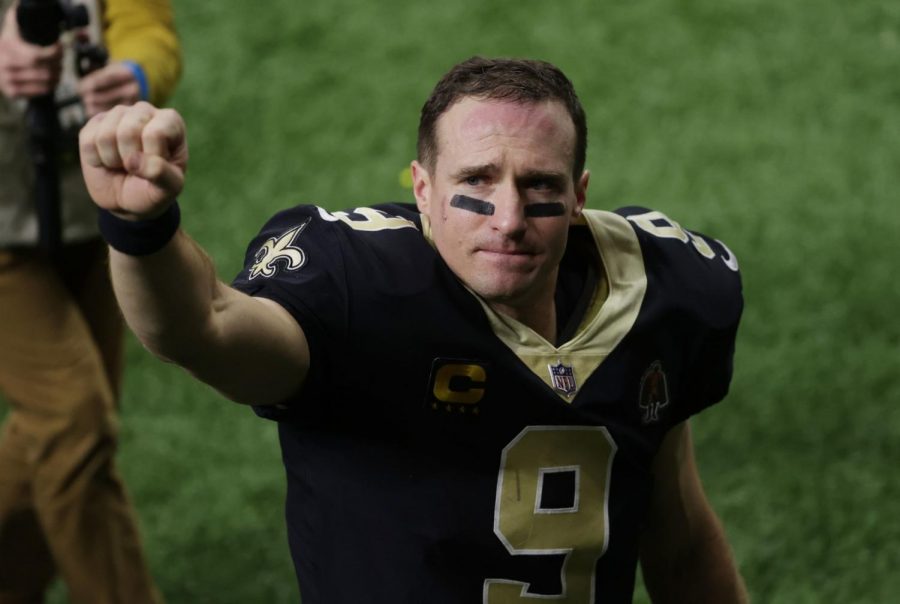 Drew Brees officially announces his retirement from the NFL
The legendary Drew Brees has retired from the NFL. The long time quarterback of the New Orleans Saints announced his official retirement on March 14, 2021 via his Instagram. The video can be viewed on the following link: https://www.instagram.com/p/CMaeCtwhtes/.  His main reason for retiring was to spend more time with his wife and kids, and there very well was also an increase in his injuries and decrease in on-the-field performance that hinted his older age. During his future HOF career, Brees played for the Chargers and more notably, the Saints where he won his sole Super Bowl, and leads in many quarterback stat categories all time as well. Let's take this time to reflect on and review the astonishing career of Drew Brees.
Brees was selected by the then San Diego Chargers with the first pick of the second round in the 2001 NFL draft. Brees didn't see much playing time in his first year, but that increased over the next couple seasons he spent with the Chargers. San Diego drafted quarterback Eli Manning with the first overall pick in the 2004. Eli expressed he did not want to play for the Chargers, in which they preceded to trade him to the New York Giants to receive quarterback Philip Rivers, who was drafted fourth overall in the same draft. Brees started all games in 2004 and 2005 and in 2005 he had the team at a 9-7 record but third in the AFC West.  Following that season, San Diego made the decision to commit to Philip Rivers as their starting quarterback moving forward and released Brees. The New Orleans Saints made the choice to sign him. In his debut year with his new team, Brees led them to an NFC South division title with a 10-6 record while passing for 4,418 yards, twenty-six touchdowns, and eleven interceptions. They reached the NFC Championship game where they fell to the Chicago Bears 14-39. Drew remained the Saints' star QB for the next fourteen seasons. In the 2009 season, he led them to a 13-3 record and brought the city of New Orleans their first Super Bowl ever, beating Peyton Manning and the Indianapolis Colts 31-17, and winning Super Bowl XLIV MVP as well. After that, Brees brought the Saints back to the playoffs seven more times. Unfortunately, the Saints and Brees endured four heartbreaking playoff exits the last four years. First was the Minneapolis Miracle, second the NOLA No Call, third the Kyle Rudolph Overtime TD Catch, and finally Brady and Bucs knocking them out of the playoffs in Brees' final year. Despite all the heartbreaking losses, and shockingly zero MVP awards for Brees, he still implanted himself in the NFL record books.
Drew Brees finished his career with 80,358 passing yards becoming the first ever QB to surpass 80,000 in league history, as well as temporary holding the NFL's most passing TDs record surpassing Peyton Manning in 2019, with 540, though would later be passed by Tom Brady. He also has twelve consecutive seasons of 4,000+ passing yards which is the current longest streak, and just barely missed a thirtieth season by eight yards. Now going into the 5,000 passing yards range, Brees has five 5,000 yards passing seasons, as he is the only player to accomplish this feat. Brees totaled 7,142 completions in his career, being the first player to reach 7,000 completions. He also owns the top three completion seasons, the record season being in 2016 with 471. This is followed by 468 in 2011, and 456 2014. With the Saints specifically, he has 6,017 completions which is the most by a player in a fifteen-year period. Brees has the record of most touchdowns tossed in consecutive games with 54, passing Johnny Unitas with 47. Brees has led the NFL in passing yards seven times, and is tied with the most TD passes in a game with seven. He ended up finishing his career with 571 passing TDs, second all time behind Tom Brady. Drew is currently second all time in career completion percentage with 67.7%, only trailing Deshaun Watson at the moment. He also holds four of the top five single-season completion percentage marks in NFL history, all being over 70%. There are several more "minor", more detailed, and specific career accomplishments and records that Drew Brees currently holds, proving even more how legendary and dominant a player he truly was in the NFL, and how different it will feel without his presence.
What does Drew Brees plan to do now that he has officially retired from the NFL? \
Like most players with families, Brees wants to spend more time with his wife, Brittany Brees, and four kids, Rylen, Bowen, Baylen, and Callen. In terms of Brees' next job, he has accepted a position to work at NBC Sports as as a studio analyst for Football Night in America and a game analyst for NBC's coverage of Notre Dame football.
What will the Saints now do at quarterback moving forward?
We all know how much head coach Sean Payton loves swiss army knife QB Taysom Hill, and we have seen the team succeed when Brees was out with Hill and former QB Teddy Bridgewater. Taysom though isn't exactly your ideal starter, which is why the Saints resigned former Buccaneers' QB, Jameis Winston. Winston didn't get much playing time last year, even when Brees was out, but he is very clearly now the best QB on the team, the one the Saints should look to start in 2021. They have most of the pieces around Jameis that should help him succeed.
Drew Brees will go down in the NFL history books as not only one the greatest quarterbacks of all time, but as one of the greatest players of all time. A surefire first ballot Hall of Famer. Congrats on a truly legendary football career Drew.