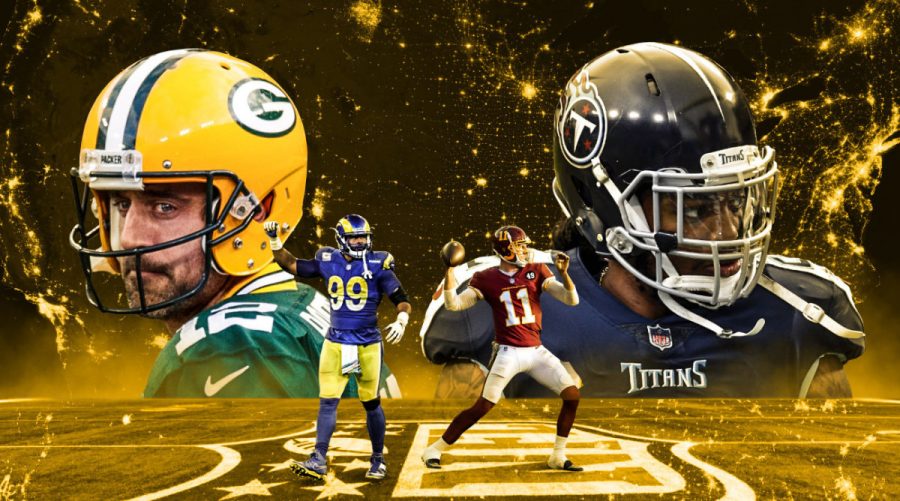 NFL Honors 2021
The 2021 NFL Honors award ceremony aired Saturday February 6th, the night before Super Bowl LV at nine o'clock at SoFi Stadium in Los Angeles, California, hosted by Steve Harvey to recognize and award stand out players this past 2020 season. This year's ceremony was a bit different as it was recorded earlier in the day, and all award winners recorded their speeches to be sent in as Steve Harvey and a few others stood alone in SoFi Stadium announcing the winners to a virtual crowd.
MVP: Starting this off with the biggest award, Green Bay Packers quarterback Aaron Rodgers received the Most Valuable Player award.  Edging out Bills' QB Josh Allen, and Chiefs' QB Patrick Mahomes, Rodgers undoubtedly put on an outstanding performance this season, leading his Packers to a 13-3 record, and a first round bye in the playoffs. Aaron was not provided with anymore receiving help by the Packers, and they even traded up to draft QB Jordan Love in the first round of the 2020 draft. Despite these events, or lack there of, Rodgers used this as motivation and balled out. He led his team all the way to the NFC Championship game before falling to the Buccaneers. He finished seventh in passing yards with 4,299. He led in completion rate with 121.5, and in touchdowns with 48, and threw just five interceptions.
OPOY: Tennessee Titans workhorse runningback Derrick Henry took home the Offensive Player of the Year award. Henry beat out Chiefs' tight end Travis Kelce, and Bills' QB Josh Allen. Derrick Henry carried the Titans to an 11-5 record, winner of the AFC South, and to the Wild Card round where they fell to the Baltimore Ravens. Henry is the core of the Tennessee offense and entire team. He led the league in rushing yards, breaking the 2,000 yard barrier, and finishing with 2,027 yards on the year. The first back to do that since Adrian Peterson in 2012. Henry also racked up seventeen rushing touchdowns as well, and his crazy strong stiff arms are a thing of beauty.
DPOY: Probably the most controversial award winner was Los Angeles Rams' defensive end Aaron Donald winning the Defensive Player of the Year award over Pittsburgh Steelers' outside linebacker T.J. Watt, who beat Donald in almost every single stat category. Donald also won over Dolphins' cornerback Xavien Howard, who racked up ten interceptions on the year. Nevertheless, Donald won because he is one of the best and most dominate players in the league, making an impact every time he steps on the field as he helped lead the Rams' to the NFC Divisional Round. Donald finished T-second in sacks with 13.5, and compiled forty-five total tackles as well as four forced fumbles and a fumble recovery.
OROY: Los Angeles Chargers' sixth overall pick, quarterback Justin Herbert, won Offensive Rookie of the Year honors. Herbert beat out guys like outstanding Vikings' wide receiver Justin Jefferson, Jaguars undrafted runningback James Robinson, and Colts' runningback Jonathan Taylor. Herbert had a record breaking rookie campaign, leading his team to a 7-9 record despite the lead blowing and head coach issues, Herbert himself could have definitely gotten the Chargers to a winning record. He ended up sixth in passing yards with 4,336 which is a rookie record, and threw 31 touchdowns which broke the rookie passing TDs record, had just ten interceptions, and broke the rookie record for most completions with 396.  Simply put, Herbert broke almost every rookie QB record, and has a bright future in this league. I just hope he grows out his hair again.
DROY: The second overall pick by the Washington Football Team, defensive end Chase Young, took home the Defensive Rookie of the Year award, beating out Panthers' safety Jeremy Chinn, and Bucs' safety Antoine Winfield Jr. Young right off the bat, made an immediate impact on Washington's defensive line that was already filled with elite players. He assisted mightily in helping Washington to a 7-9 record, first in the NFC East, and into the NFC Wild Card Round. Young led all rookie defenders in sacks with 7.5. He put up forty-four total tackles, forced four fumbles, recovered three, and took one back for a touchdown. He also batted and deflected a handful of passes as well. Young is going to be a force on Washington's front seven for years to come.
CBPOY: No debate here who this award goes to this year. Absolutely one of the most wholesome, amazing, and insane comebacks ever. Washington Football Team quarterback Alex Smith accepted the Comeback Player of the Year award this year. I can't even put into words how incredible Alex's story is. After suffering a broken leg November 18, 2018, in a game against the Houston Texans. Alex had the Redskins first in the NFC East at 6-3 before going down. Smith endured seventeen surgeries, the possibility of amputation, a life-threatening infection, and the thought he might not survive. He at one point went to a military rehab facility as his injury was as bad as a war injury, and at this place was where he picked up a football for the first time in months. It went from there. He was eventually released from the hospital and returned home. Smith then returned to the practice field during the 2020 offseason and began practicing once again. He was later activated during the season and Week 5, when QB Kyle Allen went down in a game against the Los Angeles Rams, Smith returned to an NFL field for the first time since 2018. He then became Washington's starter when Allen went down against the New York Giants, and Smith led the team to a 5-1 record including beating the 11-0 Steelers, and led Washington to become NFC East champs. Proving everyone wrong, Alex made the greatest comeback ever witnessed, and no one has ever deserved this award more.
COTY: Cleveland Browns' head coach Kevin Stefanski won Coach of the Year. Stefanski was previously the Minnesota Vikings' offensive coordinator before being hired to be Cleveland's head coach last offseason. He edged out guys like Bill's coach Sean McDermott, Dolphins' Brian Flores, and Chiefs' Andy Reid for the award. In his first year in Cleveland, Stefanski coached the team to an 11-5 record, and their first playoff birth since 2002, and first playoff win since 1994, getting them to the AFC Divisional Round. Stefanski looks like he is here to stay, as the Browns' look to turn over a new leaf.
WPMOY: Seattle Seahawks quarterback, Russell Wilson received the Walter Payton Man of the Year award. Probably the most prestigious award in football. Wilson has not only displayed excellence on the field, but off it as well. Wilson visits kids at Seattle Children's hospital every Tuesday throughout his career which was virtual this year. Him and his wife, Ciara, also have their own foundation called Why Not You, which has made a huge impact over the years. They also raise money for the Friends of the Children organization. Wilson is very passionate about giving back and helping the children, and fighting against cancer, and very much deserves this wonderful award.