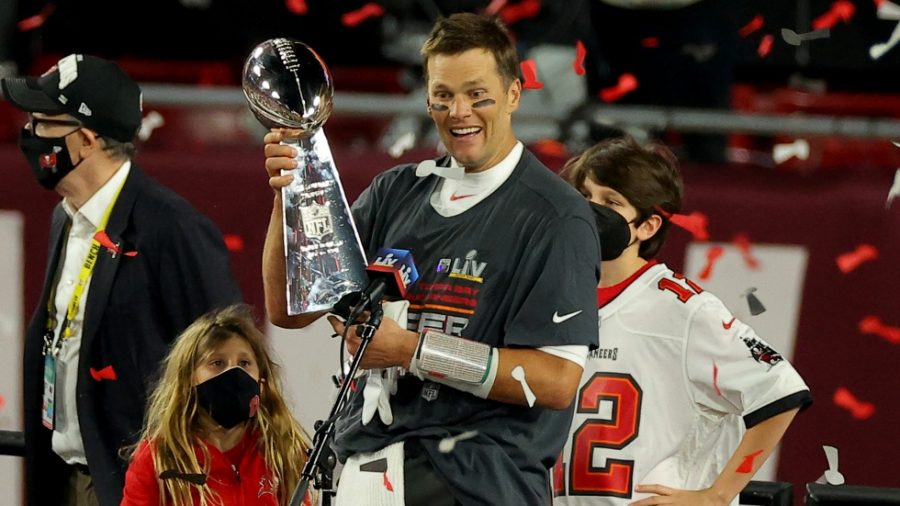 Tom Brady wins his seventh Super Bowl, and the Buccaneers' second, as they terrorized Kansas City all game long in Super Bowl LV
Well there you have it. The Tampa Bay Buccaneers are your Super Bowl 55 champions! They welcomed Patrick Mahomes and the Kansas City Chiefs into their home Raymond James Stadium and gave them a thrashing, beating them 31-9. A game KC will surely never forget. They struggled mightily throughout the game, and Mahomes was getting no help whatsoever from any position except maybe kicker who scored all of KC's points. The oldest combined ages of head coaches in the Super Bowl faced off in Chiefs' Andy Reid, and Bucs' Bruce Arians, and the older one in Arians came out on top.  Tom Brady wins his SEVENTH Super Bowl, and now has more total rings then any NFL franchise, surpassing the Pittsburgh Steelers and New England Patriots with six. Truly incredible how in one year being on a new team, Brady manages to give them their second Lombardi Trophy in franchise history since 2002.
Quarter 1: After a quiet first few possessions, Mahomes scrambles and targets Tyreek Hill in the endzone, but it goes through his hands, and Harrison Butker kicks a 49-yard field goal. KC leads first 3-0. Brady responds by leading his team downfield, with the help of a catch and run by tight end Cameron Brate, and passes to longtime teammate, tight end Rob Gronkowski for the touchdown. 7-3 Bucs. This set the playoff record for most passing touchdowns by a quarterback-pass catching tandem in NFL history with thirteen.
Quarter 2: Mike Evans, Tampa's number one wide receiver, gets them into the redzone, but on fourth & goal, when Tampa elects to go for it, runningback Ronald Jones gets stuffed at the goal line and it becomes a turnover on downs. A third down conversion pass by Mahomes is dropped by star tight end Travis Kelce, resulting in no points from the turnover. Chiefs' rookie punter, Tommy Townsend, has been jittery all game so far, and a punt from their own endzone doesn't even reach midfield, giving Tampa great field position. Brady's pass is tipped at the line, tipped again by runningback Leonard Fournette, and safety Tyrann Mathieu catches it, though a penalty before the ball was thrown gives Tampa the ball back. KC's defense stops Tampa on third down and they go to kick a field goal when KC's special teams gets called for offsides on the try, giving the Bucs a first down and another opportunity to score a touchdown. This time Brady throws into the endzone and it is caught again by Gronkowski. 14-3 Bucs, and the record mentioned previously increases to fourteen. Mahomes is able to put together a solid drive, until Shaquil Barrett chases him back, and forces a throw away on third down. Butker makes a 34-yarder, Chiefs trail 6-14. With one minute left in the half, Brady airs one deep for Evans, who gets tripped up by cornerback Bashaud Breeland. Whether it was intentional he fell and brought down Evans or not, its still pass interference on Breeland. Kansas City stops the clock a couple times in hopes to get the ball back and do something before half but it comes back to bite them. Mathieu gets flagged for pass interference on Evans in the endzone, placing the ball at the one-yard line. Brady then hits wide receiver Antonio Brown for the third touchdown of the night. 21-6, Bucs lead entering the half.
Quarter 3: Rookie runningback Clyde Edwards-Helaire breaks loose into Tampa's secondary and crosses midfield for a nice gain. Chiefs are forced to attempt another kick, this time from 52 yards out, and Butker drills it. 21-9 Bucs. Brady connects with Gronk in stride down to the KC twenty-five. Fournette then runs out right, outrunning the Chiefs defenders, and gets into the endzone for the fourth Tampa touchdown. 28-9 Bucs. Patrick Mahomes has been zero for six on third down, and has had no time in the pocket, and on this third down, the pass is deflected in the secondary, and into the arms of rookie safety Antoine Winfield Jr for the interception. A high snap for Brady just might've been KC's last chance to do anything, but Brady himself successfully recovers it, and kicker Ryan Succop nails a 52-yarder. 31-9 Buccaneers. Mahomes finally hits Tyreek Hill, who has been doubled covered all day, for a notable gain.
Quarter 4: Mahomes scrambles for his life on third down, and manages to get the ball off but it is incomplete. Now on fourth down, he once again gets chased by Tampa's defense, and falling sideways in midair, heaves the football right to runningback Darrel Williams, but it goes right through his hands and goes incomplete. Probably the most insane incomplete pass ever. Chiefs with the ball back, just trying shorten the point margin, Kelce picks up a thirty yard gain. Patrick gets taken down by some Bucs for a couple of sacks. Once again faced with a fourth down situation, and running for his life, Mahomes' pass falls incomplete. Tampa just continues to run clock, and a last effort to score a single Chiefs' touchdown gets intercepted by linebacker Devin White who has been playing outstanding football. That ends the game. Final score: 31-9 Buccaneers.
Tampa Bay has taken down the reigning Super Bowl Champ Kansas City Chiefs. How were they able to accomplish this? Well first they went and signed the greatest player and quarterback ever, Tom Brady. This led to guys like Gronkowski, Fournette, and Antonio Brown signing with the team as well. They all had an impact in their SB victory. Not to mention the defensive line pressured Mahomes all game long, and the defense also came up with two interceptions and a handful of sacks. Bruce Arians became the oldest head coach to win the Super Bowl as well. Brady played very well completing 21 of 29 pass attempts, for 201 yards and three touchdowns, also winning Super Bowl MVP. Fournette who has been hot all postseason racked up 89 rushing yards and a TD. Gronk had a day as well with 67 receiving yards and two TD catches from Tom. As already mentioned, Todd Bowles defense played outstanding football, not allowing a single Chiefs touchdown along with everything else previously mentioned. Transitioning to the Kansas City Chiefs, poor Patrick Mahomes did everything he could to help his team but no one could pull through for him. His offensive line, with some backups, could not hold back Tampa's pass rushers who forced Mahomes to run a total of 497 yards, Townsend struggled to punt the ball, , and the Chiefs accumulated over one hundred yards in penalties, most coming in the first half, and s. Now sure the refs got a little to involved, but the Chiefs were just a straight up mess the whole game. There was definitely some heat during the game as well including Brady and Mathieu going at each other verbally, and Winfield flipping Tyreek Hill's signature peace sign at him during the game as Tampa's defensive practically shut him down all game long. Mahomes completed 26/49 passes for 270, zero TDs and two INTs. CEH had 64 rushing yards, and Kelce had his usual great statistical game with 133 receiving yards though it was not enough to pull out a victory. Tyreek Hill, who had an amazing 269 yards and three TDs performance, was almost entirely shut out from the game as the Bucs' defense planned accordingly this time around, and got their revenge. Kansas city will contend for the Super Bowl next season again, though should look to upgrade defensively. Tom Brady will continue to hang around with the Bucs, as well  as everyone else who joined the team, as Brady has not yet handed off the torch to Mahomes, and will look to take over the NFC and the league once again as Tom Brady truly is the undisputed G.O.A.T. Arians had stated that his team was Super Bowl or bust, and they definitely were not a bust.