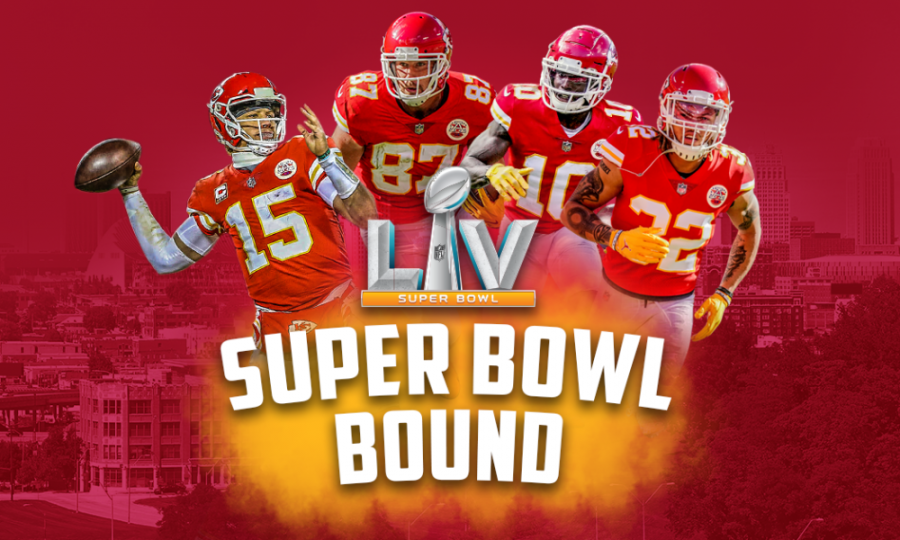 Game Recap: Patrick Mahomes outplays Josh Allen, leading the Chiefs back to the Super Bowl
Man, Patrick Mahomes just keeps working his Mahomes magic. Even after sustaining a concussion in the divisional round game verses the Cleveland Browns, and being taken off concussion protocol during the week, which by the way is a very short time to be in protocol, he still led his Kansas City Chiefs offense in dominate fashion to a win over Josh Allen and his Buffalo Bills in the AFC Conference Championship game.
Quarter 1: After a fourth down conversion pass to tight end Dawson Knox, and a near interception by safety Juan Thornhill, rookie kicker Tyler Bass kicks a 51-yard field goal to put the Bills up 3-0. On third down, Mahomes lobs a pass to wide receiver Tyreek Hill but he fails to haul in the ball. Allen steps up, takes off, and runs for twenty yards and a first down. He then gets chased backwards by the Chiefs' defense, and takes a fifteen yard sack. This leads to a Buffalo punt, but second year wide receiver and return specialist Mecole Hardman muffs the punt, and Buffalo recovers the ball at the three-yard line setting up first & goal. They immediately score with a pass to Knox. 9-0 Bills. With Mahomes leading his boys down the field, they wind up in a fourth down situation, and Mahomes gets the ball to runningback Darrel Williams for the first down.
Quarter 2: Hardman redeems himself by catching a pass, and running into the endzone for the touchdown. 9-7 Bills. Hardman is then handed the ball and showing his speed, takes it from the 20, down inside the Bills 40. Williams muscles his way through the Buffalo defense, and cracks the plain for the touchdown. 14-9 Chiefs. Gaining possession of the ball again, Mahomes evades the sack, and finds Hill for a big gain, and tight end Travis Kelce gets the ball to about the one-yard line where rookie runningback Clyde Edwards-Helaire walks in for the score. 21-9 Chiefs. Allen puts together a good drive, but it ultimately ends in a Bass 20-yard kick. 21-12 Chiefs.
Quarter 3: Tyreek catches a pass at the thirty, and runs it into Buffalo territory. CEH gets drilled behind the line of scrimmage on third down which sets up a Harrison Butker 45- yard field goal. 24-12 Chiefs. Josh Allen, going the wrong way again, gets it to wide receiver Cole Beasley, who gets inside the Chiefs' thirty. No touchdowns again, but Bass completes a 26-yarder. 24-15 Chiefs. Mahomes, from the 25, goes to Hill, and Hill showing off his speed and elusiveness, runs the ball down to Buffalo's ten-yard line. Mahomes then throws underhand to Kelce, in a play they have adapted into doing multiple times per game, and he scores the six. 31-15 KC
Quarter 4: After running for a first, and getting down to the twenty, wide receiver John Brown fails to make a catch, and it falls into the hands of cornerback Rashad Fenton for the interception. Capitalizing off the pick, Mahomes tosses to a wide open Kelce for the touchdown. 38-15 Chiefs. Allen escapes the pocket and slices one to Stefon Diggs. Down in the redzone, he then slings one to wide receiver Isaiah McKenzie for a Bills' score. 38-21 KC. The two-point attempt was picked off by cornerback Bashaud Breeland. The Bills attempt an onside kick down seventeen, and actually recover it. Diggs, who has been quiet most of the game, makes a great leaping catch. Buffalo unfortunately gets themselves into a fourth & 28 situation, and a 51-yard kick by Bass puts them at 24. Williams gets the first down, and Kansas City wins 38-24, and will be headed back to the Super Bowl for the second year in a row.
The Chiefs are just an insane football team. They are shaping up to be the next dynasty. Mahomes, Kelce, and Hill are all top three in their respective positions, and head coach Andy Reid has done wonders with the team. Patty Mahomes completed 29/38 passes for 325 yards and three TDs. Williams put up 52 ground yards, and Tyreek Hill had a DAY with 172 receivings yards. Travis Kelce also had a great 118 yard day as well. The Bills had a great season that their fans and them should and will be very proud of. They took the next step in getting closer to a Super Bowl. You just have to be able to take down Patrick Mahomes, and the defense struggled all game to do so, and the offense did not seem like its usual explosive self in their biggest game of the year under the spotlight. Josh Allen completed 28/48 passes for 287 yards, and two TDs to one INT. He also led the team in rushing yards with 88. Cole Beasley ended up leading in the receiving yards with 88. He did that playing with a broken fibula, he later revealed, making that insanely impressive. Diggs stayed on field post-game to watch the Chiefs celebrate their win, as he fuels his motivation for the next season. As for the Kansas City Chiefs, their season is not yet over as they will face Tom Brady and the Tampa Bay Buccaneers in the Super Bowl as they look to run it back.