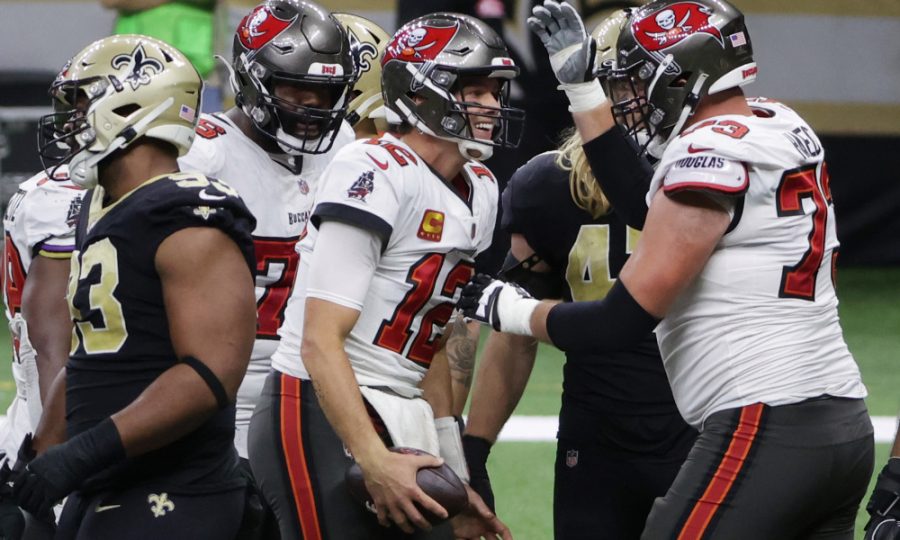 Derick E. Hingle-USA TODAY Sports
Game Recap: The Buccaneer's defense comes in clutch, causing four turnovers, and carries them to a victory over the Saints
After getting swept by the New Orleans Saints in their divisional matchups in the regular season, Tom Brady and the Tampa Bay Buccaneers took care of business in the divisional round on Sunday night, as they forced Drew Brees and the Saints to turn the ball over four times, as Tampa's defense carried them to victory. Drew Brees had announced prior, that he would be retiring after the season, and this was his last chance to get another ring after so many heartbreaking playoff losses. Unfortunately, his age showed in this game, and Tampa's defense took no pity on him.
Quarter 1: The Bucs first possession ended in a punt to wide receiver and return specialist Deonte Harris, and he took it all the way down to about the Bucs' twenty-yard line. Tampa's defenses holds the Saints to a 23-yard field goal by kicker Wil Lutz. Saints lead 3-0. New Orleans gets the ball back and Lutz kicks a 42-yard field goal. 6-0 Saints.
Quarter 2: Tampa finally puts together a drive and come away with three points off a Ryan Succop 26-yarder. 6-3 Saints. Brees moves out right, and targeting Michael Thomas, gets intercepted by cornerback Sean Murphy-Bunting, who takes it inside the Saints' three-yard line. Right after, Brady connects with wide receiver Mike Evans for the touchdown. 10-6 Bucs. In a perfectly executed play, runningback, Alvin Kamara takes the snap, hands off to wide receiver Emmanuel Sanders, who pitches it back to quarterback Jameis Winston, who finally throws it deep, hitting wide receiver Tre'Quan Smith in stride as he takes it in for the touchdown. 13-10 Saints. A nice screen to runningback Leonard Fournette, gets the Bucs into Saints' territory. Succop nails a 37-yard kick, and the game is all tied up 13-13 entering Halftime.
Quarter 3: Kamara breaks loose on first down, and gets the ten yards plus about six more, as he gets to the Bucs' 35. Tre'Quan Smith catches another TD pass, this time thrown by Brees as he hauls it in inside the right pylon. 20-13 Saints. Saints get the ball back, and Brees throws a quick pass to tight end Jared Cook, who then has the ball knocked out of his hands by rookie safety Antoine Winfield Jr., and it is scooped up by linebacker Devin White. Tampa responds with Brady connecting with Fournette in the middle of the field, and he falls into the endzone. All tied up again at 20-20.
Quarter 4: On a Tampa Bay third & eleven, Brady throws out right, behind wide receiver Antonio Brown who turns and reaches back for the ball, and makes a great catch. Brady then throws deep to wide receiver Scotty Miller who gets to the Saints' 30. Cornerback Marshon Lattimore makes a nice play forcing an incompletion on fourth down, and almost intercepting the pass. Succop kicks a 36- yard field goal. 23-20 Bucs. Drew Brees looks to pass to Kamara, but the two are not on the same page, and Devin White intercepts the pass. At the one-yard line, old man Brady takes it himself, getting the touchdown. 30-20 Bucs. Brees trying to not turn the ball over anymore, targets Cook. The ball goes right through his hands and bounces into the air where it is caught and picked by safety Mike Edwards. Wide receiver Chris Godwin and Fournette each pick up a first down icing the game. Final: Tampa Bay wins 30-20.
Tom Brady will be appearing in his tenth Conference Championship game in his NFL career. He appeared in nine in the AFC during his time with the Patriots, and will now be in the NFC championship game in his first year in Tampa. But Tom really should be thanking his defense, who forced four total turnovers, gifting the offensemultiple short fields. Brady completed eighteen passes for 199 yards and two TDs. Fournette put up 63 yards on the ground, and tight end Cameron Brate ended up leading in receiving yards with 50. Its just another heart breaking playoff loss for the Saints. Drew Brees completed nineteen passes for 134 yards, one TD, and three INTs. Kamara put up 85 rushing yards, and Tre'Quan Smith tied that with 85 receiving yards. It is truly sad to see Drew Brees go out like this, but nevertheless, the man had an amazing career, and is a future first ballot Hall of Famer. As for the Buccaneers, they prepare to head to the frozen tundra of Lambeau Field to face Aaron Rodgers and his Green Bay Packers. Tom is one win away from appearing in his tenth Super Bowl, and Tampa is one win away from becoming the first team to host the big game in NFL history.