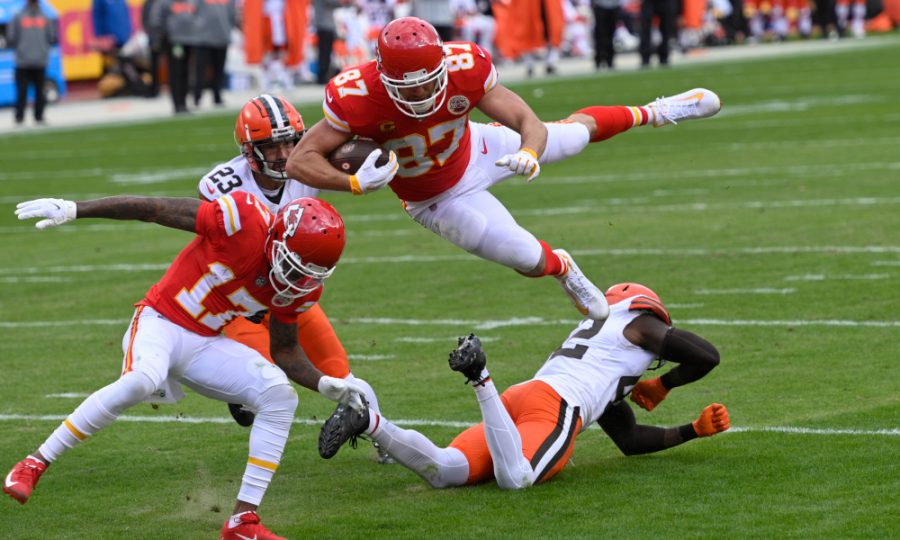 Game Recap: Mahomes goes down, but the Chiefs hold off the Browns to go to their third Conference Championship in a row
The Cleveland Browns came ever so close to upsetting the reigning Kansas City Chiefs, as they had multiple opportunities they just could not capitalize on, or just did not go their way. The Browns were on their way to making their first Super Bowl appearance in franchise history, but just could not get it done against the one and only MVP quarterback, Patrick Mahomes. Even when Mahomes was knocked out of the game, Baker Mayfield and the Browns were unsuccessful in pulling off a comeback.
Quarter 1: Mahomes, on their opening drive, connects with star wide receiver, Tyreek Hill, a.k.a the Cheetah, as he crosses Cleveland's thirty-yard line. Mahomes then just outside the Browns' endzone takes it in himself and chucks the ball deep into the stands at Arrowhead Stadium. Harrison Butker misses the extra point. Chiefs lead 6-0. Mayfield dumps the ball to tight end David Njoku for a screen, and with some good blocking, he enters Kansas City territory. Cody Parkey makes a 46-yard field goal putting the Browns on the board trailing KC 3-6. Wide receiver Mecole Hardman gets handed off too, and runs out right, and all the way inside Cleveland's 35.
Quarter 2: Elite tight end, Travis Kelce catches a Mahomes' pass and leaps over a Browns' defender, breaking the plain, and scoring a touchdown. Chiefs lead 13-3. On second & long, Baker drops in a dime to rookie wide receiver Donovan Peoples-Jones for the first down. Mayfield then catches his own blocked pass and takes a sack, and they punt the ball away. Runningback Darrel Williams is taken down behind the line of scrimmage, and Butler kicks a 50-yard field goal. KC leads 16-3. On second & twenty, Mayfield gets the first down as he connects with Njoku down field. He then delivers another dime to wide receiver Rashard Higgins. He hits Higgins again, who makes a second effort and reaches for the pylon, but the ball is knocked loose, and is fumbled into and out of the endzone ruling it no touchdown, and will be a touchback and Chiefs ball, though Daniel Sorenson, the Chiefs safety who delivered the hit and forced the fumble, did initiate helmet to helmet contact while doing so, but no flags were thrown. Mahomes hits Kelce and Hill for nice gains, and set up a 28-yard field goal made by Butker. Chiefs lead 19-3 at the half.
Quarter 3: Mayfield escapes the pocket pressure, runs out right, and throws and interception to safety Tyrann Mathieu, the Honey Badger. Butker then doinks the 33-yard attempt, giving the Chiefs zero points off the takeaway. Nick Chubb, one of the top runningbakcs in the league, slips through multiple tackles for a nice earned run. Mayfield then throws out right to wide receiver Jarvis Landry in the endzone for their first touchdown of the game. Browns trail 10-19. Mahomes flips the ball to Williams on fourth & inches, and he runs around defenders for the first down. He gets the ball again and gets pushed across the Browns' 25-yard line. Kansas City attempts yet another field goal, and this time Butker makes the 33-yarder. Chiefs lead 22-10.
Quarter 4: Tight end Austin Hooper makes a nice catch for a fourth down conversion inside the redzone, and former Chiefs runningback, Kareem Hunt, takes it in for the score. Chiefs lead 22-17. At this point, backup quarterback, Chad Henne, has taken over for Mahomes, and Hill makes a great catch over a defender. Henne lets one air out deep, and it gets intercepted in the endzone by safety Karl Joseph. Chiefs force the Browns to punt, and Chad Henne has the chance to ice the game for KC. On third & fourteen he opts to run and dives for the first down. He then connects with Hill on fourth down and that does it. The Chiefs will be returning to the AFC Championship game. Final score: 22-17.
Not too much of a surprise, except for how Chad Henne led the charge a the end to ice the game, that Kansas City will return to the Conference Championship. There are concerns however if Patrick Mahomes will clear concussion protocol in time to play. If not, the season just might be over for KC, especially considering the offense attempted a lot more field goals than usual, instead of scoring TDs. Mahomes completed 21 passes for 255 yards, and a TD. Darrel Williams finished with 78 rushing yards. Tyreek Hill racked up 110 receiving yards, with Travis Kelce right behind him with 109. As for the Browns, their organization and fans, despite the loss, should still be very proud of the great season they had, and promising future that lies ahead. Baker completed 23 passes for 204 yards, and one TD to one INT. Nick Chubb rushed for 69 yards, and Rashard Higgins put up 88 receiving yards. The Chiefs will take on the new kings of the AFC East, the Buffalo Bills, in the AFC Championship game. Chiefs fans better hope and pray that Mahomes will be ready to go for Sunday, or their season might just be over.