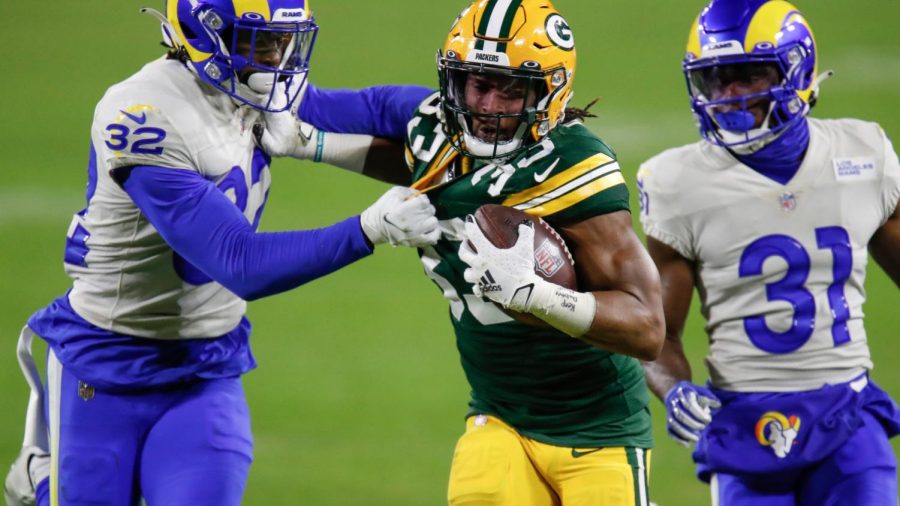 Packers #1 offense bests the Rams #1 defense in the Divisional Round
In back to back years, Aaron Rodgers and the Green Bay Packers will play in the NFC Conference Championship game. Green Bay hosted the Divisional Round game against Jared Goff, who was still recovering from surgery to his broken right thumb, and the Los Angeles Rams. The league's number one offense and defense faced off this past weekend. It is worth mentioning that the Rams #1 receiver, Cooper Kupp did not play in the game. Stud cornerback, Jalen Ramsey, would be matched up one-on-one with Packers' star receiver Davante Adams, and possibly the best defensive player in the NFL, Aaron Donald, would look to take down Aaron Rodgers. In the end, Green Bay's explosive offense was just too much for the Rams' defense to handle, and the Packers pulled away and sealed their victory.
Quarter 1: Rodgers comes out firing immediately, and hits wide receiver Equanimeous St. Brown, who gets inside the Rams' five-yard line. The stout Rams defense holds Green Bay to a 24-yard chip shot, which is made by kicker Mason Crosby. Packers lead first 3-0. Jared Goff, hurt thumb and all, hits wide receiver Josh Reynolds in stride into Green Bay territory. A penalty prevents LA from attempting to convert on fourth down, and kicker Matt Gay kicks a 37-yard field goal to tie the game up at 3-3. Rodgers pitches the ball to Aaron Jones, the runningback, who takes a big hit, but somehow manages to stay on his feet as he gets the first down.
Quarter 2: On third & goal, Rodgers throws a quick pass out right for Davante Adams in the endzone, as Jalen Ramsey shouts in frustration. Green Bay leads 10-3. Rodgers leads the offense on another drive. He then pump fakes, fooling outside linebacker Leonard Floyd, and Rodgers takes it in himself. A bad snap for the extra point attempt, keeps Green Bay at 16 points. With the help of a nice few runs by stud rookie runningback Cam Akers, Goff hits rookie wide receiver Van Jefferson for the score. Rams trail 10-16. Rodgers scrambles around the pocket looking to put up some more points before Halftime, finds the big man tight end Robert Tonyan, to get them into field goal range, where they end up settling for a 39-yarder made by Crosby to go up 19-10 before the half.
Quarter 3: Right off the bat, Aaron Jones breaks free for about a 60-yard run. He then caps the drive off by forcing his way into the endzone. Green Bay extends their lead now 25-10 as the two-point conversion goes incomplete. Goff gets sacked on third down and LA punts. Rodgers gets pressured in his own endzone, but magically gets the ball out, and gets the pass complete for a new set of downs to wide receiver Allen Lazard. LA's offense begins to wake up as Akers takes the snap himself in the redzone, and works his way into the endzone for the Rams' second touchdown. On the two-point conversion, Goff throws to Jefferson, who then tosses it back to Akers, who runs into the left corner of the endzone on a nicely executed play. Green Bay stills lead, the score now 25-18.
Quarter 4: Rodgers looking to practically put the game away, throwing from his 35-yard line, looks to go for it all, and hits Lazard in stride, and he takes it all the way for the TD. Score: 32-18 Packers. On fourth down & long, Goff tries to maneuver out of a collapsing pocket, but he gets taken down. That pretty much ended the game for LA, as the Packers win 32-18.
With the particularly popular opinion that Rodgers and the Packers would decline this season due to a failure of getting Rodgers more weapons, has been put to rest. Green Bay finished as the first seed in the NFC, Rodgers is frontrunner for MVP, and now they are one win away from the Super Bowl. Rodgers finished the game completing 23 of 36 passes for 296 yards and two TDs. Aaron Jones had a good day with 99 rushing yards, and Allen Lazard tacked on 96 receiving yards. Congrats to the Rams on making it this far despite the struggles and injury on Goff's part. Akers has overall been carrying that offense. The defense however, was very disappointing, as both Donald and Ramsey were non-factors in the game. Goff completed 21 passes for 174 yards, and one TD. Cam Akers ran for 90 yards, and Josh Reynolds had 65 receiving yards. Los Angeles will look to see what they can do to improve for next year, and hope Goff can find more consistency in his play. The Packers will prepare for their Conference Championship matchup against the Tom Brady led Tampa Bay Buccaneers. Rodgers verses Brady, this has the makings to be a game for the ages.