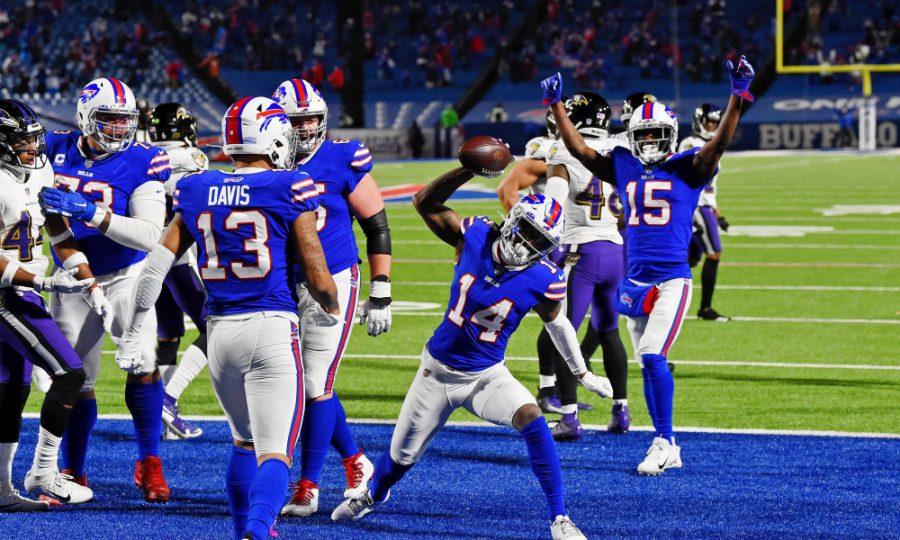 Buffalo Bills hold Baltimore Ravens to just three points on route to the AFC Championship
The Buffalo Bills have defeated the reigning MVP Lamar Jackson, and his team in the AFC Divisional Round. Josh Allen adds on to his case for being a top three QB in the league, and an MVP candidate. The windy conditions were a big factor in the game as, some passes floated over receivers, and multiple kicks did not make it through the uprights. Through all that, Buffalo's defense stepped up, not allowing a single Ravens' touchdown, and ending their post-season aspirations.
Quarter 1: On the Ravens' opening drive, Baltimore's dominate run game gets a handful of big gains, until Lamar fails to escape the Buffalo pass rush, and is sacked. Future HOF kicker, Justin Tucker sets up to attempt a 41-yard field goal, but is curves back left and bounces off the upright. A rare miss by Tucker, who had already missed a kick in their last game. Josh Allen airs one downfield, but overthrows his receiver, who was in double coverage anyway. Lamar evades defenders, and throws to rookie runningback, J.K. Dobbins, who fails to hold on to the ball as it falls to the ground. A bad punt, plus the windy conditions, gives Buffalo the ball at about the Ravens' 40. Tyler Bass, Buffalo's rookie kicker, puts the ball through from 28-yards out, and the Bills take the lead 3-0.
Quarter 2: Wide receiver John Brown makes a nice toe-tapping, sideline catch, to eventually set up Bass's second field goal attempt, which from 43 yards out, goes wide right. A bad snap leads to another field goal try by Tucker, this time from 46 yards out, and he doinks it again. Back-to-back misses by Tucker, and three total this post-season. Allen on third down, gets hits as he tries to throw, and fumbles the ball. Luckily, it is recovered by Buffalo. On third & eighteen, Lamar fires it complete to wide receiver Marquise Brown. Both teams then punt, after attempting to put up more points before half, and finally Tucker puts a 34-yarder through the uprights. Tie game at 3-3.
Quarter 3: With some nice first down conversions by Stefon Diggs and Devin Singletary, Allen tosses the ball to Diggs, who weaves into the endzone for the first touchdown of the night. The Bills lead 10-3. Lamar doing what he does best, escapes the pocket and converts a third & long. Baltimore finally looks to score some more points when Lamar throws his first interception in the redzone, in his NFL career, and cornerback Taron Johnson takes it back for a Buffalo Bills' pick-6. 17-3, Bills on top. Another bad snap for Lamar, sails over his head, and he just retrieves it and throws it away before getting drilled by the Bills' defense.
Quarter 4: Lamar ended up sustaining a concussion on that play and is eventually ruled out for the rest of the game, and rookie quarterback, Tyler Huntley came in to replace Jackson. Allen takes another shot into the endzone, and it goes incomplete once again. Huntley looks deep, and overthrows a wide open Marquise Brown, who would've had the touchdown. Bass misses a 44-yard kick for the Bills. Stepping out of the pocket, Huntley connects with Marquise on third & sixteen for the first down. Huntley then runs for a first down, and then Dobbins drops a pass that could've been a touchdown. Tight end Mark Andrews is then unable to hold on to a pass in the endzone, and that practically ended the game for Baltimore. The Bills win 17-3, and will head to the Conference Championship.
Bills Mafia continues to destroy more tables in jubilation, as their team advances in the playoffs. Josh Allen and Stefon Diggs are the stars of this team, and if the defense can play consistently, the Bills will be Super Bowl favorites. Josh Allen completed 23 passes for 206 yards and one TD. Singletary rushed for just 25 yards while Diggs had yet another great game with 106 receiving yards. For the Ravens, at least Lamar got his first playoff win the week prior, but with the missed kicks plus the pick-6, and Lamar getting knocked out of the game, gave Baltimore no chance to win the game despite their good defense and explosive rushing game. Lamar finished with 14 completed passes for 162 yards, and one INT. Runningbacks Gus Edwards and J.K. Dobbins put up 42 yards on the ground, and Marquise Brown had 87 receiving yards. Here's another reason to love Bills' fans: Due to Lamar Jackson suffering a concussion, Bills fans have decided to each donate $8 (Lamar's jersey number) to his favorite charity in support of him. The Buffalo Bills will face the reigning Super Bowl Champion Kansas City Chiefs who may or may not have Patrick Mahomes, as he sustained a concussion in their game as well. So the Bills might even have an easier route to the big game in Tampa Bay.