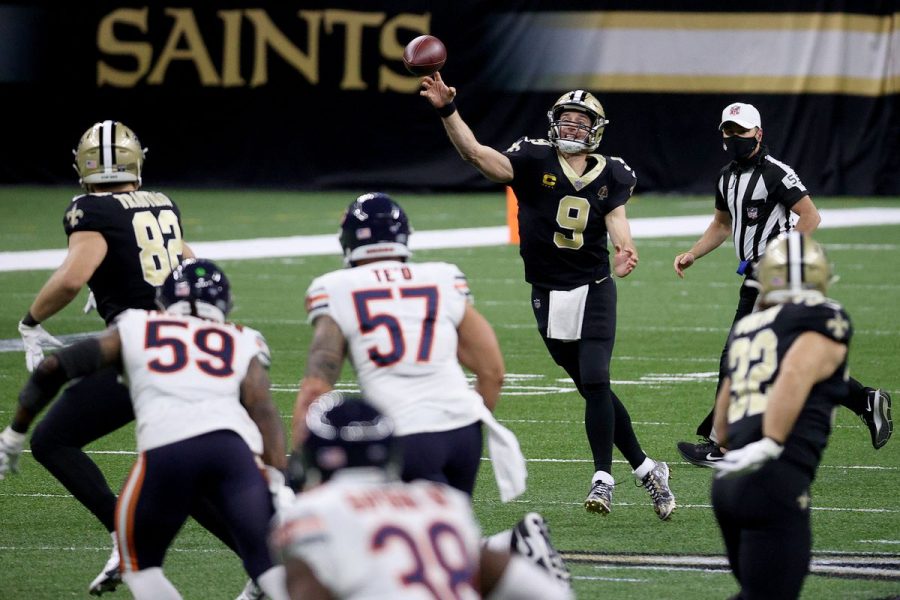 Saints show dominance in holding Chicago Bears to nine points on Nickelodeon
In what may be Drew Brees' last year before retirement, the 12-4 Saints' Super Bowl aspirations still remain alive as they handed the 8-8 Mitch Trubisky led Chicago Bears a brutal loss, letting them know they didn't stand a chance as the only reason they got into the playoffs was because the Arizona Cardinals had lost in Week 17. All this could be viewed on Nickelodeon featuring slime, cartoon clips, cool graphics, and many other Nick references, especially SpongeBob SquarePants.
Quarter 1: Drew Brees hits wide receiver Deonte Harris on a couple passes, and he picks up some nice yards after the catch. Brees and wide receiver Michael Thomas connect for the touchdown as the Nickelodeon slime cannons go off. Saints lead 7-0. Trubisky drops in an absolute beautiful pass to wide receiver Javon Wims. Runningback David Montgomery takes the snap, tosses it to wide receiver and return specialist Cordarrelle Patterson, who then tosses it to Trubisky who airs it deep again to Wims this time in the endzone, and the ball goes right through his hands. Harris makes another nice catch to pick up handful of yards for New Orleans.
Quarter 2: Kicker Wil Lutz tries for a 50-yard field goal kick, but it goes wide right. Taysom Hill goes in at QB for a play, and has the ball knocked into the air as he was about to throw it, and it is caught and intercepted by Chicago. The Bears end up attempting a 36-yard kick that is made by kicker Cairo Santos. Montgomery is hit after catching a pass from Brees, and he fumbles the ball. Safety Malcolm Jenkins takes it back all the way, but the play is then ruled an incomplete pass. The score at half is 7-3. Saints lead a very defensive game so far.
Quarter 3: Old man Brees looks and goes deep to Thomas. On fourth down, the Bears defense jumps, giving New Orleans a first down. Drew Brees getting pressured, tosses the ball to runningback Latavius Murray, who powers into the endzone for the second total TD of the game. Saints lead 14-3.
Quarter 4: After a couple costly penatlies by Chicago, Alvin Kamara, the Saints star runningback, takes the ball right in for the touchdown. The Saints pull ahead 21-3 now. Getting the ball back from the misfunctioning Bears' offense, Kamara has his biggest run of the night, getting to about the Chicago 20 yard line. Trubisky leads his offense downfield to score some garbage time points as tight end Jimmy Graham makes a one-handed grab in the endzone for six points in the final seconds of the game. The New Orleans Saints win 21-9.
The Saints, despite an underwhelming offensive performance for the most part, still show why they belong in the playoffs and the Bears do not as their defense played very well. Drew Brees completed 28/39 passes, threw for 265 yards, and two TDs. Kamara racked up 99 yards on the ground, and Deonte Harris had a nice day for himself with 83 receiving yards. The Bears did not perform like a playoff team as Trubisky completed 19 0f 29 passes for 199 yards, and one TD. Montgomery only had 31 rushing yards, and Allen Robinson had 55 receiving yards. The Saints will move on to face the division rival Tampa Bay Bucs, and we get to witness a Brady vs. Brees game for a third time this season.