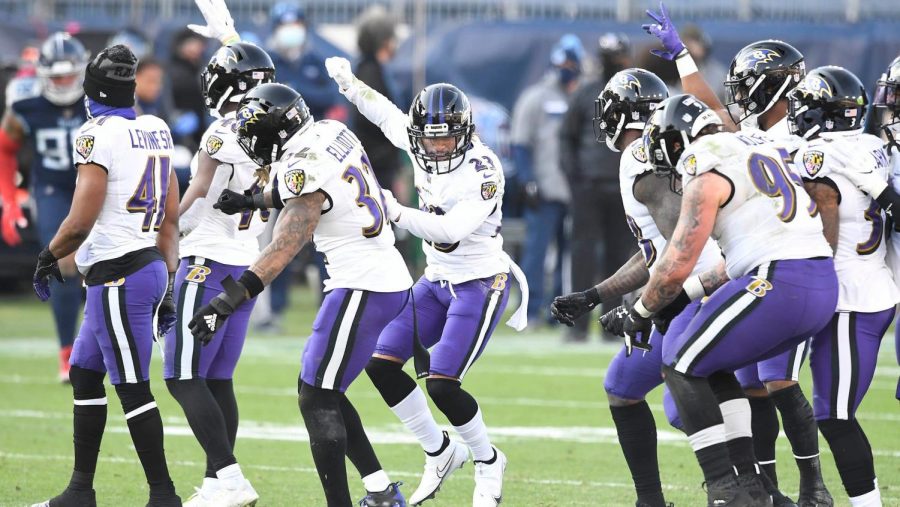 Ravens get revenge against Derrick Henry and the Titans in the playoffs
Lamar Jackson finally leads his Baltimore Ravens to a playoff victory. And what better way to do it then by beating the team that knocked you out of the playoffs last year. The reigning MVP led his 11-5 Ravens team to the win over Ryan Tannehill's 11-5 Tennessee Titans. This Titans Ravens matchup has blossomed into a known rivalry ever since the Titans shocked them in the Divisional Round last year as Derrick Henry ran all over the Ravens' defense, and then Henry scored the game winner against the Ravens Week 11 of this season in Overtime. Baltimore finally got their revenge by eliminating the Titans on Sunday Wild Card Football.
Quarter 1: Ryan Tannehill, on the Titans second possession of the game, looks left, and throws an absolute dime to wide receiver A.J. Brown, who was well covered by Ravens' cornerback Marlon Humphrey. Inside the redzone, Tannehill targets Brown again, and Brown makes a great catch in the endzone though he may have pushed off Humphrey, but no flags are thrown. Titans lead 7-0. Lamar Jackson steps back and fires downfield right the hands of cornerback Malcolm Butler for the interception. Following the pick, Tannehill dumps the ball to tight end Anthony Firkser, who takes the ball inside Baltimore's thirty yard line. The Ravens prevent a touchdown, and Titan's kicker, Stephen Gostkowski puts the ball through the uprights from 45 yards out. Titans lead extend to ten.
Quarter 2: With the ball back, Lamar throws, and making the over the shoulder catch is wide receiver Marquise "Hollywood" Brown. On third down, Lamar is pressured and sacked. Justin Tucker kicks a 33-yard field goal and Baltimore gets on the board trailing 3-10. Tannehill is sacked, ending Tennessee's drive. Hollywood makes a move and picks up yardage into Tennessee territory. Lamar then takes off running, weaving past defenders, and scores a 49-yard touchdown. Ravens tie up the game 10-10. Tannehill's pass is deflected, and he catches it by mistake, and gets sacked. Lamar having nowhere to throw, gets sacked. Titans-Ravens all tied up 10-10 at half.
Quarter 3: Ravens drive first. Lamar runs, and turns the corner getting inside the 20. Running behind the fullback, Patrick Ricard, rookie runningback, J.K. Dobbins gets into the endzone. Baltimore takes the lead 17-10. Brown catches a play action pass delivered by Tannehill.
Quarter 4: Titans unable to reach the endzone, settle for a 25-yard field goal kick by Gostkowski. Score now Titans up 17-13. Tucker goes to attempt a 52-yard kick, but a rare miss by him, keeps the Ravens down by three. Over halfway into the final quarter, Baltimore finally puts together a drive when on fourth down, wide receiver Willie Snead gets flagged for pass interference, forcing the Ravens to kick a 51-yard field goal, keeping it a one score game up 20-13. Tennessee with one last shot to comeback, Tannehill converts on fourth down, but soon after, his receiver Kalif Raymond falls down running his route, and the pass is intercepted by cornerback Marcus Peters. The Ravens pick up two more first downs to ice their first playoff win with Lamar Jackson
After going one and done in the playoffs the last two years with Lamar Jackson under center, the Ravens finally pull it off, and what better way to do it then by eliminating the team who upset you last year in the playoffs, and completely shutting don their 2,000 yard rusher. Lamar completed 17 of his 24 passes, threw for 179 yards and one INT. He was also the teams' leading rusher with a whopping 136 yards and a rushing TD. Hollywood Brown had a solid game with 109 receiving yards. After shocking the league and making it to the AFC Conference Championship last year, the Tennessee Titans went one and done this year. Tannehill had a completion percentage of 69, and passed for 165 yards, one TD, and one INT. Derrick Henry had an insanely unproductive game with just 40 rushing yards, and ultimately a huge reason why they lost. A.J. Brown put up 83 receiving yards on the day. Baltimore will take their explosive rushing attack to face off against the Buffalo Bills high powered passing attack next weekend in the Divisional Round, as both 2018 first round QBs look to take home a Super Bowl title.