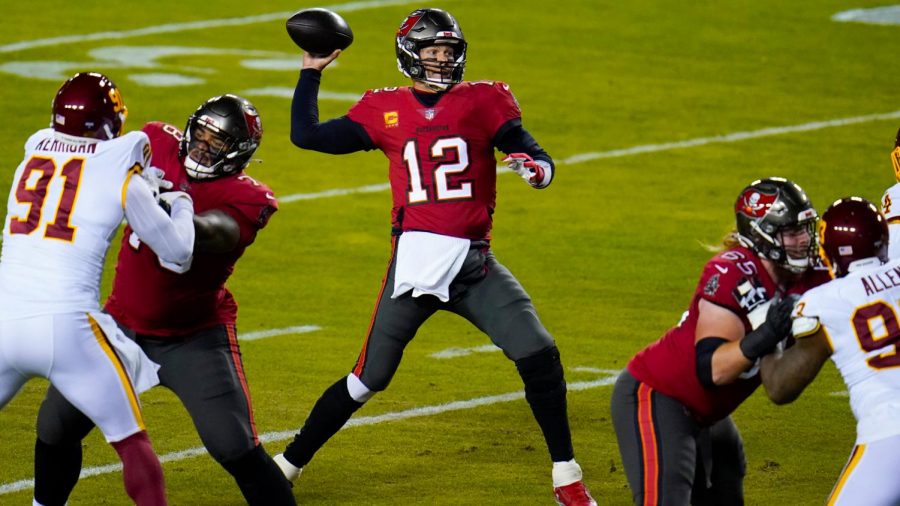 Washington falls short of the upset against Tom Brady's Buccaneers in Wild Card Round
The Tampa Bay Buccaneers have won their first playoff game since 2002. Tom Brady coming to Tampa has not disappointed. An 11-5 Bucs faced off against the 7-9 underdog Washington Football Team on Saturday Night Football. While most people thought this matchup would be a blow out game when in fact it was very entertaining. Washington made QB Alex Smith inactive for the game as he still dealt with a nagging calf injury, and recently signed backup up QB Taylor Heinicke was made the starter. Heinicke had played late in Washington's loss to Carolina in Week 16, and played well so Washington felt good giving him the start. And he did not disappoint. Unfortunately, even though Heinicke played insanely well, they could not keep up with all the fire power Tampa Bay possessed, and fell short of the victory.
Quarter 1: Tampa Bay, on their opening drive, go right downfield, and Ryan Succop kicks a 29-yard field goal. Bucs lead first 3-0. On a third down situation with Taylor Heinicke at the helm for Washington, he finds a wide open receiver, Cam Sims, for a nice gain. Heinicke gets pressured and the ball is tipped and making a diving interception is cornerback Sean Murphy-Bunting. Brady responds by throwing to Antonio Brown, and he runs in for the touchdown. The extra point is blocked and the Bucs lead 9-0. Throwing on the run, Heinicke connects with tight end Logan Thomas who gets into Tampa territory. Terry McLaurin, Washington's star wide receiver, makes a nice catch. After that, Heinicke alludes a defender and runs for a first down.
Quarter 2: In the redzone, Heinicke hands off to receiving back, J.D. McKissic, and he runs in for the score. Washington trails 7-9. Brady pitches the ball to AB, and he runs into Washington territory. Brady then fires and connects with wide receiver Chris Godwin for the touchdown. They go for two, but runningback Leonard Fournette is stopped short. Bucs extend lead to 15-7. A designed screen play from Brady to Fournette works well, as Tampa's offense approaches the redzone. Brady then finds tight end Cameron Brate, who gets inside the 10. Washington defense keeps Tampa's offense out of the redzone, and Succop kicks a 23-yard field goal. Buccaneers lead Washington 18-7 entering Halftime.
Quarter 3: Entering the second half, Heinicke and Thomas connect again, but an interception is luckily dropped by Tampa as Heinicke targeted Thomas again. Washington settles for a field goal, as kicker Dustin Hopkins makes 36-yarder. The score now Tampa Bay 18-10. Tampa's rookie runningback, Keshawn Vaughn, gets the ball punched out by defensive tackle, Daron Payne, and Washington recovers. Heinicke once again showing off his wheels, alludes more defenders, and picks up a first down. Inside the redzone, Heinicke avoids sacks once again, takes off, and dives for the pylon, and gets the touchdown. They elect to go foe two to tie up the game, but Tampa's defense stops the play. Washington trails 16-18. Brady begins to drive the offense again with nice catches by Brate and elite wide receiver Mike Evans.
Quarter 4: Kicking off the final quarter, Succop hits another field goal, this time from 38 yards. Tampa leads 21-16. On their next possession, Brady fires it to Evans who catches it sitting down. Fournette then follows that up by rushing for about twenty yards. Evans makes another grab at the three yard line. Fournette powers into the endzone for the touchdown. 28-16 Tampa Bay. Heinicke fires a pass complete to Cam Sims into Bucs territory. On third down, Heinicke drops in an absoulte dime to wide receiver Steven Sims Jr. in the back of the endzone for the TD. Washington now just five points behind Tampa with 23. Brady under pressure, hits Evans perfectly along the sideline. Washington stops Tampa, but they are in field goal range and make a 37-yarder. A catch and fumble out of bounds by McKissic is changed and ruled an incomplete pass, setting up third & long for Heinicke. He is then blitzed and sacked. With one last effort to keep their hopes alive, Heinicke heaves it deep, and its incomplete. The Tampa Bay Buccaneers win their first playoff game since 2002. Final score 31-23
Tom Brady's Buccaneers once again show off their fire power, and why they are Super Bowl contender. Having Brady, Fournette, RoJo when healthy, Evans, Godwin, AB, Gronk, and Brate on offense alone is insane. The defensive line is stacked as well. Tom Brady completed just 55% of his passes for 381 yards and two TDs. Fournette lead the team with 93 yards rushing, and Mike Evans racked up 119 receiving yards. Washington despite finishing the season with a 7-9 record and no Alex Smith, kept the game competitive. And a huge shoutout to Taylor Heinicke playing in his second ever NFL start, he looked amazing. Washington's usual ferocious d-line was a big non-factor in the game, while the usual non-existent passing game was the biggest factor for the Football Team. Heinicke finished the game with a 59% completion percentage, which was better than Brady's. He also earned a grade of 92 from PFF, which was higher than Brady's grade of 90.8. Heinicke passed for 306 yards, one TD, and one INT. He also led the team in rushing yards with 46. Cam Sims had a good game with 104 receiving yards. Terry McLaurin put up a nice 75 as well. Despite their loss, Washington seems to be headed in the right direction heading into the off-season, while the Bucs prepare for the divisional round verse the rival Drew Brees led New Orleans Saints, and see if their high powered team can reach the big game.